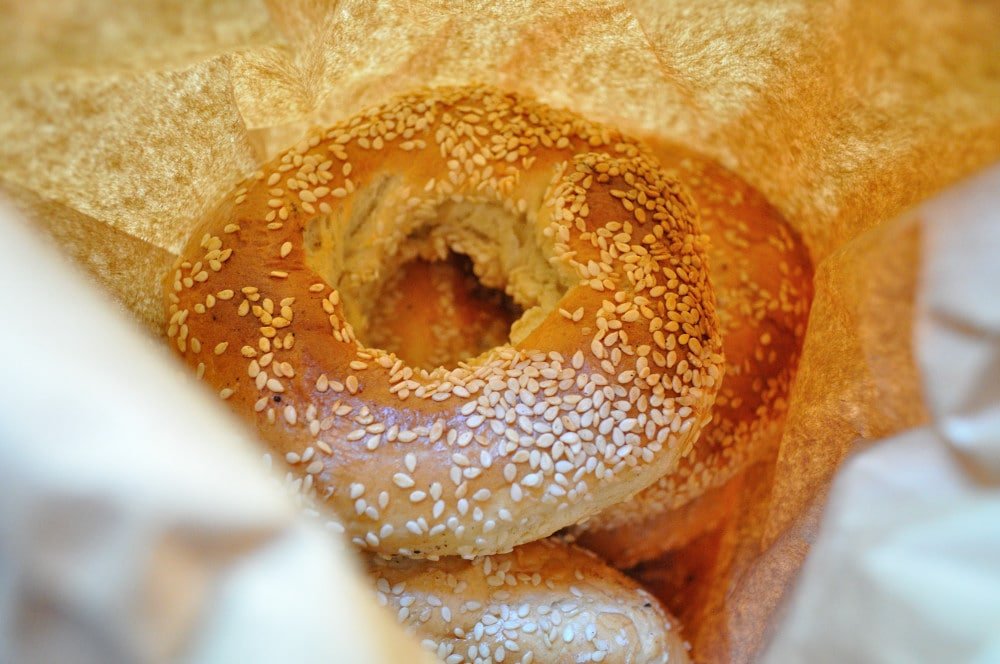 The Ottawa Bagelshop, Our Bag of Bagels
The Ottawa Bagelshop & Deli, home to wood-fired bagels in the Montreal-style, is our favorite Westboro stop for great deli and a bag of bagels, fresh from the oven.
It is impossible for us to walk out of the Bagelshop without spending $80, trust me, we've tried. Between Chef B's (Benoit Gelinotte) cheese and charcuterie indulgences, our mutual love of Kosher products, the thousands of gourmet items that line the shelves, and the bagels, we're hooked. A typical shopping spree at Ottawa's Bagelshop also results in interior car detailing – because we just can't wait to get home before we dive into the bag of sesame bagels, tempting and warm in my lap.
What makes a bagel a 'Montreal-style Bagel'?
Unlike the New York-style bagel, a Montreal bagel is sweeter and slightly smaller, the hole in the center is larger and dough is more dense, but most importantly it's always baked in a wood-fired oven. Made with flour, malt and egg, the dough is poached in honey-water before being baked, to give them that chewy soft center. The two most common varieties are black-seed (poppy seed), or white-seed (sesame seed).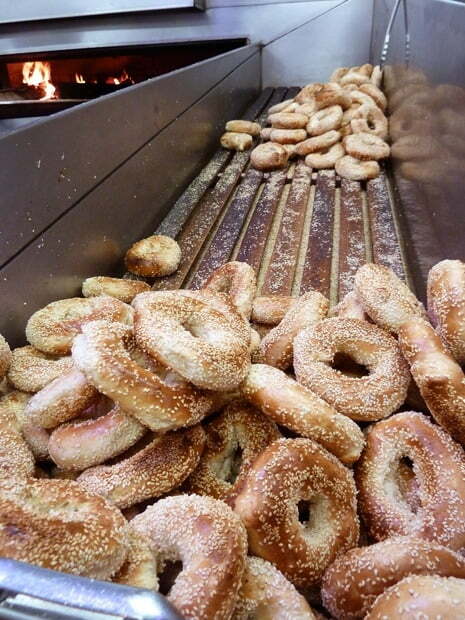 There's something deeply soothing about the smell of yeasty fresh dough mixed with wood smoke that is the hallmark of a good bagel shop. If you've never had a bagel, warm from a wood-fired oven do yourself a favour and ask for a half dozen, hot. The crust is crisp but the inside is spongy and soft, it tears apart steamy and sweet and melts in your mouth, the faint hint of smoke still clinging to it's crumb. Hand twisted, dipped and baked, each beagle is unique, bearing the baker's signature.
Toi Do, Ottawa Bagelshop's resident master-baker has been punching, twisting, boiling and baking since the shop opened in 1984. With over a million bagels to his credit, he's the careful tender of the fire that produces bagels of unparalleled quality. Tight crusts, dappled and singed by their proximity to flame, they're as close as you'll get to a Montreal bagel – without driving to Montreal. For locals and visitors alike, it's a shop worth a stop.
OTTAWA BAGELSHOP & DELI
1321 Wellington Street, Ottawa, ON
(613) 722-8753