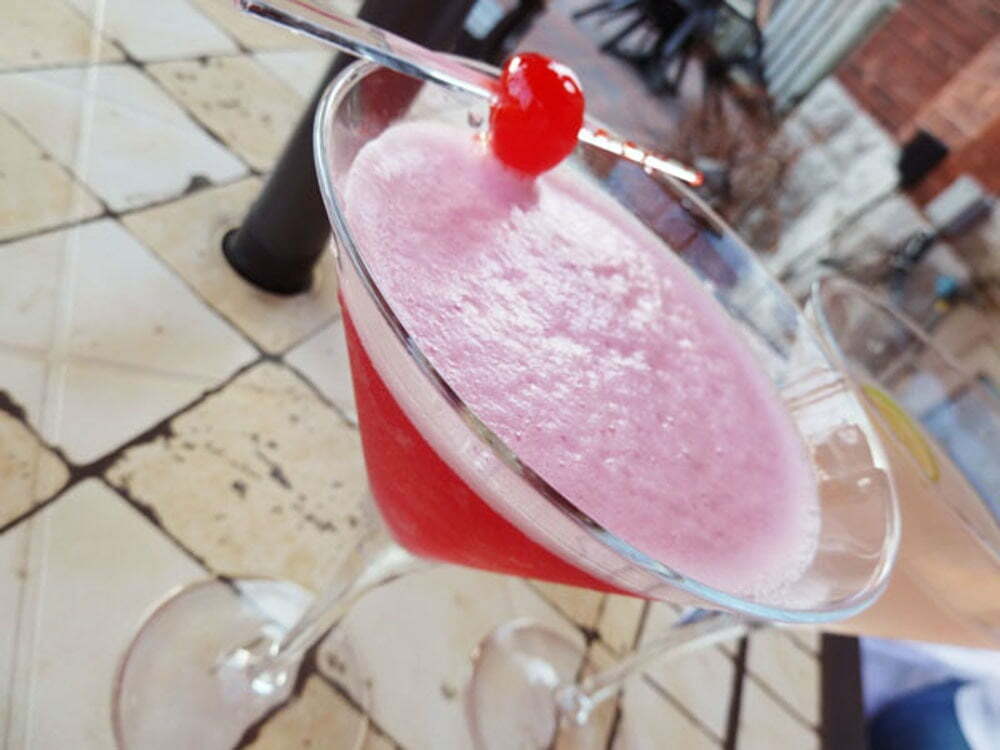 The Pink Lady Opens Patio Season
Temperatures climb, from just above zero to mid-twenties in a week, so much for spring we'll just skip that pesky summer warm-up period and move straight into patio season.
One of my best girls ditched her study session to fall in with the wrong crowd (namely me) and indulge as we scoured local hangouts for some clever restaurateur that was ready to rock the bricks and make us girly drinks while we talked about boys. The Naughty Girl Handbook states: When your girlfriend orders a fru-fru drink, you have to have one too. Her Cosmopolitan, easy on the cranberry, was matched by my Pink Lady, straight up. It just doesn't get any more chick-flicky than that.
The Pink Lady is a cocktail for the femme fatal in you, complete with kitten heels and pearls. Perfect for patio sipping and girls night, very Jane Mansfield in a sweater-set.
It was a 20 minute wait before those drinks arrived, with perhaps twenty patrons in the establishment in question and two servers on the floor. In that time our waiter left the premises in his vehicle and returned. We were curious to see if some ingredient required for our order was in his hand, but no he carried nothing, adding to the unfolding mystery. At the bar there was much shaking, before, during and after his little trip.
When our drinks (finally) arrived he informed us what a difficult task our order was "Pink Ladies are a very difficult cocktail to make!" What was that?! It's three ingredients: gin, grenadine & cream. There's no layering or suspension of ingredients involved, it's just pour, shake, strain, garnish & serve. My companion used to whip them up as a teenager (OK, maybe she's the bad influence).
The Pink Lady is classic cocktail dating back to the early 1900's made popular in the 30's, a by product of bathtub gin, and originally made with an egg white, not cream. The cream version is attributed to the New Orleans' Southern Yacht Club where it was called the "Pink Shimmy". The use of raw egg whites has since fallen out of fashion (salmonella and all that), still a dashing little number, served frothy, it clears as it settles.
Consumed by housewives of the 50's in great quantities, and contrary to what you may have been told, the Pink Lady is a sinch to make – blind drunk, one handed, while burning dinner – still looking elegant and composed.
Pink Lady Cocktail
1 1/2 ounces of gin
1/2 ounce grenadine
1 1/2 ounces of cream
Pour ingredients over ice in a cocktail shaker, shake vigorously, strain into chilled cocktail glass, garnish with maraschino cherry and serve.
Take that genius. Cheers.