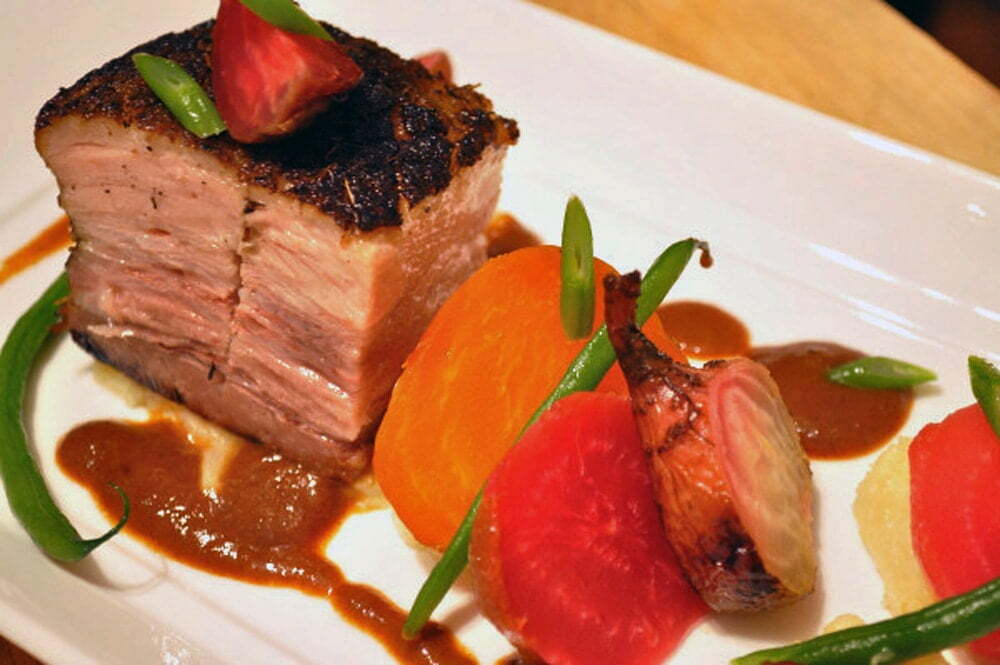 Braised Pork Belly, Roasted Beets & Parsnip Mash
Braised Pork Belly, Roasted Beets, Parsnip Mash and Green Beans, a late winter's meal, low and slow and comforting, because slow food is good food. As the last of the winter storms blew though, bringing with it a wall of snow and freezing temperatures; I dug to the back for the freezer for a succulent price of pork belly to be the star of a cold weather menu.
You usually find pork belly in you butcher's cooler brined, cured, smoked or maple rubbed then sliced and called 'bacon'. The raw product is no less succulent and sweet. This is a cut that requires long, slow cooking so you're going to want to give it some time. When you find pork belly, it will most likely still have the skin/rind attached. You can cook it with the skin on allowing it to crisp, brown and turn into crackling, or you can remove the rind prior to cooking and work with just the meaty bit.
I had in mind a very simple meal; melt in your mouth tender pork, highlighted by the simplest of ingredients. So with my deboning knife (because it's thin and stupid sharp) I gently separated the skin from the fat. First score a line all the way around the cut, just under the skin, as a guide. Then starting at one corner, peel the skin back cutting away the fat as you go. Then take that very sharp knife and score the fat on top, running the knife through it about 1/4 inch deep, on a diagonal in both directions, creating tiny diamond shapes.
Scoring accomplishes two things, it helps to create a surface that will hold a rub well and it opens the fat to help more of it render off. We want all the flavour, but not all the fat.
The rub in question was a very simple combination: salt, pepper, thyme and dry mustard. I love the way mustard and thyme combine to support a meat, they don't overpower, they're background flavours that compliment rather than contrast.
That rub was pressed into the well dried meat, then left to stand at room temperature for about 15 minutes. I often let a rub stand for a while before I cook, this helps it to adhear a bit. In the case of pork belly you want to sear that top layer of fat very rendering as much fast as you can and creating a sealed surface. I used my favorite cast-iron pan, over a medium heat so as not to scorch the seasoning.
Once the pork belly was well seared on all sides, remove the meat and reserve and removed the pan from the heat. Pour off any excess fat and add a layer of onions and apples to the bottom of the pan. This adds a level of flavor, and it helps to keep the meat from sticking to the bottom of the pan.
Returning the meat to the pan on top of the garniture, add liquid; half water and half apple juice, up to about 1/2 inch deep, then bring it to a low simmer over medium heat and cover the whole works with tinfoil and put it on the back burner on low for about 2 hours.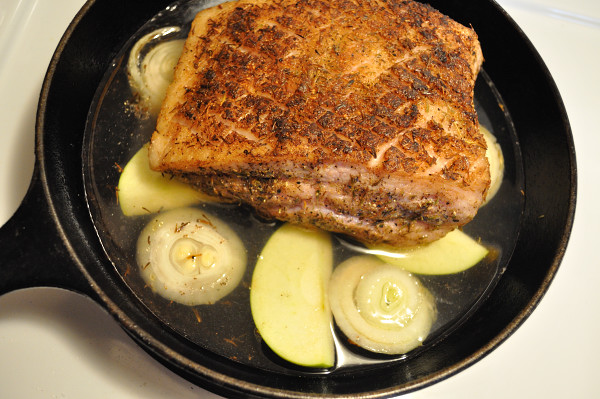 While the pork belly cooks, roast up some heritage beets for about an hour, with a little bit of olive oil and a couple of tablespoons of water. This way the skin, which is generally quite bitter, took on a sweeter taste. Some I peeled, some I left with the skin on – this was a plating choice.
Heritage beets are not the dark purple-red associated with beets, they range from amber to red and some have a variegated flesh, so they make a colourful, bright side dish
Pork belly bubbling away on the back of the stove, beets roasting in the oven; time to mashed us some parsnips. Nothing complicated, peel, boil until tender and mash with a bit of butter and some light cream or milk just like you would potatoes.
Mashed sides are so easy to prep ahead of time, cover then re-heat, all they need is a little moisture and voila, fresh and fast.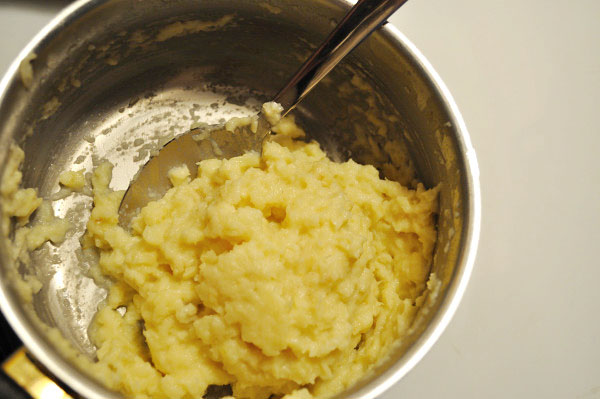 As the pork belly cooks be sure to checked the moisture level and test the cut for doneness. How do you know when it's cooked? When you're able to pierce it with a knife and there is no resistance – it's done. Then remove it from the pan, cover and reserve warm while you make a little sauce.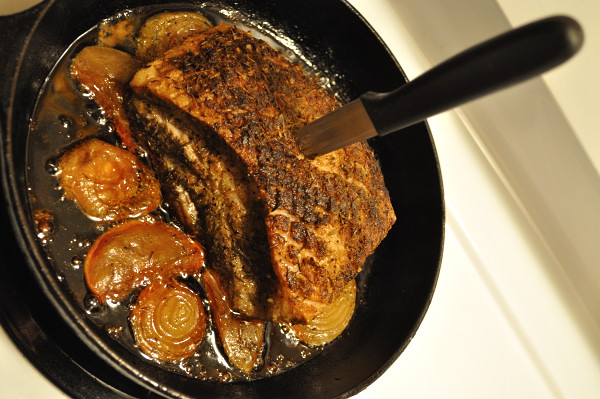 Do you really need a sauce with pork belly? No, this is a beautiful piece of meat and it can easily stand alone, but why waste all that nice suc (brownings) at the bottom of the pan?! It's our pork flavoured goodness, it just needs a little finesse is all.
First scrape the pan and reserve the drippings and reaming garniture in a bowl, pouring off any excess fat. Deglaze the pan with a generous pour of sherry then add up to a cup of chicken stock. Take a strainer and press the cooked mushy onions and apples through with the back of a spoon, and gently scrape off the pulp right into the sauce. Reduce, season and then add a tablespoon or so of Dijon mustard to echo the mustard in the rub.
Something tells me that this will be the last heavy, winter cuz' it sure looks like spring, Baby! Get ready to go GREEN.
Braised Pork Belly, Roasted Beets & Parsnip Mash – Recipe
Prep Time: 45 Minutes
Cooking time: about 2 1/2 hours
1 pound chunk of pork belly
1 teaspoon of dried thyme
1 teaspoon dried mustard
1/2 teaspoon of both salt & pepper
1 onion, sliced thick
1/2 a granny smith apple, sliced thick
1 cup apple juice
generous splash of sherry
1 cup chicken stock
1 tablespoon Dijon mustard
1 pound beets
oil for cooking
1 pound parsnips, peeled course chopped
3 tablespoons of light cream
1 tablespoon butter
salt & pepper to taste
Method:
Pork Belly: Remove rind from pork belly, score top fat layer. Mix dry spices for meat rub. Dry meat well with paper towel, rub spice rub all over meat and sear over medium heat.
Remove meat from pan, arrange layer of onions and apples on bottom of pan and return meat, on top of apples & onions. Add apple juice and enough water to cover bottom garniture completely. Bring liquid to simmer and reduce heat to low covering pan tightly with tinfoil. Cook, on very low heat for about 2 hours, checking periodically to add more liquid as needed.
Check for doneness. When cooked to tender, remove meat from heat and reserve warm. De-grease pan, remove remaining onions & apples and any loose brown bits. Deglaze pan with a splash of sherry then add chicken stock. Pass the pulp of the garniture though a sive and directly into the sauce, then reduce. Add Dijon and whisk, season as needed.
Roasted Beets: Trim & wash beets well, toss with olive oil. Roast in dutch oven (or wrap in an envelope of double thick tinfoil) with about 1/4 cup pf water and place in a 375*F for about an hour. Remove beets, peel when cool and reserve warm.
Mashed Parsnips: Peel, cut boil until tender and mash with a bit of butter and some light cream.
Seriously, I think you can handle the beans on your own.
In this plating, we've used the parsnip mash as a base, it cradles the pork belly and balances beets and beans and is plated first. The sauce is a foil to the colour and is plated second, everything else then works off of that structure.
It's fun to play with your food.