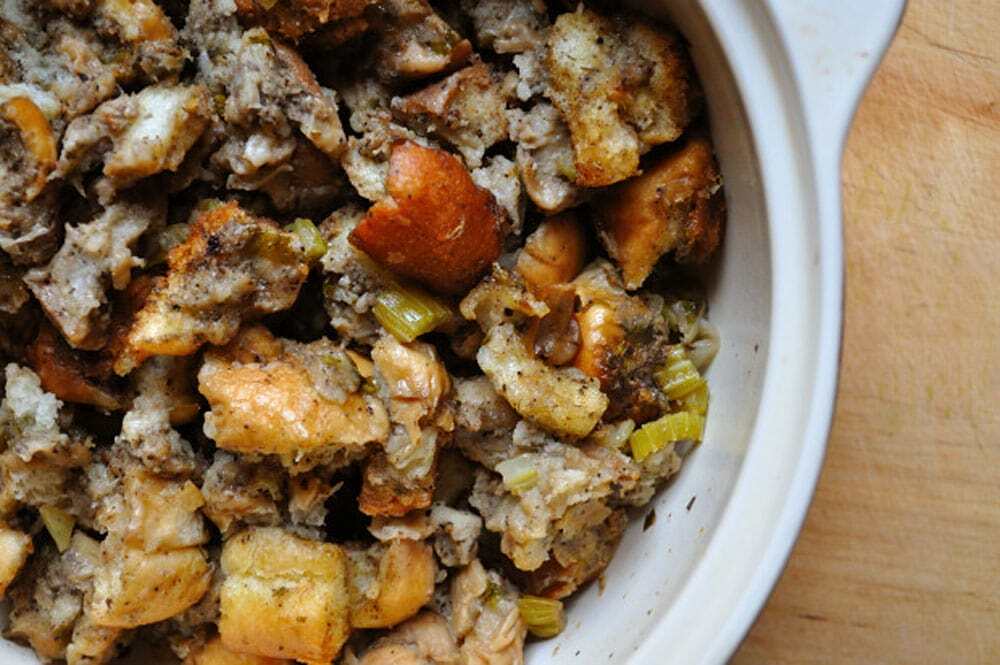 Traditional Sausage Stuffing
Time to get that bird perking. Traditional Sausage Stuffing is the 'man favourite' at our house, long on butter and pork sausage and void of anything healthy; or so he thinks. Secretly, it contains flax oil and fiber. Well, I guess it's not a secret anymore.
Yes, It's true, I often slip healthy ingredients in the least-likely-to-be-discovered-places. Who would ever think that the secret ingredient to my nutty tasting, lightly toasted stuffing is ground flax? No one. I've been sliding this past the chef in my life for three years with him none the wiser.
Because I'm often making two different stuffings – 'His Stuffing' featuring manly meatiness, and "Her Stuffing' (also know in our house as 'Hippy Stuffing') packed with fruit & nuts – I often start with one base and substitute the chicken stock for vegetable stock too. He's never complained. The only gripe I occasionally hear is when a cranberry makes break for it and turns up in his stuffing resulting in French cursing and mutterings akin to "you and your fruit!"
Here's a link to our Healthy Alternative, Vegan Stuffing (it's not just for girls).
Like I always say… what they don't know, won't hurt them. In fact, might just keep that heart ticking a little longer.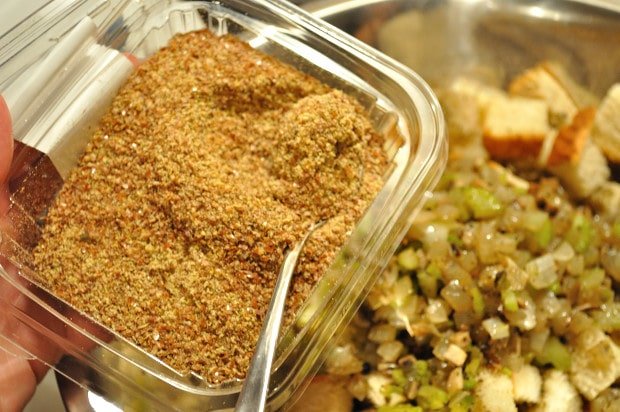 Traditional Sausage Stuffing
Prep Time: 15 minutes
Cook Time: 45 minutes
Serves: 10 to 12
1/2 pound breakfast sausage
1/4 cup butter
1 cup onion, chopped
1 cup celery, chopped
5 cups dried white or French bread, cubed
1 tablespoon poultry seasoning
1/2 teaspoon dried sage
1/4 cup ground flaxseed
2 tablespoons finely chopped, fresh parsley
1 teaspoon salt
2 teaspoons freshly ground black pepper
3/4 – 1 cup chicken stock
Method:
Lightly butter a 9×13-inch baking dish, or coat with non-stick spray. Preheat oven to 350°F (175°C).
1. In a large skillet, remove sausage from casing and cook, breaking up & stirring frequently, until no longer pink. Drain fat & reserve. In same pan, melt your butter over medium-low heat. Add onions & celery and sweat your vegetables until transparent, about 5 to 7 minutes.
2. Toss dried bread cubes with herbs, and season to taste in a large bowl. Add sausage, vegetables and drizzle with butter. Add chicken stock as you toss the stuffing mixture, until well moistened, but not mushy. Lightly pack stuffing into your buttered baking dish, and cover tightly with foil or tight fitting lid.
3. Bake for 35 minutes at 350°F (175°C) . Remove foil, fork toss top of stuffing and toast, uncovered, for about 10 to 15 minutes, or just until browned on top.
Southern Style Traditional Sausage Stuffing, with just a hint of healthy.