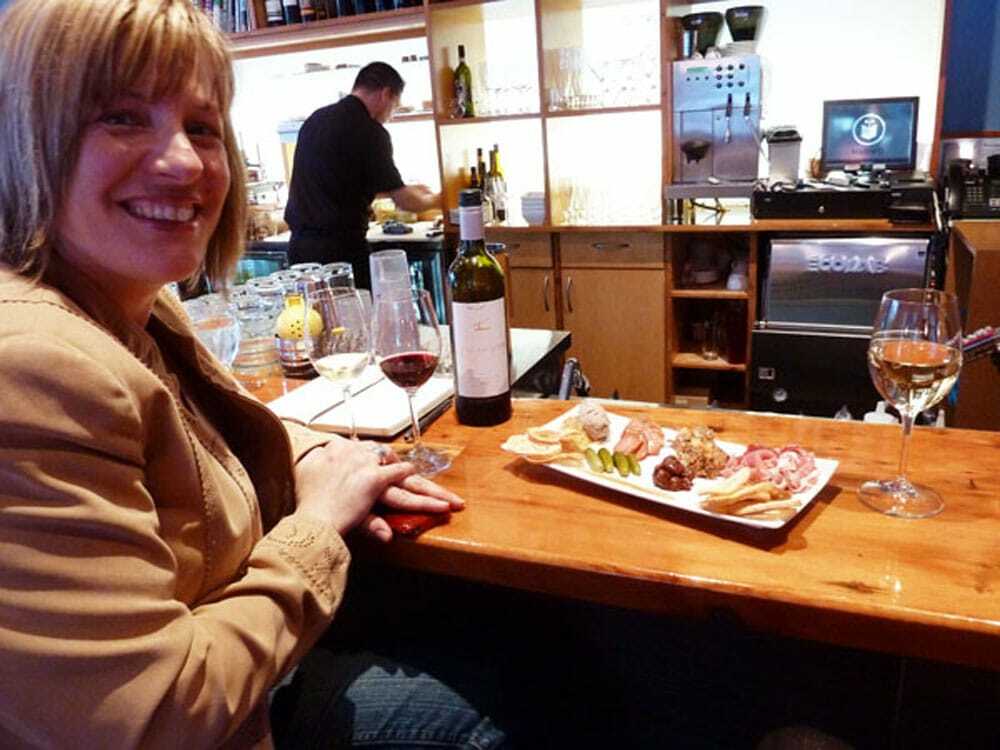 Play Food & Wine – The Meeting of Smith & Wesson
What happens when two manic Foodies collide at a downtown Ottawa hot spot with a couple of glasses of vino, some sufficiently delectable charcuterie and a couple of chunks of cheese?
"It's like the meeting of Smith & Wesson" declares our bartender.

"I'm leading with that" says Gypsy.
That pretty much sums up a social/food/networking/ 'Hi, I'm new here' get together with the lovely Paola St-Georges, Marketing Manager and Market Tour Guide at C'est Bon Cooking School.
There were declarations of joy, silence when food approached, general merriment, stories that started and stopped abruptly, laughter, much questioning of service staff, some giggling, a couple of mouth smacking noises, and several photos taken.
Mostly of food. Some of wine. A couple of us.
I've heard rave reviews about Paola's Byward Market Tours and the lovely little school that she and her partner, Chef Andree Riffou, operate in the cooking salon of CA Paradis, Ottawa's premier kitchen (food freak) store
Meeting new people in a new city – that's what Twitter is for. Cue impromptu chat and snack session.

"Oh Boy! Do you drink wine?" asks @thefoodgypsy.

"I do. Shall we eat too? Can't wait, oh boy." replies @Cestboncooking.

"You drink wine and you eat? We have so much in common. Oh boy." says @thefoodgypsy.

Indeed, we do.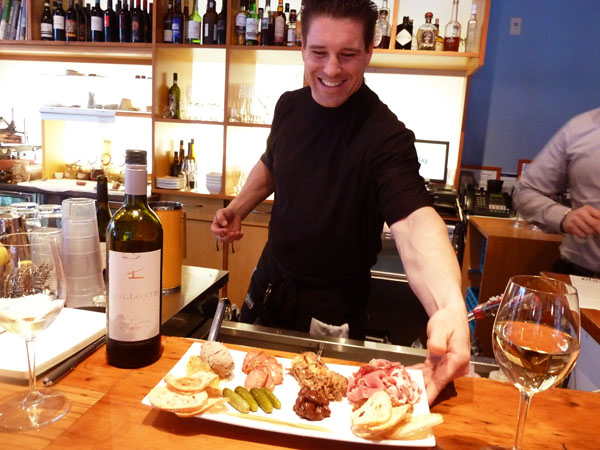 Now I understand why Paola is the perfect host to tour you through Ottawa's historic Byward market – she was pretty much born there. (Just a few short years ago, no matter what she says I refuse to believe she has teenage children. Lies. All lies.) And she grew up, just blocks away.
On her walking tours Paola weaves you in and out of stores and stalls with colourful stories and a familiarity that only comes through time and intimate knowledge. The people. The product. Who's who and what's hot.
Likewise, who better to make a seamless introduction to a broader spectrum of the Ottawa food scene… and her 'restaurant of the week' Play – Food & Wine. Conveniently, on my list of "Stuff to Do in Ottawa" along with its sister location; Beckta -Dining & Wine.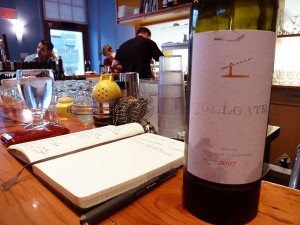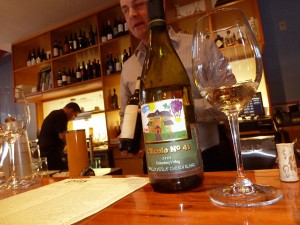 Located on York Street in the Byward Market, Play is all about small plates, a deep wine list and a stunning array of local, fresh, food.
The atmosphere is bright, clean and smooth, it has an uncluttered simplicity much like the food that they serve. You can eat a little or you can eat a lot by cruising the menu, sharing plates, noshing, snacking, nibbling, sipping.
Wine Director Grayson McDiarmid, just happened to be behind the bar pulling bottles and recommending grapes.
I went with a white, something bright and fresh – the Chenin Blanc, L'Ecole 41 (Washington) was fragrant and enchanting. My first glass in weeks, as I've been battling a flu. It was like a breath of fresh air, as at long last, I could breathe again. Paola started with the White, Tollgate, Stratus (Niagara) then switched to a red, which was lost in conversation (a grape for another day).
Play – Food & Wine; a perfect place for a meeting of the minds.
We shared notes. Proof that we really are a community of raving food (and wine) lunatics, longing to taste, journey, live and share every last morsel, drop and experience. Together we are carving out a little niche of wonderful.
There's plenty of wonderful.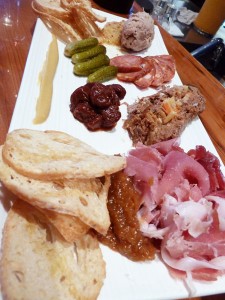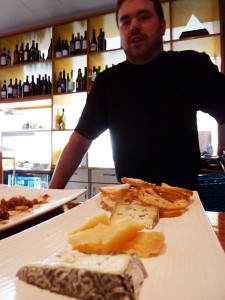 Ms. St-Georges and I declared a mutual love for duck fat over a plate of mixed charcuterie – pork rillette (with duck fat) and a pineapple mostarda, lamb pancetta with red wine cherries, oxtail and duck liver terrine with Dijon and cornichons and a Pingue prosciutto with fig jam.
From the sublime to the rillette. A balanced plate. Sharp. Sweet. Salty.
I love to play with my food.
The conversation deepens. The laughter gets louder. (I blame the wine.) It's a scientific fact that women think better when they eat cheese (and drink wine) so… we ate cheese.
A selection of wicked Canadian cheeses. Straight off the menu: Avonlea Clothbound Cheddar/ P.E.I. / raw cow – dense, salty, creamy. Grey Owl / Notre-Dame-Du-Lac, QC / goat – creamy, chaulky, ash rind tangy. Roche Noire / St. Raymond, QC / cow – creamy, fruity, tangy.
Joyful to a one. We, gathered for this meeting, are not afraid of strong cheese or veins of blue or raw milk. We live for that stuff.
The insider info:

"The Avonlea cheddar is aged in potato sacks for that earthy nose."

Bartenders know everything.
On my Gypsy palette: a cheddar unlike any I'd ever experienced, richer, denser, like a parmesan. I claim it for its protein properties. I would like to melt the Avonlea on things, and make sauces of it. I may erect a shrine to it. (It must be the red hair.)
Plans for in-depth Food Gypsy features (Paola's Byward Market Tour, a day with Paola and Chef Andree at C'est Bon Cooking) followed as that cheese hit those brain cells, and then — a little bowl of popcorn, drizzled in truffle oil, appeared before us.
Popcorn, drizzled in truffle oil, a Play signature item.
I'd like to say to whomever the evil genius was who invented the truffle oil popcorn — I can't decide if I love you or hate you.

Because now every time I go the movies and the cute teenager behind the counter asks if I'd like butter (which used to be just fine BTW) or topping, I'll sigh and say "do you have truffle oil?" and she will just roll her eyes and say "no" and I will be sad.

"Which is why you should always have truffle SALT in your purse" says Paola, producing some "you just never know!" Then she rolls the lid over. It reads — 'Fungus Amoungus'.
Yup, like the meeting of Smith and Wesson, right here in Bytown. Shooting from the hip.
To be continued…
C'est Bon Cooking
T: 613-291-9155
http://www.cestboncooking.ca/
Play – Eat & Wine
1 York Street Ottawa, Ontario
T 613.667.9207
http://www.playfood.ca/Home/tabid/4161/Default.aspx