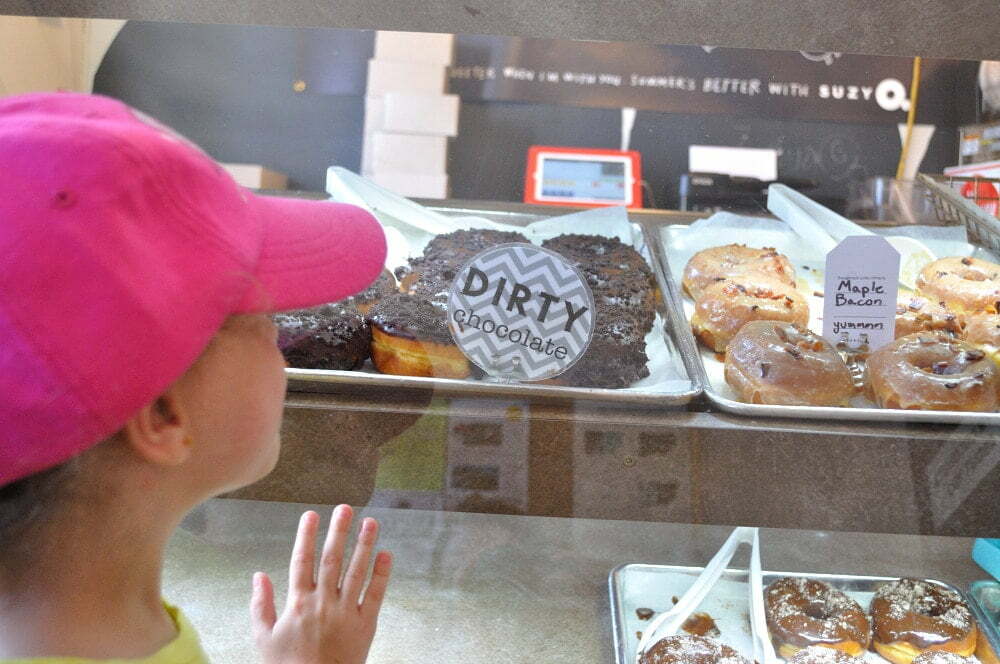 Suzy Q Doughnuts, Sweet Temptation
One step inside the tiny storefront of Suzy Q Doughnuts, intoxicated by the aroma of sugar and yeast, all effort at self-restraint is wiped away. You'll find yourself swooning like a five-year-old over fresh doughnuts lining the glass case with colour and gooey delight.
For those who love light, yeast-risen doughnuts, deep-fried to perfection then topped with all manner of finger-licking goodness, this is a shop to stop. A place to let your inner child run rampant and renew one's faith in humanity. Somewhere there's someone brave enough to take on the corporate doughnut makers of the world with a good recipe and a scrappy sense of adventure. That's what I love about the movement of food at the moment; the return of the artisan and the craftsman to the kitchen. Because of them, we have a range of delights that smack of home.
Suzy Q brought back colour faded memories of hot summer days spent standing on a chair with a slotted spoon over a pot of oil in my mother's kitchen fishing out golden, hot doughnuts. The house was filled with that same bakery-meets-brewery heady yeastiness all morning as the dough would rise and she would punch it down, stretch it out and cut it. This is the stuff life is made of, doughnuts cut by hand and dropped without a splash into the waiting fat.
The Suzy Q price of $2 a doughnut is worth the price of childhood memories. Light, fresh doughnuts, not too sweet and terrifically tempting.
"I can resist anything except temptation." Oscar Wilde
Accompanied by our future kindergartner (who has no sense of moderation whatsoever and is a terrible influence) what should have been an order for three quickly became a half dozen at Suzy Q. First, it was the Salty Caramel, then a Sugar Munkki must have the Go-Nut and a Dirty Chocolate. Already at four, go whole hog right? Because there's clearly no resisting the Maple Bacon and Cookies & Cream, well… come ON.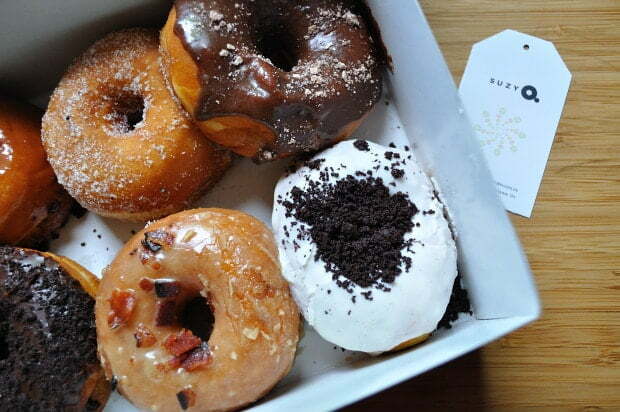 Gypsy delight: Maple Bacon, perfect balance of salty & sweet. My favourite five-year-old's pick: Dirty Chocolate. "Why? What makes it so good" I asked. "It's chocolate!" (Like, He-llo!) The selection from the Chef in my life: Maple Bacon. "Good glaze, the perfect consistency." Following this exhaustive research, we fell into a doughnut-induced coma that became a three-hour nap.
Sugar laced final thoughts: If there is one thing I look forward to seeing from Suzy Q Doughnuts, it's variety. The "Suzy Q Classic" recipe is good, in fact, it's very, very good. But there's more to reinvent when it comes to a box of doughnuts. I'd love to see this recipe turned into a good Apple Fritter and to me, no doughnut case is complete without a jelly-filled like a traditional Paczki and an let's not forget a great old-fashioned sour cream. Texture and flavour layering play a big role in pastry delights, so go forth and PLAY.
Can't wait to see what's next for Ottawa's Suzy Q Doughnuts. It's mighty tempting.
2021 Update: Suzy Q Doughnuts, now in two locations; Hindonburgh and St. Laurent Metro Centre
Suzy Q Doughnuts
Ottawa, ON
www.suzyq.ca