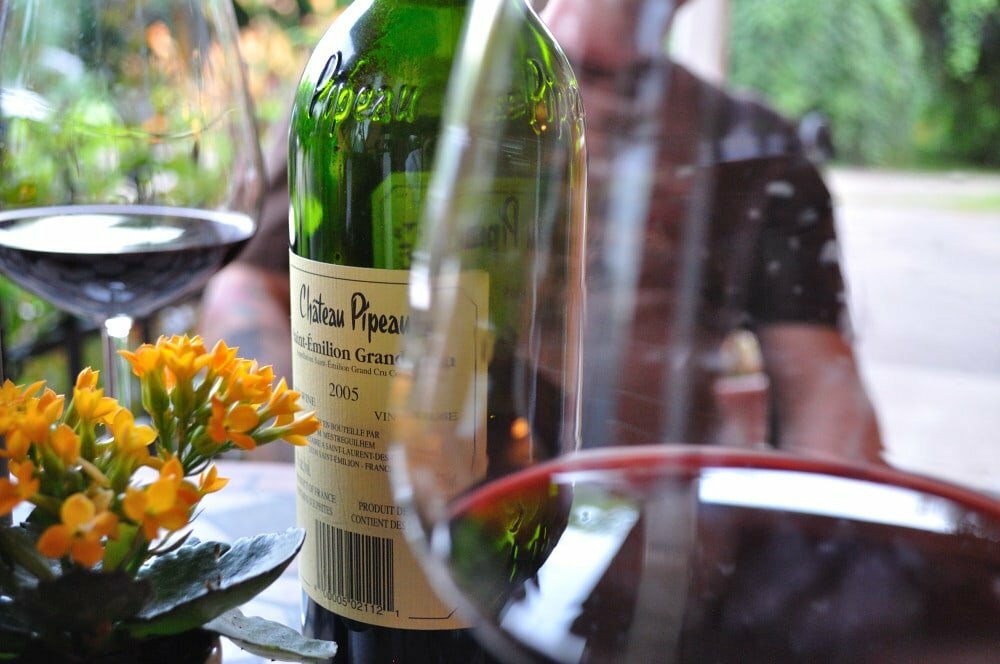 Chateau Pipeau, Saint Emilion Grand Cru 2005
A big, bold Bordeaux with a ripe, full mouth and yet, no linger. Chateau Pipeau, Saint Emilion Grand Cru 2005 for people who like wine but don't what all that pesky wine aftertaste.
The topic of today's Wino Wednesday post is my first Bordeaux Grand Cru, which was in it's self an evening of education. I am not a sommelier, not that I rule that out I'm all for a lifetime of learning, but at this time I approach each bottle of wine, no matter how noble (or humble) with the same sense of curiosity. What will this bottle hold? What new tastes, sensations, aromas and contemplations will be unleashed with it's uncorking? Adventure awaits. I worry, would a deeper education in the art of wine making spoil the innate inquisitiveness that is a great unfolding of multi-layered pleasures? Perhaps.
Let's take this experience; a swanky label smacking of old world grape and large, rambling vineyards. One of France's most renowned wine regions, a nine year old vintage, the designation of 'grand cru' and a price point of $42.95 (CAD) sets the bar high for the Chateau Pipeau, Saint Emilion Grand Cru 2005.
The nose was spot on, filled with spring violets and dark cherry. The taste, equally thrilling; ripe, red, berry driven, toned by earth and leather, the fall of the leg thick and rich as it clung to the glass. Structure and tone, brimming with fruit… and then… nothing. The taste was wiped from my mouth like it had never been there. The only evidence that remained was the taint of purple on my lips and gums. Surly this can't be right?! But no amount of sipping, savoring and swilling changed this effect.
A flash of flavour, then gone. Nothing at all like the gripping thrills of my first Grand Cru(s) all Burgundy born, rich to the last drop, filling the walls and roof of your mouth for an eternity. In comparison, this was 'wine light', but still with a 13% alcohol content.
Personally, I like a wine that hangs out a while longer. Like the company of a good friend, a good wine shouldn't be gone too soon. Still, an interesting pick. Chateau Pipeau, Saint Emilion Grand Cru 2005 Gypsy scorecard 83/100