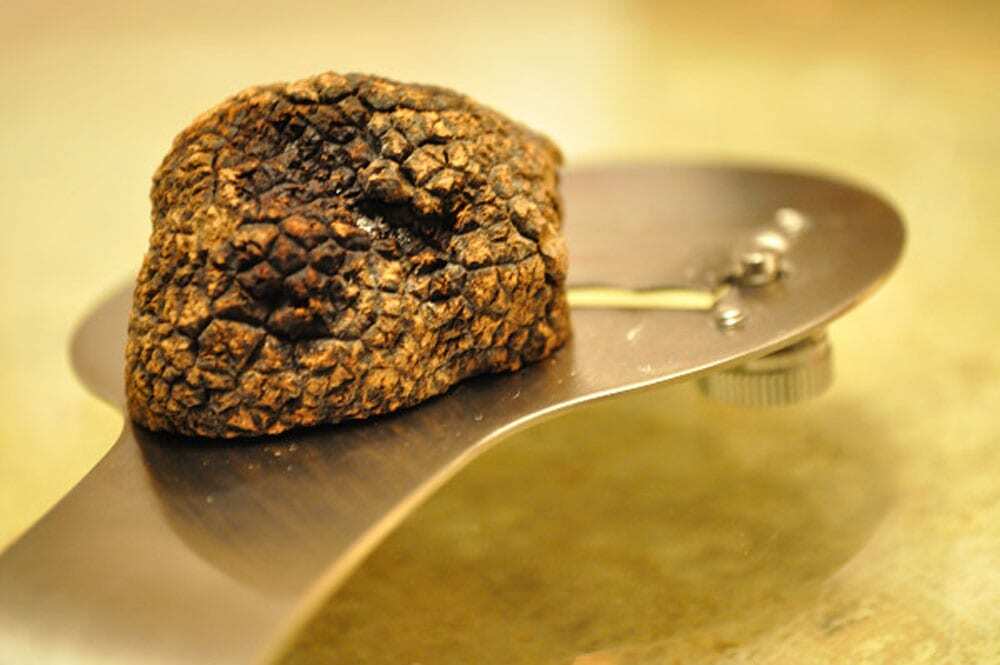 Truffles, Everyday Decadence
Truffles and their overt use in both His kitchen and My kitchen have turned me into a Truffleupagus (lover of all things truffled). It's an expensive little addiction and a good excuse to share some newly acquired truffle-ology in a new edition of Food Gypsy CSI (Corinna's Secret Ingredient).
Truffles aren't such a big secret, they've been enjoyed by lovers of fungus for thousands of years. They're prized for their earthy flavour and musky scent, and I thought I'd share a few secrets I've learned that keeps us in truffles — without breaking the bank.
"If I can't have too many truffles, I'll do without truffles." ~ Sidonie Gabrielle Colette
Fresh truffles are a pricey purchase. This is due largely to their scarcity and difficulty in harvesting them. Truffle hunters will tell you that some locations yield year after year, while others are a once in a lifetime find. Truffles hail from the tuber family, but having no foliage of their own, they rely on their host tree (oak and hazelnut for most varieties, pine in the case of the Himalayan) to provide the necessary carbohydrates and chlorophyll. This often results in a tell-tale stain on the surface of the soil, which truffle hunters, armed with dogs (and the occasional pig), look for when hoping to unearth 'black diamonds', the jewels of the kitchen.
Fresh truffles come in three grades: super extra, extra grade and first choice. Grading is based on quality and size; the super extra can be as large as an orange; extra grade is about the size of an egg; and first choice is roughly the size of a walnut Most of us would be lucky to see one above first choice, as they are often fought over by gourmets and premier chefs, though many would argue that the smaller truffles are richer in aroma and taste.
Oh, The Choices…
White truffles: Alba Madonna, is known as the 'queen of truffles' for its musky, garlic tainted scent. Harvested in late fall in northern Italy, white truffles are the most expensive of the lot, an average one ounce truffle is worth between *$200 – $300.
Black Truffles: The Black Périgord Truffle (pictured above) is named after the Périgord region of France, but is also found in Spain, Italy, Slovenia, Croatia and Australia. This is a winter truffle harvested in December and January when its perfume is at its height. A one ounce truffle is in the neighbourhood of *$150 – $200.
Chinese truffles: A black, winter truffle variety. Among the most plentiful, it is often the most affordable. Among the varieties are the Tibetan and the Himalayan. Look for Chinese Truffles to retail around *$30 per ounce for first choice.
Summer Truffles: Often called Burgundy Truffles, they're found across Europe, and come in two varieties: one harvested in summer, with a pale flesh, and one harvested in December that is darker. This variety is often used in truffle products such as truffle oils, truffle butters and truffle cheeses. If you find it fresh, expect to pay between *$125 – $150 per ounce. ( The Summer Truffle can also be found in a jar for about $75.)
Truffle Cousins: In North America there is the Oregon Truffle, which grows in the Pacific Northwest. A very affordable truffle option, a 1 ounce truffles will run you about *$35 – $50, but it is very hard to find outside its growing area. The Pecan Truffle, or Texas Truffle, a small red skinned truffle, is found in the nut orchards of the southern United States, and is used almost exclusively in that region.
If you make an investment in fresh truffles store them in a dry cool place. Ideally they're kept in good risotto style rice – which absorbs any excess moisture – and stored in the fridge. This adds fragrance and taste to the rice, which later makes a beautiful risotto. You'll also want to pick up a truffle plane (slicer) like the one above so you can shave thin bits of truffle onto a dish; these range anywhere from $25 – $95.
*Market prices vary. Calculated based averages quoted from retailers.
"The most learned men have been questioned as to the nature of this tuber, and after two thousand years of argument and discussion their answer is the same as it was on the first day: we do not know. The truffles themselves have been interrogated, and have answered simply: eat us and praise the Lord." ~ Alexandre Dumas
Big Truffle Taste for Under $40…
You don't have to invest hundreds of dollars to have truffles in the kitchen. There are some wonderful truffle products for under forty dollars that offer terrific truffle flavour and aroma at a fraction of the cost. Look for them in your local gourmet or specialty food store.
Truffle Oil ($20 – $39) and Truffle Salt ($12) are probably the most common truffle products and are easy to find. I often see truffle oil on the shelves of higher-end supermarkets and it is perhaps the most versatile of the truffle products. Saute in it, make a gnocchi with it, brush it on grilled meats or fish or make a batch of truffle aioli and be the star of the dinner party circuit.
Truffle salt is one to keep an eye out for, use it the same way you would any salt, for an enhanced flavour. Both truffle oil & truffle salt are often used as a finishing agent, adding a hint of flavour and a whole lot of aroma, perfect for pasta, risotto and vegetable dishes. Hot tip: use the oil and salt as a combo and make popcorn a gourmet experience.
For bigger truffle taste, try Truffle Paste ($18). It's a thicker agent, with lass oil added, you need very little to flavour a dish. Truffle paste can also take a bit of heat so it's safe to whisk it into sauces, or in any recipe to which you want to add that signature flavour. It's terrific in mashed potatoes or as part a seasoning rub for poultry or fish.
Cream of Porcini & Truffle ($25) mushrooms and truffles heighten each other's flavors and the porcini is often used to extend a truffle product. A rich, meaty mushroom, it offers its own intensity to the truffle flavor. Creamed truffle products are wonderfully rich and are often served straight out of the jar as a condiment with cheese or charcuterie. If you use a truffle cream of any kind to cook with, go easy with the heat, adding it at the very end to barely warm it and release the fragrance.
Truffle Carpaccio / Sliced Truffles in Oil ($40) is an inexpensive option for for presentation, and in dishes like Poussin en Demi-Deuil (chicken roasted with slices of truffle under the skin), though you will have to use more truffles to get the flavour intensity as truffles are not as bold once immersed in fat.
Dehydrated Sliced Truffles ($15) new techniques have allowed dehydrated truffles to maintain more taste. If you're considering adding truffle to a sauce, ragout or stew, the dehydrated version could be the answer, the flavour is released as they rehydrate. The best thing about dehydrated truffles is that they store for a long time and are light and portable, perfect for (gourmet) camping.
Not pictured:
Truffle Four ($12), can be used to thicken sauces or to enhance a dough or pasta.
On occasion you'll find a dried truffle pasta ($9) made with truffle four, there are some good ones on the market, only way to find out is to try them and see.
Truffle Powder ($29), the poor cousin to porcini powder, it has little flavour. Skip it and get a good porcini powder instead.
Truffle Honey ($21) is relatively new to North America, a mild honey infused with truffles, it's often used to baste game birds or drizzled over a good prosciutto.
And if you wish to dip a toe in the waters outside the outside our $40 price tag; Truffle Juice ($85/14 ounces) as the name implies, truffles, squeezed for their inner moisture content. The juice is a very intense product, able to withstand heat and easily adaptable in the kitchen.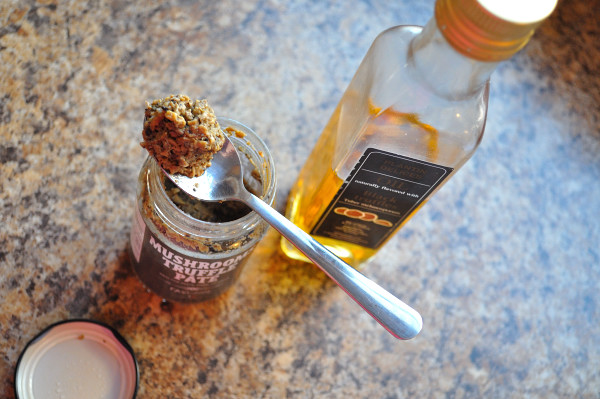 Two of our favourites in the kitchen at the moment; Porcini Black Truffle Paté ($32) and Black Truffle Oil ($29). Truffle oil is often used as a finishing oil, added to the top of a steaming risotto or pasta, it explodes with earthy aroma. The mushroom truffle paté can be used as a condiment with a nice piece of cheese and a heel of bread. It also adds beautifully to finish a sauce, and makes for a magnificent pasta; toss lightly with hot pasta, a bit of butter or olive oil and serve. (Now considering its uses in the bedroom…)
Once you discover a few of your favourites, it becomes a mix and match flavour extravaganza. Below; hanger steak with creamy potatoes and porcini mushrooms in a porcini truffle sauce and parsley roasted tomatoes. Mushroom & truffle paté was used in the sauce, truffle oil used as a fat base to finish the steak and the whole thing is crowned with fine shavings of black truffle. A simple meal at home, with five star restaurant flavour.
"Whosoever says truffle, utters a grand word, which awakens erotic and gastronomic ideas…." ~ Jean Anthelme Brillat-Savarin, The Physiology of Taste.
Sources & Resources:
In Ottawa La Bottega offers a large variety of truffle products, in store and on line, as well as fresh White Alba Truffles in season (November). For the most part, their supply is special order so if you're interested, call and reserve.
Also in Ottawa, The Byward Fruit Market offers several truffle products and three fresh varieties in season: Black Winter Truffles (January), the Himalayan (December – February) and occasionally the Oregon Truffle in the fall. Again, supplies are limited, call the store direct at 613-2416542.
Online, check out Gourmet Store offering a wide variety of the products mentioned above. Caveat: often the smallest quantity of fresh truffles they ship (in season) is a quarter pound. Start saving now.
I encourage you to add your favorite local stores for all things truffled in the comments below as a resource to other readers. Can't be without our truffles!