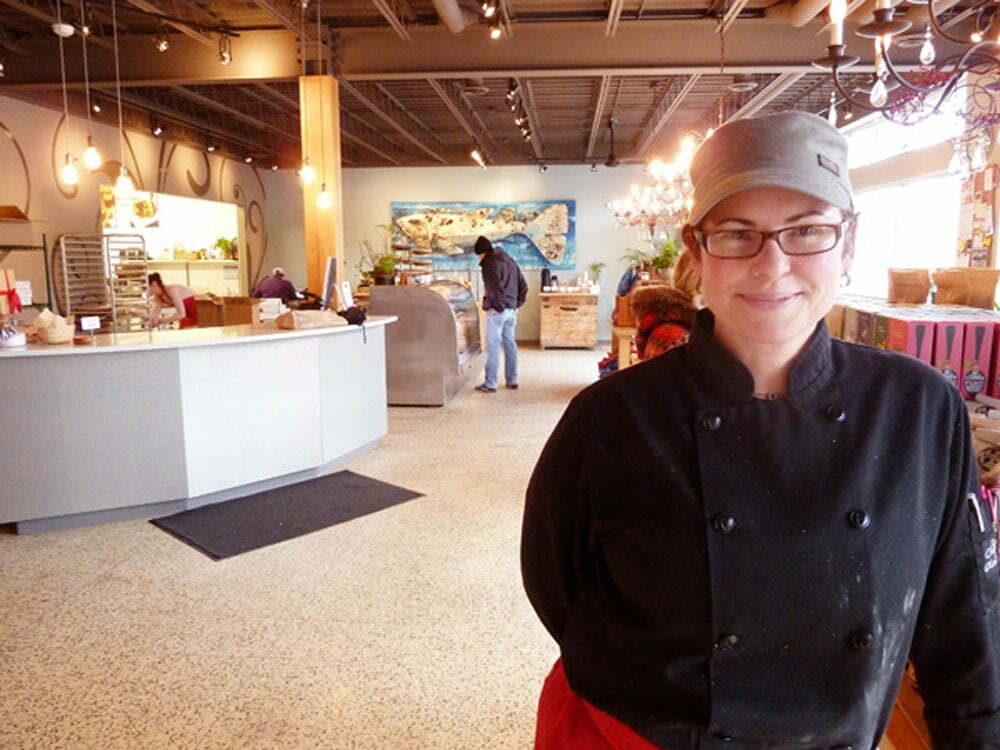 The Red Apron, Good Food is Good Business
The recently expanded Red Apron, is among my favourite food outlets in Ottawa's downtown core.  Selling their own brand of sophisticated comfort food for pick-up or delivery, Jo-Ann Laverty (pictured above) and business partner Jennifer Heagle have created a business model that is at once simple and sophisticated.  Good food, reasonably priced and ready to serve.
As the business grew so did their need for space and the new space, directly across from their last location on Gladstone Avenue is a bright and welcoming, with hints of rustic character and a distinctly feminine touch.  There is now the option to enjoy lunch in-store; a selection of sandwiches, soups, baked goods and coffees.  Their larger retail space offers a broader selection of in-house prepared food,  frozen and ready to go, as well a variety of condiments, jams, jellies and preserves from local suppliers.
This is the third move for the Red Apron, who started out as a small business in a small space.  "Start small, that's my advice whenever anyone asks" said co-owner and chef Jo-Ann Laverty in conversation with Food Gypsy about the store, and the Red Apron success story.
I often find, in business, that women and men have very different approach; women are often content to keep things small.  Dispite demand and all the telltale signs of a business with growth potential, by and large businesses run by women often remain small and manageable, rather than take a risk at expansion.
"That was a big discussion when we began to outgrow our first location, we had a ten staff in a tiny kitchen and the debate was 'do we cap it or do we move?'" confides Laverty.   There is wisdom in both camps, and no wrong or right way to do it, but fans of the Red Apron can thank their lucky stars that there are two savvy business women at the helm, their success means they can feed more of us.
Holding true to their mandate, delivering good, wholesome food that is "either local or organic" the new Red Apron Basics line now offers customers dried goods too.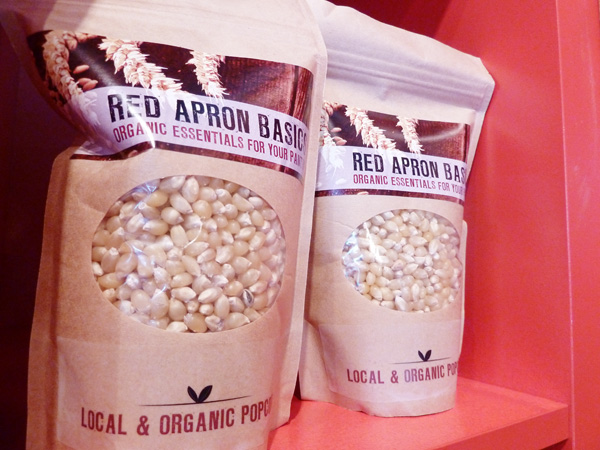 I became a fan of the Red Apron when I first moved to Ottawa in the fall of 2010.  Only a few minutes away, there were many a night when the Red Apron was my personal chef, while I was a busy culinary student.  Fresh, seasonal ingredients, artfully presented and prepared with care.  Dinners can be ordered by the day or by the week with a rotating menu; prefect for busy families and time crunched singles.
I was never that organized, so opted instead for items out of their freezer, which were waiting for me when I got home.  I've never eaten anything I didn't like from the menu and have a deep love for the Organic Chocolate Chip Cookies because a) they're huge and b) they're easier to justify than other cookies.  ("What?!  It's O-R-G-A-N-I-C.")  
This week's menu includes: Roast Ontario Pork Loin with Grainy Mustard, Herb Gremolata & Honeycrisp Compote.  Organic Rice & Lentil Pilaf with Caramelized Onions & Fennel, Roasted Carrots, Cauliflower & Broccoli.  A 'True Loaf' Baguette and Decadent Maple Apple Coffee Cake.  That's Thursday's selection (there's more) and you can call anytime and opt in or get more information.
"People are realizing more and more that time has value."

"That is so true," I agree " so many people don't even have time to cook anymore.  They have 2o minutes to get food on the table so they wind up eating out of a box.  Sometimes I run recipes on Food Gypsy and I look at the cooking time and think 'three hours?! who has time for that?', maybe on a weekend."

"That's where we come in, we can braise that piece of meat for three hours and our customers can enjoy a great meal with their family" said Laverty, and she's right.
Being busy moms, Jo-Anne & Jennifer know what their customers are up against; "part of our mission is to get families back to the table" she says smiling.  Business is good, that means more families are eating together and that… can only be a good thing.
The Red Apron
564 Gladstone Ave.
Ottawa, Ontario K1R 5P3
613-695-0417
www.redapron.ca