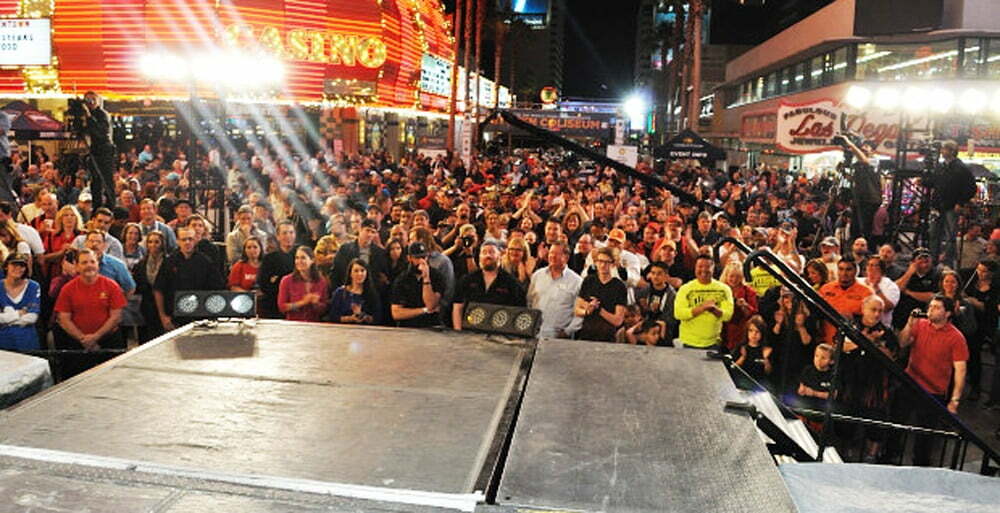 Canada's Food Sport Elite at World Food Championships
Last month culinary competitors from around the globe met on the streets of Las Vegas for the world's biggest food fight. Invited champions squared off at the World Food Championships, all vying for a piece of the $300,000 purse; meet Canada's food sport elite.
Coming from all walks of life, east to west, Canada's food champions proudly donned maple leaves, hoisted flags and showcased Canadian talent and cuisine, at the second annual World Food Championships (WFC), November 7 – 10, 2013. Happy to have met so many terrific cooks and food lovers, with a passion for smoke, fire and feisty competition!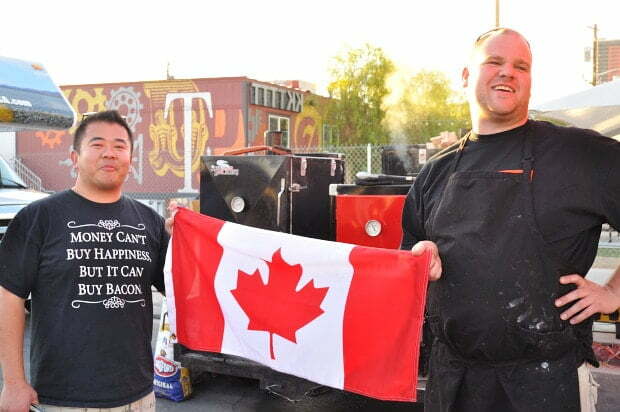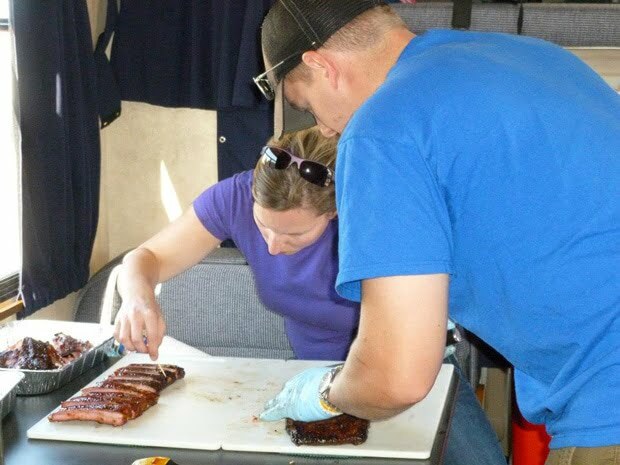 Meet Team Canada, Our World Food Champions
Photo: Pitmaster Brad Rohrig, Eatapedia's John Thomson, and Pistol Packin' Carolyne Rohrig, showing their true colours. Photo(s) Credit, The Pistol Packin' Piggies.
"Both of us are local police officers in Ottawa, Ontario. Brad formed Pistol Packin' Piggies due to his passion for BBQ and competitiveness. We compete several times a year in Canada and the Unites States. This year we were given the opportunity to compete against the worlds best at the Jack Daniels World Invitational Barbecue Competition (placing 14th in chicken, 17th in pork, 50th in ribs and 78th for beef brisket), as well as the World Food Championships in Las Vegas."
How long have you been competing? This is our fourth year.
Titles, wins, team awards: Grand Champion of Smoked to the Bone. Invited to compete at the Jack Daniels World Invitational Barbecue Championships and The World Food Championships in Las Vegas.
What are the World Food Championships all about for you? Competing against the best cooks around North America. Showing that Canadians know how to cook barbecue, which is predominately viewed as Southern art form.
Doing Canada Proud at the World Barbecue Championships: Against 66 of some of the best teams in barbecue, the Pistol Packin' Piggies placed a respectable 16th overall, with a ripping second-place in pork, 12th for ribs and in brisket, a disappointing 53rd. A better showing in brisket could have earned them a top ten position, but the challenges sourcing good, clean burning wood and an unfamiliar borrowed cooker took it's toll. In a competition where teams were divided by a tenth of a point, anything can happen.
Huge kudos to the Pistol Packin' Piggies. Read more from Brad's on competing at the World Food Championships & the Jack Daniel's Invitational on Ron Eade's Blog, Omnivore's Ottawa, here.
_________________________________________________________________________________________________
Burnside BBQ, Pitmaster Darrel Burkowsky (with the loving assistance of Karen Burkowsky)
"My BBQ Quest began over 10 years ago as usual buying a cheap bullet smoker and doing back yard BBQ . Based in Portage La Prairie, the availability of nice Offset pits is pretty slim so I started building my own. We started competing in 2008 , both in KCBS and PNWBA events. In 2011 we were invited to the Jack Daniels World BBQ Competition in Lynchburg TN. Being invited to compete in Las Vegas at the World Food Championships. It can't get much better…"
What's your day job? Electrical Supervisor
Titles, wins, team awards: We have many placing awards , but the 3 Grand Champion awards and the invitation to The Jack in 2011 is so far the highest high for us.
What are the World Food Championships all about for you? Being invited to compete with some of the best Chefs /BBQ Pitmasters in the world and doing all of this in Las Vegas on Fremont st is something that a few years ago I would have never even have dreamed that I would have an opportunity to do.
Thoughts after the WFC? Yeah , we didn't place that well overall (43rd) , I had some timing issues that didn't work out to be the best for us. The big meat , brisket and pork ended up being done way to early in the day. I put them into the cambro to hold, and they became a bit too tender… I can make excuses all day! We normally cook on a trailered offset stick burning pit, which has worked well for us for a few years now . Not that I'm blaming the Weber bullet pits I was using in Vegas, that was operator error on timing. I'm happy with our Rib placing, we placed 16th in ribs.

We plan on trying to get to a few more contests next season to better our chances at returning to Lynchburg TN to the Jack Daniels World BBQ Championships. We were fortunate to have made it there in 2011 and it seems to have gotten into your veins somehow. Nothing would be greater then getting that feeling again.
__________________________________________________________________________________________________
BBQ Quebec / Barbacoa (competing under the name Hell Fire): Max Lavoie, Jean Philippe (JP) Lavoie & Jason Savage
What's your day job? JP and I run BBQ Quebec, a BBQ company distributing and producing BBQ products of all kinds in Quebec City. We do catering, all kinds of BBQ promotions, TV/Radio/Magazine BBQ recipe chronicle, BBQ competition as organizers and competitors…. if it says BBQ, then we are there. Jason Savage is the owner of Barbacoa L'Athentique Maenphis BBQ (restaurant) in Quebec City
How long have you been competing? Almost 2 years. But we've helped other great competitors in some of the biggest competition in the USA (American Royal with John Lattuca and World Food Champion)
Titles, wins, team awards: My brother (JP) and I team won first place in Ribs last Year in Quebec City BBQ Fest and Jason (Hellfire Team) finished Reserve Champion at this event too. And of course, 1st place in the Barbecue SideDish competition at the World Food Championship in Vegas.
What were the World Food Championships all about for you? It's all about creating the best food you can make ! All the teams that were there won a State championship or a big event from their Country ( England, Holland, South Africa, Germany and a couple other country were there too ).
How did you place? We finished 1st in the Side Dish competition! In the meat competition , we didn't perform as well as the American [teams] and finished 63. We still gotta' work on the "American Taste".
What's next? Actually, our team will merge with Team Canada BBQ, that has been officially announced and sanctioned by the Canadian Government last week. We'll go on competing and doing demos in national and international events. Lots of news are coming follow us at teamcanadabbq.net. In the works are a TV show and we're gonna be doing a new season of BBQ videos www.youtube.com/bbqquebec. Some videos in english are coming soon too. We also just launched a new brand of clothing dedicated to BBQers, it's called 'Grillers & Smoking' and the logo feature the perfect animal : a mix of a pork and a beef!
____________________________________________________________________________________________________
Rusty's BBQ – Rusty Johnson, Pitmaster, assisted by John Lim Hing
What's your day job? Headend Technician, Engineering Dept -Shaw Cable
Where's home base? Port Moody, BC
Rusty Johnson has made his passion for southern smoke an avid pastime for the last three years, when he began competing in and around Vancouver's Lower Mainland. Rusty loves the effects of the fire, and shares good BBQ grub catering on the weekends. In his spare time, he loads up his gear and hauls his rig to big events south of the border including an invitation to the Jack Daniel's World Barbecue Championships in Lynchville, Tennessee.
Rusty's WFC sidekick, Jon Lim Hing can be found, loving all things pork (God bless him) at Richmond BC"s Hog Shack Cook House. (sweet…)
Titles, wins, team awards: In 2013… Grand Champion: Snohomish Kla Ha Ya Days Spring cook, Washington State, Grand Champion: Car-B-Que in Surrey B.C., Reserve Grand Champion: Cloverdale Rodeo, Reserve Grand Champion: Canadian National BBQ Championships in Whistler B.C. (my favourite, also the top placing Canadian as the [grand champion] was American). Best Individual award was 3rd overall Pork!! (almost the best pulled pork in the world) in the Jack Daniels World Invitational BBQ Championships last year. Really showed me that I can cook at this level.
What are the World Food Championships all about for you? That's Easy. Its a chance for a guy like me from a kinda BBQ no-mans land to see how my skills stack up against the rest of the world. I also get to meat (<—see what I did there) people from all over the continent and a couple from around the world. You make friends based upon an activity you all love. Lots of the people I meet at these things I still keep in touch with. I don't know a lot of people that can say they have buddies everywhere they go. Food people are usually people that like to entertain and enjoy company. So everybody is usually very out going.
Taking delivery of a new rib cooker onsite in Vegas, Rusty finished 35th at the World Food Championships Barbecue division, scooped 11th in side dish and by all accounts, had a great time doing it.
_______________________________________________________________________________________________
Chef Ted Reader of Ted's World Famous BBQ
Photo: Shawn Danko from the Kooky Canuck in Memphis, Teddy Reader and assistant Anna Mae and Mike Callaghan & Barb van Russell of Black Pig Barbecue out of London, Ontario.
Well known Toronto based Celebrity Chef, Author, Product Development Specialist, Chef Professor, BBQ Guru, Chef, Cook, Husband & Father. (Follow Ted anytime on his website: www.tedreader.com) Ted was joined at the WFC by cohorts manager/partners Greg Cosway and Les Murray and prep assistant Anna Mae Crespo.
What's your day job? Chef Professor at the Canadian Food & Wine Institute, Niagara College where I teach a Research Chef course on Modern Culinary Applications and Recipe Development ( a food science/technology degree program). Owner Ted Reader Inc, product and recipe development company consulting to a variety of customers on Retail and Food Service Product Development. I currently am developing for a company called Blue Goose Pure Foods, past clients include Loblaw's, Heinz Canada, Pepsi-Co, ED Smith, High Liner Foods.
Spokes person for Tabasco Canada. Author of 21 cookbooks my latest is Gastro Grilling, Beerlicious and The Complete Idiots Guide to Smoking Foods. Partner in a Catering company – Playing with Fire Culinary Evolution and partner in Chef Events, Chef Management Company.
How long have you been competing? I don't compete. This was my first time since 1997.
Titles, wins, team awards: Guinness Book of World Record Holder 2010 Worlds Biggest Commercially Available Hamburger 590 lbs, Author of 21 cookbooks of which many are award winners, I have my own product line of Ted's World Famous BBQ Sauces and Seasonings (also some award winners in the mix)
What are the World Food Championships all about for you? Cooking great tasting food and having fun!
Now that's a sandwich! Ted's clam to fame are mile high sandwiches with style and zing. Finishing 19th at the World Sandwich Championships is nothing to sneeze at. The sandwich competition was plagued with technical issues, several competitors didn't make it to the judges table on time and were disqualified. To Ted's credit, I'm certain that Vegas will never be the same… sure they had to bring in more Bourbon.
___________________________________________________________________________________________________
Food Gypsy – Corinna Horton (yours truly) & Diane Meagher
First time food sport competitors, with a surprising finish, we were thrilled to place 5th overall in the World Burger Championships. Diane and I have never cooked together before, in fact Diane rarely cooks. Her frequent comment of "who knew cooking was fun?!" became our mantra.
We attribute our success to having consumed many, many bottles of wine together. Plus a whole lot of ideas, coaching and great advice from the Chef in my life. This was a team effort on so many levels it garnered its own Food Gypsy post. (read more here).
The highlight of the event for me (besides the nerve wracking cooking with a clock ticking down) was wearing a Go Pro camera as a boob-cam as part of the filming for the WFC television series, airing next spring. Which made me think "hey, I have a Go Pro!" Surly hardcore HD food videos would be every bit as epic and those swimming with whales/base jumping videos; think scalding liquids and sharp knives.
Congratulations to all the fine food sport competitors who made the World Foods Championships a thrill a minute, for both those cooking and those watching. If reading this gets your blood pumping, you should know that competing in contests of culinary skill is neither easy nor cheap, but it sure is fun! If you want to be on the WFC short list of invites next year, first you have to win a sanctioned event.
A good place to start is with the Canadian Southern BBQ Association (CSBBQ), the list of events for 2014 is not posted yet but, by and large it's a summer sport, kicking off on Victoria Day long-weekend in May. That gives you six months to train… who knows, it could be your name they call to take the walk up the stairs and on to the World Food Championship stage.
Can't help but notice we had no Canadian representation in the Bacon World Championship. Perhaps there's a federal grant for that…
Photo credit (below): World Food Championships