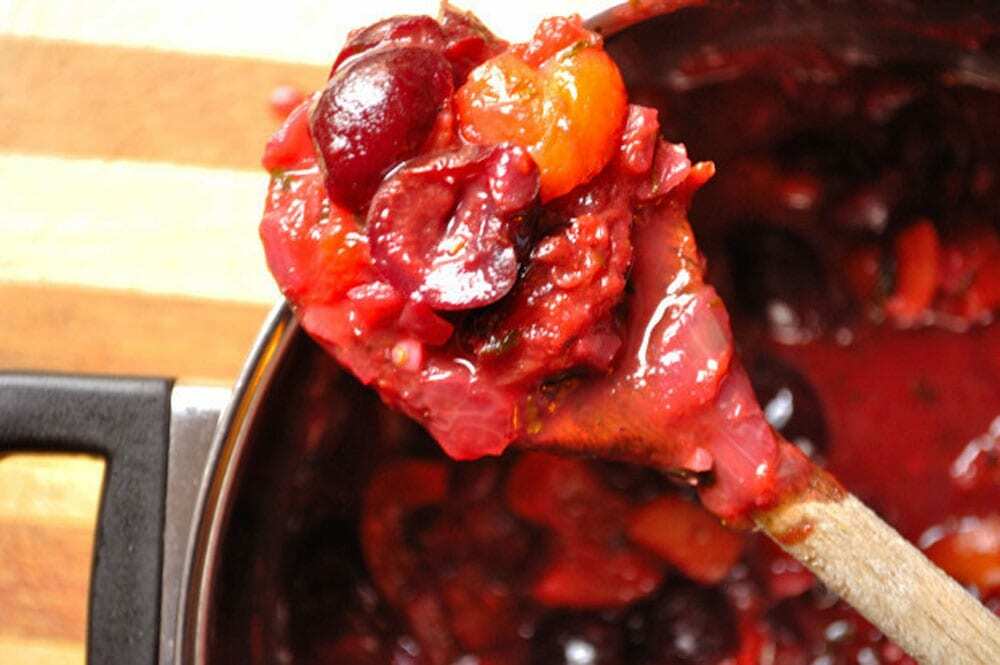 Tangy Fresh Fruit Chutney
The holidays approach and along with our regular deliciousness and butter laden delicacies, we thought we'd bring you a few ways to make your turkey dinner, or turkey sandwich, a little more interesting with a condiment or two, starting with Tangy Fresh Fruit Chutney.
Chutneys are a cold weather standby at our house made with everything from the last of the summer fruits (like you see here), to the sugar coated figs at the back of the cupboard from last year's feasting. Perfect with strong cheeses, cured meats or roasted poultry, they're as simple as jam, but instead of preserving with sugar, we pickle with vinegar.
This is a cooked chutney, it can be preserved in jars or simply kept in the fridge, with a nice, tight lid for a couple of weeks. It also freezes well. Switch up your fruit for try peaches, mangos, dried apricots or sour cherries or change out the vinegar for a different flavour accent. My preference for chutneys is apple cider or white balsamic vinegar, but I love a good sticky strawberry and balsamic chutney, particularly with goat cheese. Find a flavour profile that works for you with a little experimentation.
This tangy fresh fruit chutney makes a marvelous hostess gift over the holidays. Dress it up for a party in a homey glass jar with a handwritten tag, a chunk of artisan cheese and a fresh baguette. A wonderful, homemade way to say "thank you".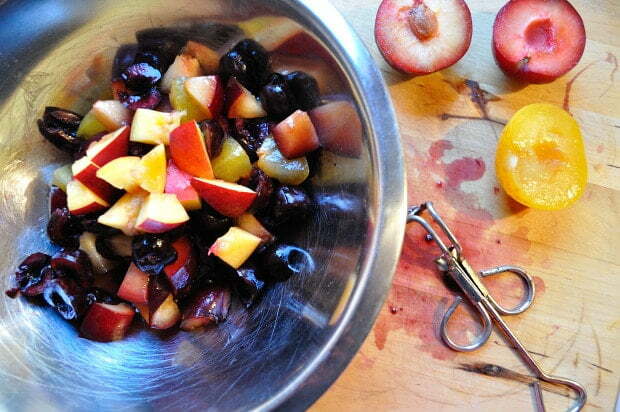 Tangy Fresh Fruit Chutney
Yield: 3 cups
Time: 90 minutes
1/2 tablespoon light cooking oil (safflower, canola)
2 cups onion, finely chopped
1/2 tablespoon garlic, minced
1/2 tablespoon ginger, minced
5 cups prepared fresh fruit
1/3 cup (light) brown sugar
1/3 cup apple cider vinegar
1/3 cup water
1 small fresh chile pepper, chopped fine (or 1 teaspoon crushed red pepper)
1/2 teaspoon salt
3 tablespoons fresh cilantro, lightly chopped
1. Heat oil, add onion, cook about 7 minutes until golden. Add garlic and ginger, cook about a minute until the base begins to smell sweet.
2. Add fruit, sugar, vinegar, water, salt & chilis and bring to a rapid boil over high heat. Reduce and simmer on medium low until fruit begins to breakdown and liquids thicken, about 35 minutes. Remove from heat, add fresh cilantro to the still steaming chutney, stir to combine, then allow to cool.
3. If storing your fresh fruit chutney in fridge or freezer spoon it into clean, sterile containers, leaving a 1/2 inch gap to the top of the rim to allow for expansion. Cool at room temperature so that condensation does not add liquid to your chutney after the fact. Be sure lips of jars are clean and seal with tight lids.
A well prepared chutney will store for 3 to 4 weeks in the fridge, as it rests flavour and colour will intensify.