The Wines of Prince Edward County
On this Wino Wednesday we tell a tale of vines in the new world and Canada's newest breakout wine region, Prince Edward County. As the winter droned on into what should have been the beginnings of spring, we loaded up for an off-season wine-tainted tour.
A two hour drive from both Toronto and Montreal and three and a half hours from Ottawa; Ontario's Prince Edward County is quickly becoming a hotspot for great food and good wine. The county's central hub, the idyllic country town of Picton, boasts both the Great Canadian Cheese Festival and the Terroir Wine & Farmers Market and is now home to a growing breed of artists and artisans making the county a leading Ontario destination.
Surrounded by water, this region has long been farm land praised for it's micro climate, and only more recently snapped up by the freshest of Canada's wine merchants. It seems all this time, just below that 24 inches of reddish-brown clay to sandy-loam based soil, lay the holy grail of wine making – a layer of broken limestone bedrock.
This allows for ample drainage in spring and acts like a sponge in the hot summer months forcing roots to reach deeper in the growing season, producing lower yields of highly concentrated, flavourful grapes. Moderate southwest winds sweeping over the Bay of Quinte help to keep temperatures a moderate 22°C (71.6°F), and evenings cool making this appellation similar in climate and terroir to that of Burgundy, France.
It is no surprise then that we find buttery chardonnays, burgeoning pinot gris and young pinot noirs lining the fields; they're vines that do well against limestone and sticky mud. As vines find their home, so to do vintners, and lovers of the grape. As vineyards large and small spring up, with them arrives a culture entirely new to quiet country lanes and rutted dirt roads that they now call the Taste Trail.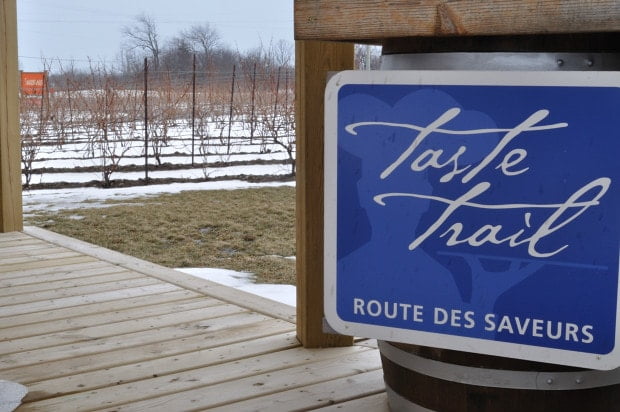 So much wine so little time
You can tour the county in two directions from of Picton, you can travel west through Bloomfield and Wellington, where you'll find The Grange of Prince Edward County, Karlo Estates, Harwood Estates Winery, Norman Hardie Winery and Vineyard, Casa-Dea Estates Winery, By Chadsey's Carins Winery, Keint-He Winery & Vineyards, Sugarbush Vineyards, Huff Estates Vineyards, Clossen Chase Vineyards and Sandbanks Estates Winery. Plus the Barley Days Brewery, 66 Gilead Distillery, Or you can tour east through Waupoos where you'll find Del-Gatto Estates/Bella Vigne, Waupoos Estates Winery (& Restaurant), the Devil's Wishbone Vineyard & Winery and the County Cider Company.
It's impossible to sample it all the wine od prince Edward County with only two days to tour (no matter how hard you try), so we decided to head west and leave the eastern estates for later this spring. Besides, The Devil's Wishbone (home to a merlot we are overly fond of) was closed for the winter months, so westward we went with map in hand. Below are our notes and picks for our pocket book, if only we had an unlimited budget. A few tastes to try plus a marker for what went in our cellar (and by 'cellar' we mean the wine rack in the closet, whatever works).
Things to know before you go
Most vineyards and wineries offer tasting samples of approximately 2 ounces each. In past experiences, sampling in California, France and Italy, tastings are free at the vineyard, and because there are no middle men to pay, bottle prices are cheaper. Not so in Canada.
Most vineyards we visited charge $2 (on average) per sample (Closson Chase offers a flight of three for $10), though that fee is waved if you purchase a bottle from the shelves. Also, we found prices shockingly high, on par with government run liquor stores, where we can easily pick up many of the labels we explored. Case lot prices were also not a bargain, but instead twelve times the price of a single bottle. The one exception we found was at Sandbanks, where we overheard the sales staff offering a free bottle as incentive when another customer rang up his case of wine.
This is due, in large part, to how wine is taxed in Canada. That said, we found the service at the estates we stopped at to be excellent. Product knowledge was superb and the scenery, even in the last days of winter, was stunning. So if you're looking for a better prices, you're not going to find them. But if you're looking to explore wine, cultivate your palate and sample a wide variety in one locale, while breathing some clean country air, this is a getaway for you.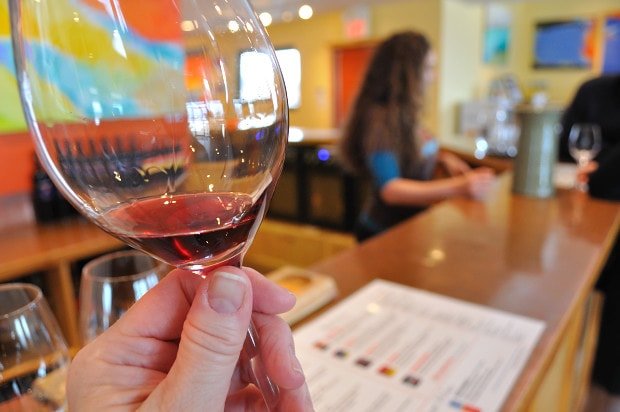 Sandbanks Vineyard
Our first stop at Sandbanks was not entirely accidental, as their baco noir is not new to us. With thirteen different vintages to sample, an multiple awards to their name, Sandbanks is a stop worth making. The bright, well lit showcase room, lined with bottles is an easy place to shop. The staff (Valery & Chantel) were very wine savvy, bilingual and friendly. They lead us through four samples each, me leaning light and white, and the chef in my life leaning big and red.
Tastes to try: Shoreline, white, a surprising Chardonnay, Riesling Gewurztraminer blend. Dunes, white, a highly floral, light wine with a hint of citrus. Anything Baco Noir…
In our cellar: Two bottles of Sandbanks Baco Noir 2011 ($14.95) and one bottle of the Sandbanks Baco Noir Reserve 2010 ($19.95). Both are wines with solid structure and and big fruit flavours, that should cellar well, but are ready to drink. The reserve hints of chocolate, they both linger and seduce. The pick of the weekend by our Chef B (Benoit Gelinotte), who likes his wines red and rich.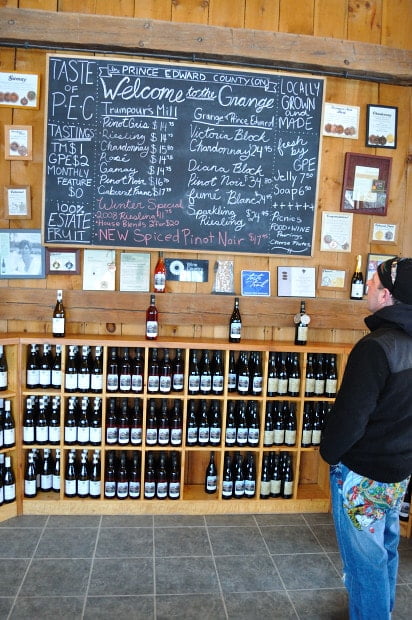 The Grange of Prince Edward County
As you turn the corner on Closson road and the vineyard opens up before you with it's white farmstead home beside a winding creek and 160 year old barn that houses both the tasting room and the winery, you may find yourself quite enamored this is a stunning property. Home to both The Grange and Trumpour's Mill Estate wines, there are thirteen wines to choose from. Our guide, Monica Mills, lead us through the vintages with expertise tempting the palate with a smattering of whites and dry reds as well as a short tour that included the aging room, lined with barrels (above).
Soon phasing out the Trumpour's Mill Estate line, wines from this vineyard will be sold solely under the Grange of Prince Edward County label, this most certainly a stop worth making. In the summer months you can enjoy both wine and food, as they operate a small bistro, and the vineyard acts as a venue for intimate weddings and events.
Tastes to try: Trumpour's Mill 2011 Estate Chardonnay ($15.80) white fruits, melon and lemon, Trumpour's Mill 2009 Gamay Noir ($14.75) red fruits and a vibrant finish and the GPE Victoria Block 2007 Chardonnay ($24.95) warm hints of apple pie, smooth and barrel aged.
In our cellar: GPE Diana Block 2007 Pinot Noir ($34.80) Ripe, refined and oh so earthy, with hints of leather and cherry and a sexy finish. (Yes, I picked the most expensive bottle on the shelf, what can I say, I have good taste.)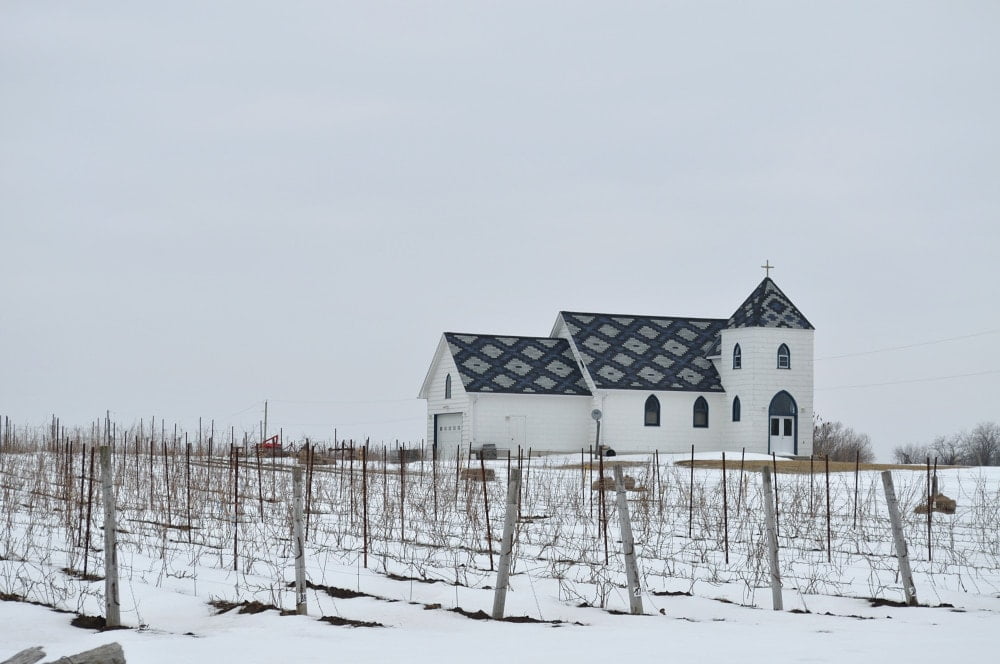 Closson Chase Vineyards
Down the lane from The Grange, at the corner of Clossen and Chase roads, you'll find Clossen Chase Vineyards. A stunning vista, Closson Chase was a must stop photo op for us, with their restored church, re-roofed in the Burgundy-style (above), our resident Burgundy boy, Chef B is their biggest fan. Sampling in a cozy room in an old barn, now painted purple, they are currently showcasing a short list of wines that includes a truly exceptional chardonnay.
Tastes to try: 2010 Closson Chase Pinot Noir ($39.95), a little youthful for our tastes, much to be expected from a young vine. Earthy beet and pepper against a backing of red fruit. S.Kocsis Chardonnay, Beamsville Bench ($34.95), nectarine and creamy oak with a hint of honey.
In our cellar: 2009 S.Kocsis Vineyard Chardonnay, Beamsville Bench ($34.95). 2009 was a great year for chardonnay and this chardonnay in particular fared very well. Citrus fruits and vanilla with a lingering hint of green apple, among my favourite wines of the weekend.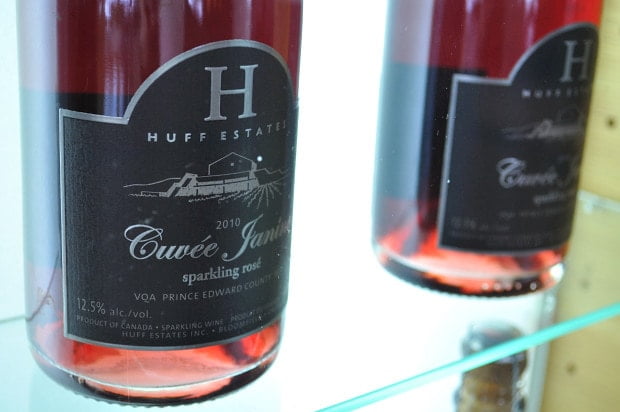 Huff Estates
An impressively modern styled wine showcase, with sleek long, lines, Huff Estates operates a small gallery, a fine dining restaurant and an Inn with rooms opening right on to the vineyard. The long drive through the gates and rows of vines was reminiscent of California and some of beautiful vineyards of Napa. Next time we plan a little getaway to the county, The Inn at Huff Estates will our pick for a romantic weekend for two.
Unfortunately, we did not taste as deeply as we could have with eleven wines to choose from under the wise guidance of Huff estate's Angela Braun. We were a tad rushed (read cranky) and in desperate need of sustenance , sadly the estate's restaurant was not yet open for the season, putting Huff Estates at the top of our list of vineyards to return to and explore in greater detail.
Tastes to try:
In our cellar: The 2010 South Bay Chardonnay ($29.95) it's light minerality, and fresh, pineapple undertone paired well with our Lentil Sausage and Bacon Casserole. A wine in the Burgundy style, grown close to home. My pick of the weekend was new discovery and a new product, the 2010 Cuvee Janine ($29.95). A sparkling pinot noir with a punchy pomegranate acidity balanced with a hint of maraschino cherry plus the fun of bubbles and a creamy mousse. I love a good pinot, and was thrilled to see such creative use of young wine, hats off to savvy wine maker Frédéric Picard.
With all the tasting and talking, this was about as far as we got along the Price Edward County Taste Trail, but fortunately for you, it's not our first county wine experience. Here's a couple more wines to taste and enjoy…
At Devil's Wishbone, the Merlot. I know I mentioned it off the top, but it's such a true, un-tricked, ripe merlot, it really does deserve a second mention. Head to Norman Hardie for a dam fine Pinot Noir, their 2008 is outstanding. Hardie's understating of wine is obvious before you even taste it, it has subtlety and structure. And don't forget a stop at the Hinderland Wine Company, for the Hubb's Creek unfiltered Pinot Noir (28.95); it's worth the trip alone. A rare unfiltered beauty, an opportunity for a young pinot to shine, but only for a short time. This is not a wine that will shelve well, this is a wine to savour in the moment.
Many of the VQA (Vintners Quality Alliance) wines featured here are available across Canada, and some of the vineyards are forward thinking, offering an online e-store as well. Take a tour through the Canadian section next item you're buying wine for the weekend.
Go forth, drink Canadian. Salute!