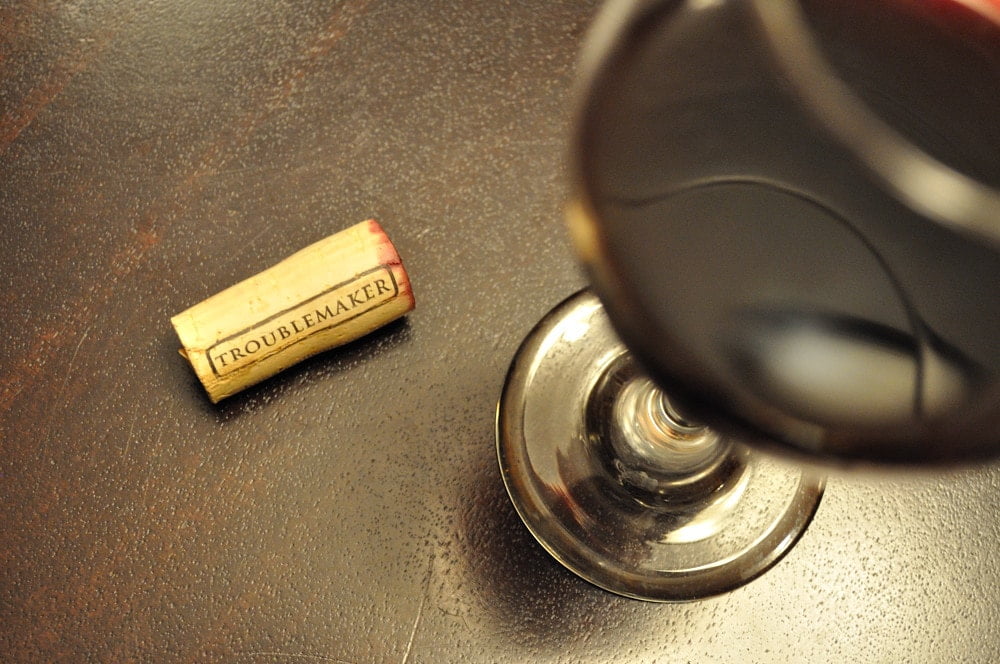 Wino Wednesday – Troublemaker
Wino Wednesday, our monthly feature on Food Gypsy where we select our favorite bottle from the past month and share it with you. This month's selection, straight from the Paso Robles district of Napa – here comes Troublemaker.
Honestly, I cannot recall the last time we drank and Californian wine. I assure you there are no issues of prejudice, because we adore a good Napa wine; so ripe and packed with new world optimism We simply have not wandered down the isle marked 'USA' in a long while.
How can you resist a wine called Troublemaker? Let's face it we're all up to no good this way, you can blame the wine.
Austin Hope's Troublemaker is a true Paso blend of Syrah, Grenache, Mourvedre, Petite Sirah and Zinfandel. A powerful woodsy nose, a gorgeous burgundy colour, and tasting notes of blackberry, plum, cocoa and spice. The wine positively paints the glass with long, leggy streaks and an leaves an enduring finish. Troublemaker is a solid table wine and good value for your dollar at ($25.50) but likes a good, long breath. It was even better the next evening, when we didn't quite finish the bottle, more mellow and rich.
(Yes, sometimes we don't drink the entire bottle in one sitting. Shocking I know)
A wine for a casual evening with friends, dry and refreshing. Troublemaker is big enough for the coming barbecue season, it stands well against red meats and heavy textures like beef short ribs or lamb shanks. The hint of cedar and smoke makes it just a touch of a showoff in a crowd of reds on a table. Gypsy scorecard: 86/100.
Officer — wine made me do it.