Eggs, they're the prefect fast food. Eggs cook fast and act as a delivery system for just about anything in almost any combination. Served hot or cold, a frittata can feed the whole family, at any time of day, in under an hour.
In Italian, the word frittata comes from the past tense for fry, fritta. Frittata is used to describe a method of cooking eggs in a skillet and is liberally applied to anything from a fried egg to a traditional omelet. Usually cooked low and slow on the stove top, I prefer to cook raw ingredients going into the frittata on the stove, then finish in the oven. The even, ambient heat cooks the egg perfectly and this way I can do something else while it cooks, all by itself.
The frittata is also the perfect way to clear out the fridge. Bits of leftover potato, a sweet pepper, the last of the green onions, the remains of a charcuterie feast and a heel or two of cheese. Done right, it can also serve two appetites craving different flavours. I wanted fresh veggies and feta, he wanted smoked dry ham and gruyere; working off the same potato base, we layered in our ingredients half and half, and everybody's happy.
Apply this basic technique and recipe and create a new frittata every time. A few flavours to try: mushroom & green onion with mozzarella, spinach & feta, smoked ham & sweet potato, smoked salmon & onion finished with capers and cream cheese, hot Italian sausage & parmesan, asparagus & goat cheese. Just to get you started.
Even better the next day… and the next. A well cooked frittata can stand in the fridge for up to three days, making a super fast, balanced breakfast every single day. A good way to get cracking.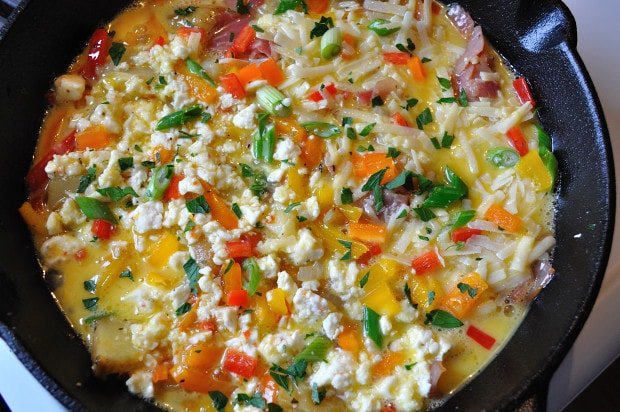 Frittata Recipe
Prep time: 10 minutes
Cooking time: 45 minutes
Serves: six
1 red/yellow pepper, sliced thin
1 tablespoon olive oil
1 small onion, sliced
2 small potatoes, cooked & sliced
2 green onions, thinly sliced
1 cup cheese
1/2 cup dry, smoked ham
6 eggs, lightly beaten
2 teaspoons fresh flat leafed parsley, finely chopped
salt & pepper to taste
Method:
1. Preheat oven to 350°F. Lightly oil or spray a 9-inch oven proof skillet or cast iron pan. Cook peppers and remove from pan and reserve. Add olive oil and onions to pan, cook until translucent, about 3 minutes, then add potatoes and green onions, toss to coat lightly with oil.
2. Layer peppers, ham and cheese on top pf potatoe, onion base. Whisk eggs with chopped parsley in a large bowl, season wit salt & pepper to taste. Pour eggs evenly over your favourite flavours and bake in centre of oven until frittata is golden around the edges, firm and hot in the middle; about 25 to 30 min.
Serve with fresh greens, or a fresh fruit salad, or hot, fresh bread.
Good food, fast.