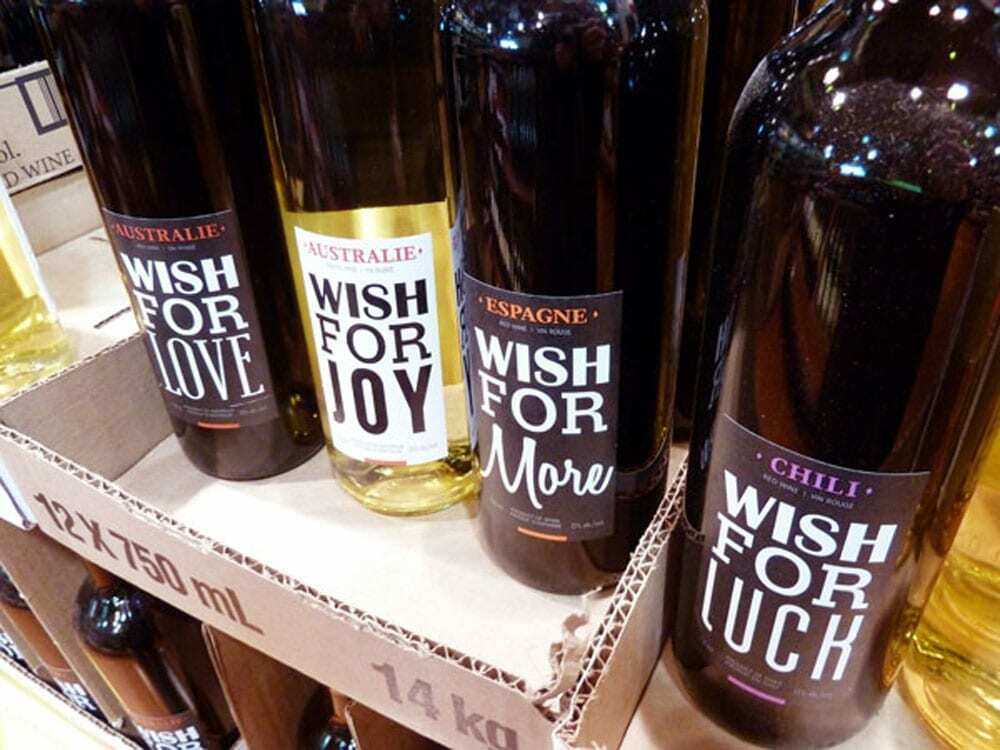 Wino Wednesday – WISH FOR… Wine
Wino Wednesday extra edition, for a bit of fun and flavour, the WISH FOR… Wine line from IGA Quebec. Or as it's known in the Gypsy Kitchen, Chateau IGA.
One of the fun things about living in Quebec, is the fact that we can buy beer and wine at the grocery or corner store. As a newcomer to this part of Canada, at first I found myself in shock in the check-out lane "Ninety bucks for two bags of groceries?! Oh… right… one bag is four bottles of wine, never mind." Now, keep in mind that you're not going to find a classic vintage where you buy your milk, but you will find decent table wine for that glass with dinner for under $20.
Last month we stumbled across the new line of WISH FOR… Wines from IGA and could not resist a bottle or two. In the sack went Wish For More ($9.98) and Wish For Luck ($9.98); we've had a bit of a bumpy time of late, if drinking wine can change my luck, I'll take a case!
These are blended specifically for IGA customers, and their website offers interesting pairing and tasting notes as well as DJ suggestions to go with each bottle. Clearly this is a wine line that likes to party. Selections include WISH FOR Luck (Chilean Cabernet), WISH FOR Love (Australian Shiraz), WISH FOR Sun (Italian Pinot Grigio), WISH FOR Magic (Sparkling), WISH FOR Joy (Australian Chardonnay), WISH FOR Gold (Californian Chardonnay), WISH FOR More (Spanish Tempranillo) and WISH FOR Fame (Spanish Rosé).
The WISH FOR More was a robust little number, that quite surprised us both. Interestingly enough the folks at IGA.net recommend this bottle for a Gypsy Soirée. (Ha, it's like they know me.) "Do you discover more traveling to the ends of the earth or deep within yourself?" they ask. Actually, I do not find the two mutually exclusive. Now, pour the wine.
WISH FOR Luck however was not a winner with me. The taste was chewy, cherry but it had what I can only guess was a high level of sulphates (or concentration of other chemicals) that sent me scurrying for antihistamines and my inhaler. This not a rare occurrence for me, I am the human equivalent of additive/preservative litmus paper specializing in sulphates and nitrates. Within minutes of drinking my first sip of WISH FOR Luck, the coughing and wheezing was too heavy to safely continue, so I had to tag out on that bottle leaving it in the capable wine swilling clutches of the Chef in my life. The experience made me WISH FOR Peace (Oregon, Organic) and ponder a possible Luck allergy.
Oddly, they appeared to be sold out of WISH FOR Fame. Next time I'm going for the Gold, if only wine drinking were an Olympic sport.