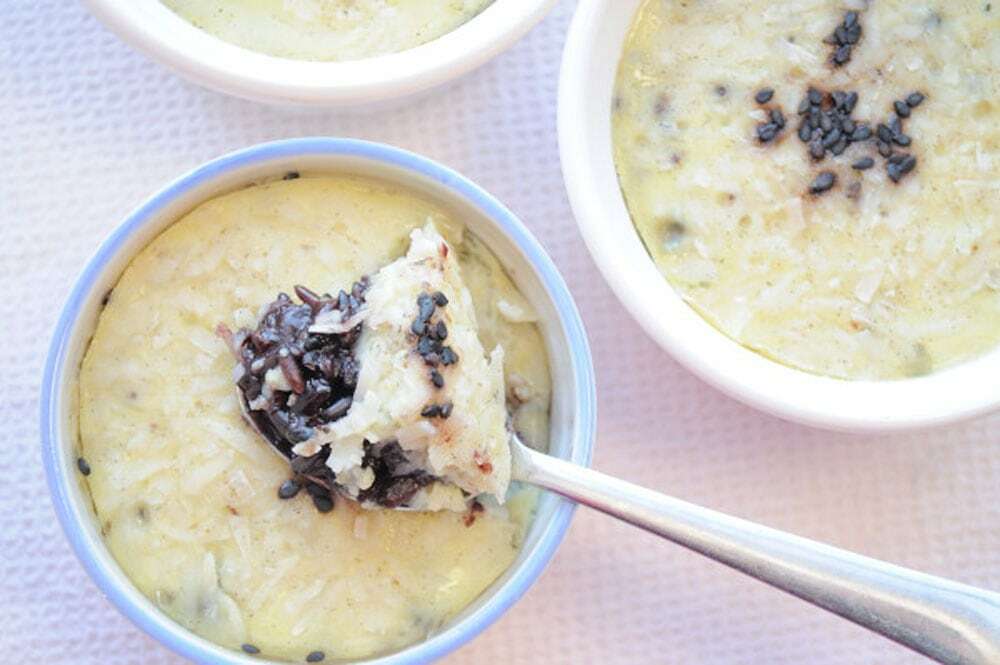 Black Rice Pudding Thai Style
In Thailand Black Rice Pudding is often served for breakfast, afternoon tea and dessert.  In my travels I've seen two versions, one is a loose rice slurry, cooked stove top with coconut cream added afterwards.  The other is a rice and coconut custard, baked in the oven and served plain or with coconut ice cream.
This recipe is the later, the milk coconut combined with eggs, cooked until from and creamy is delicious warm or cold.  In this version I pushed the traditional recipe just a bit with a hint of shredded coconut for greater texture and moisture.  I've been really enjoying playing with texture as well as colour lately and this was the perfect dish to add a touch of chewiness.
Every culture has a version of rice pudding.  It's comfort food at it's finest, starchy, smooth and creamy.  This version is made with black rice, also known as forbidden rice or emperor's rice; it's not black so much as purple.
Rule of thumb with rice, the darker the rice, the higher the nutritional value and, the longer it takes to cook.
Black rice is high in iron, minerals, amino acids and antioxidants.  It's grain is dense and high in fiber and that's why it's recommended to soak the grain first before you cook it, a minimum of four hours, overnight is prefer ed.  I didn't know this the first time I cooked with it, four hours later it was still crunchy.  A little research can go a long way in the kitchen.  Live & learn.
I shot the rice in it's dry state along side rice that had been soaked so that you can get an idea how much it swells.  This is one cup of black rice in both bowls.  The water that drains off, is dark purple and believe me, it stains.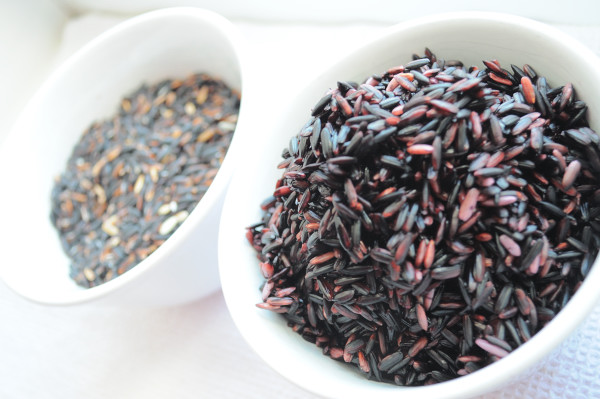 If you're thinking about experimenting with black rice it's important to know it's properties, it's a wonderful grain to cook with, rich and nutty but it bleeds and so it's best to either isolate it, or utilise this propety in any dishes you try.
This black rice pudding is a personal favorite, it reminds me of Thailand, it's people and their innately generous spirit.  This weekend we are having friends over to celebrate the lunar new year and this will be dessert.
A little something forbidden.
Black Rice Pudding Thai Style
(adapted from: www.acupofmai.com)
Prep time: 15 minutes
Cooking time: 2 hours
Serves 6
1 cup black glutinous rice
2 tbsp soft light brown sugar
2 cups coconut milk (divided)
1cup water
3 eggs
2 tbsp granulated sugar
1 vanilla bean
1/2cup shredded,unsweetened coconut
optional: finish with black sesame seeds
Method:
Do ahead: soak black rice for minimum of six hours, or overnight, then strain.  This will soften and swell the rice.
In medium sized sauce pan, combine strained black rice, brown sugar in a pan, a 1/2 cup coconut milk and 1 cup of water.  Bring to the boil, reduce the heat to low and simmer, stirring occasionally, for 40 – 50 minutes, or until the rice has absorbed most of the liquid.
Preheat the oven to 300F.
In a medium bowl, combine remaining coconut milk, sugar, & coconut.  Split vanilla bean in half and with the tip of a knife scrape out contents of pod and add it to coconut milk mixture, allow to stand for 20 minutes to hydrate coconut.
Add eggs to coconut milk bowl and gently whisk until mixed.  Strain the egg mixture into a pitcher, reserve coconut.
Coat inside of ramekins with non-stick spray. Spoon (now slightly cooled) black rice mixture into prepared ramekins, fill to about half full.  Then evenly pour coconut custard mixture to cover rice, top each dish with an equal amount of reserved coconut.
Place ramekins in a roasting pan, place roasting pan, on rack in oven.  Carefully pour in enough hot water to halfway up the sides of the ramekins.  Cover with foil and bake for about 35-45 minutes, or until the custard has set.
Serve warm or cold. In Thailand, Black Rice Pudding is often served with sesame seeds. I chose black sesame seeds here to emphasize that black grain and… to have a little fun.