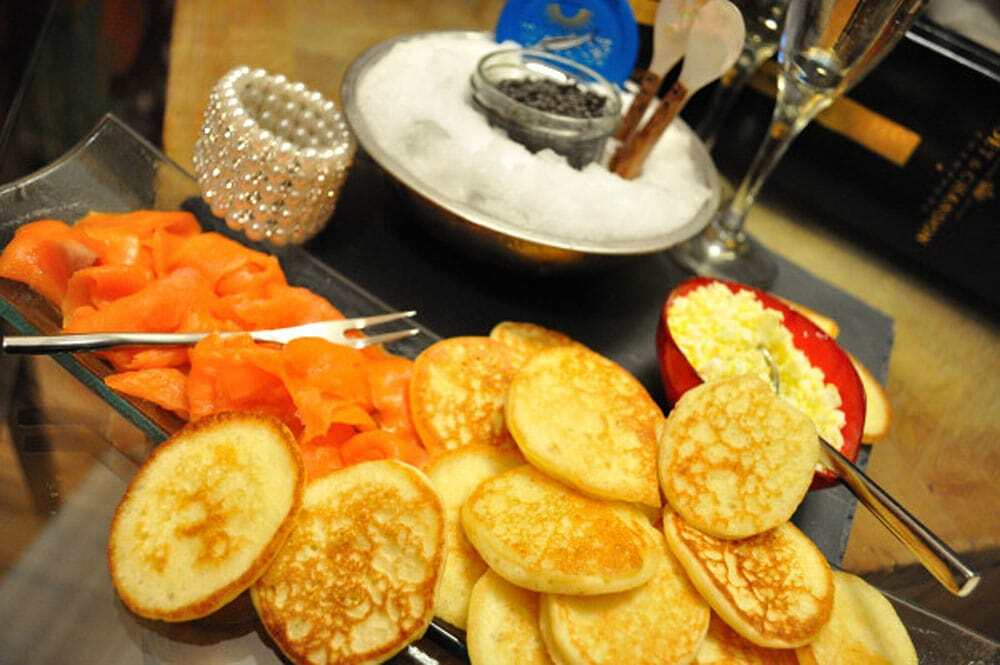 French Blinis, the small yeast risen pancakes served with caviar.  I mean, of course dahhhhhling, toast points are sooooo last year.
A brief follow up to last week's Beginners Guide to Caviar and Chef B's list of do's and dont's (which I'm sure you have pasted on your fridge by now).  He insists you must have a recipe for what he calls  "tiny little Louis Vuitton caviar pillows".  
I'll be honest, I quite fell in love with Blinis; light and delicate and I bet they'd be great for breakfast with jam.  (don't tell him I said that…)
This is the French version of the classic Blinis, using all purpose flour as opposed to buckwheat flour used in the Russian version, making them lighter still.
Being a European recipe it is in metric, I've converted for my North American readers, by reverse engineering and weighing each ingredient so that this would be as accurate as possible.  If in doubt, just remember that the end result should be resemble pancake batter.
160 grams flour  (1 cup)
2 eggs, separated
200 milliliters  milk, lukewarm (3/4 cup + 3 tablespoons)
50 milliliters 18% cream (3 tablespoons + 1 teaspoon)
20 grams dry, active yeast (2 tablespoons)
5 grams salt (1 teaspoon)
5 grams sugar (1 teaspoon)
Oil for cooking
Method:
 In a medium sized bowl combine egg yokes, cream & warm milk until well mixed.
In a large bowl add flour, create a well in the center of the flour, add yeast to the well plus the egg yoke/milk mixture from the first bowl and combine until smooth.  Add sugar & salt, whisk lightly to mix.  Cover entire bowl with warm, damp kitchen towel 0r plastic wrap.  Allow to rise for an hour to 90 minutes at room temperature.
In large bowl, whisk eggs whites to firm peaks, gently fold into risen batter so as not to break the bubbles.
Saute in heavy bottomed pan over medium heat.  Blinis should be about 2 inches in diameter, and golden brown on both sides.  Remove from pan and cool on paper towel to absorb an excess oil.  Serve at room temperature (or slightly warm) with caviar and your choice of condiments.  Enjoy.
Oh, as it's a metric recipe, be sure to use metric eggs.  You'll have to ask from them, they're often not on the shelf with the regular eggs.  
Yeah, about the eggs, just kidding.  Old kitchen hazing ritual, send newbies out looking for impossible items and see how long it takes them to catch on.  "Has anyone seen my banana bender?!"  Had you going there for a minute now didn't I? (*insert winky-face icon here*)
Just seeing if you're paying attention.   (Rule of thumb: Always read a recipe all the way through before you start.)