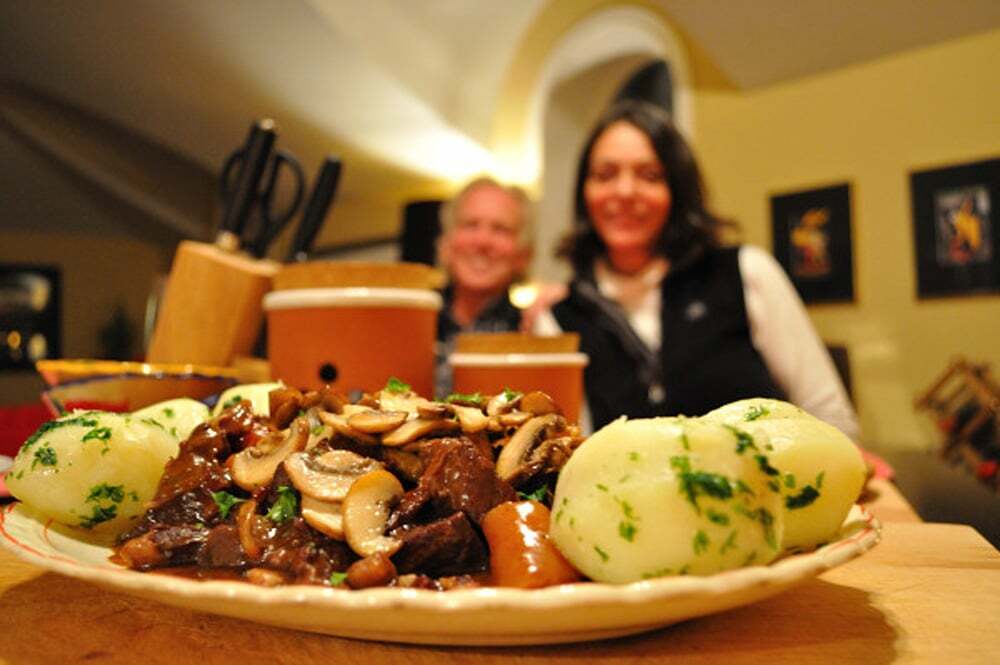 Boeuf Bourguignon – relax people, it's just STEW
Thursday night and the phone rings, a familiar voice from the past and a local phone number. "OH MY GOD, you're in town?! Come on over, I have Boeuf Bourguignon in the oven!" Best impromptu dinner party line ever, and something I've never said in my life, before last night.
There was a time when French food was intimidating, a time when a recipe with more than five steps and two hours would have me turn the page, but that was before a semester at 'Fancy French Cooking School'. Now a moment or two between the pages of 'Mastering the Art of French Cooking' with Julia Child and a glass of wine to steady the nerves, I'm a braising fool.
'Fool' truly is the operative word here. You're either brave or foolish if you tackle a recipe you've never swung at in your life (and never had the pleasure of consuming by-the-way) as a Thursday night surprise for your Honey. Your French Honey. Your French-Chef-former-Cordon-Bleu-Instructor-born-and-raised-in-Burgundy-where-his-Grandmother-was-a-Chef-and-this-was-her-signature-dish Honey, Chef B.
Reviewing Julia's recipe, glass of wine in hand, I learn that Boeuf Bourguignon is beef stew made with red wine, in ten easy steps. Ha, piece of cake! I'm part Irish, Russian and Romanian I have stew in my blood. My people were making stew out of the Romans before the French even thought of adding wine! Pfffffftttttt. Bring it. (Bravado compliments of wine.)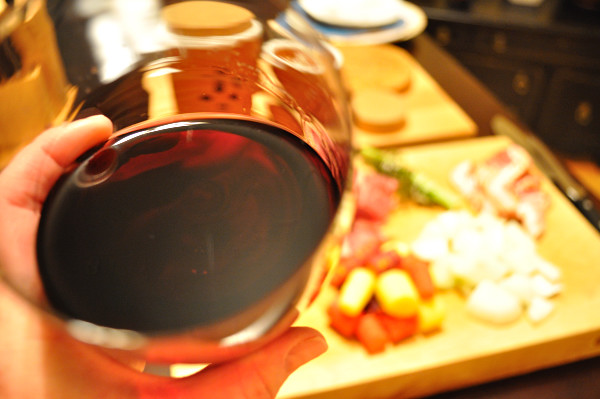 I announce my intentions via social media, friends gasp and hold their collective breath. "You're BRAVE" says Nikoo. "What?! It's STEW" says I (fortified by wine). So begins the braising, sautéing and transferring of things in and out of a pot and that pot in and out of the oven, back and forth off the cook top. In general the French complicate a great many things, can't argue with the results though.
Flash forward three hours.
Friends, Tom & Cindy arrive and more wine flows. In town to secure visas for their annual buying trip to the Far East, Tom McCai and Cindy Wilson operate one of Nova Scotia's little treasures: Far-Fetched Antiques & Art Gallery in Annapolis Royal. Antiques, furnishings, art, collectables, anything that tickles their fancy, or is sufficiently shiny (read: jewellery); they truly are Gypsy kin (and responsible fore some of my favorite, HEAVY pieces). Magnus, the bulldog, dances with delight to see familiar faces as I finish mushrooms in butter.
Tales are told, gossip is exchanged and merriment is made until (finally) dinner is served. We dine fashionably late. Chef B is home with a sick little girl and so his dinner is delivered to his door (surprise!) and I am back to my guests.
Tom & Cindy: "We should recommend this place on Trip Advisor!"

Ummm… OK, just make sure you get the apartment number right, my neighbor really IS a mad scientist.

Chef B's adjudication (via facebook): "So, my Coco decides to surprise me with Boeuf Bourguignon (for those of you who do not know, I'm from burgundy), almost on the same day, two years after the passing of my Grandmother (which to my eyes will always be the Queen of Beef Bourguignon), and I must say that if Coco is simply willing to adjust a few things, and who can blame her, it probably was her first attempt, we just might have two Queens. All that to say, very good My Coco. Thank you !!"
He had been a bit blue of late, thought a taste of home might lift his spirits. (SUCCESS.) I gather there are notes, wonder how much his Grandmother's recipe will differ from Julia's. (Do you get notes on dinner at your house?!) Julia's recipe is widely published, and linked above, her method is clear and concise. I was out of pearl onions, I'm sure that will be reviewed in my forthcoming notes from my Technical Adviser. Note from the Gypsy Kitchen: Don't be intimated by French food, dive in and have fun. The best food is simple food (in ten easy steps) it's JUST STEW.
Next up: Conquering Cassoulet. What? It's BEANS, sheesh. (Note to self: buy wine.)