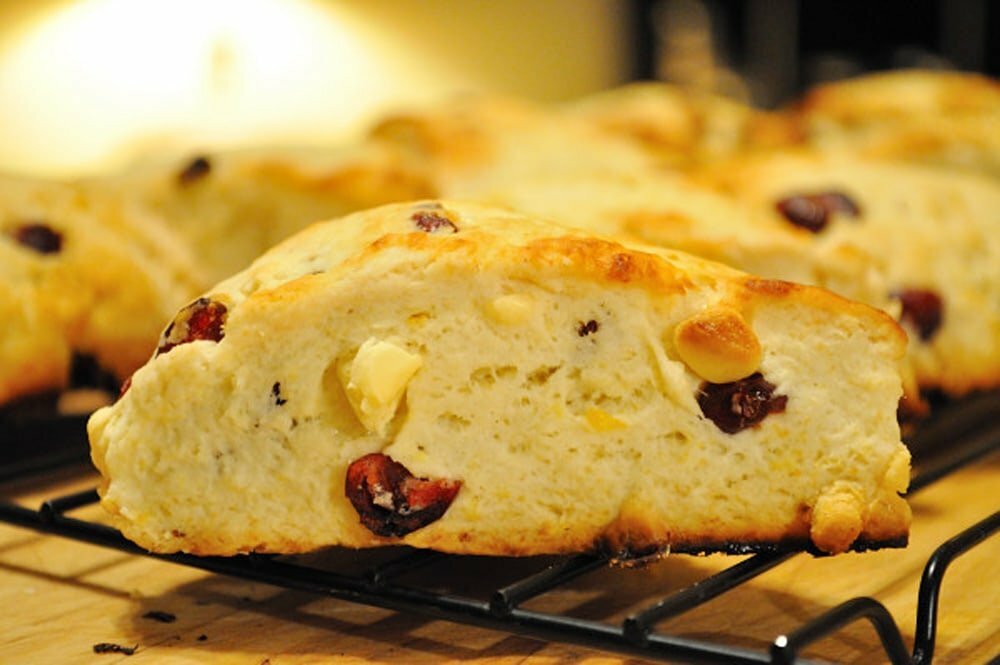 Lemon White Chocolate Cranberry Scones
This time of year I love a warm scone, fresh from the oven. Perfect with a nice hot cup of tea on a late fall day.
Of late I've been craving all things lemon, must be fighting a bout of scurvy, therefore lemon scones. Among my favorite combinations: lemon, cranberry and white chocolate. Light, fragrant, not too sweet; perfect for the girls on a Sunday afternoon and a marvelous hostess gift during the holidays.
Things I've never heard a man say: "Gosh, I could go a good scone! Bob, got any scones?!"
In my opinion, scones should be triangular. There, I said it. It feels so good to get that off my chest. Biscuits = round. Scones = triangle. In my kitchen anyway, you do what's right for you.
Don't tell the boys they're scones… it'll be our little secret.
Lemon White Chocolate Cranberry Scones – Recipe
Prep time: 20 minutes
Cooking time: 20 minutes
Makes: 12 servings
3 cups all-purpose flour
11/2 tablespoons baking powder
½ teaspoon salt
2 tablespoons grated lemon peel
3/4 cup cold butter, diced
¼ cup sugar, divided
1 tablespoon lemon juice
3/4 cup buttermilk
½ cup dried cranberries
½ cup white chocolate, chopped
Method:
Preheat oven to 375*F. Line baking sheet with parchment paper.
Whisk 1 tablespoon icing sugar and 1 tablespoon lemon juice in bowl for glaze and reserve.
Whisk together flour, baking powder, salt and remaining (3 tablespoons) sugar in deep bowl. Stir in peel. Cut in butter until mixture resembles coarse meal. Blend in buttermilk to form a soft, but not sticky dough.
Divide dough in half. Turn dough out onto lightly floured surface. Gently roll or pat dough into a round, about 1/2-inch thick, lightly flouring as necessary to prevent sticking to surface.
Cut round into six triangular pieces, using floured knife. Set 1/2-inch apart on prepared baking sheets. Brush with glaze. Bake at 375* until scones are golden brown, 15 to 18 minutes.
Serve warm or at room temperature.
We used white chocolate chips because I had some, prefer to use disks or flat bars & chop, but chips are the prefect size and easy to find. Ahem, a certain dog ate half the bag while I wasn't looking… naughty Jackwahwah.