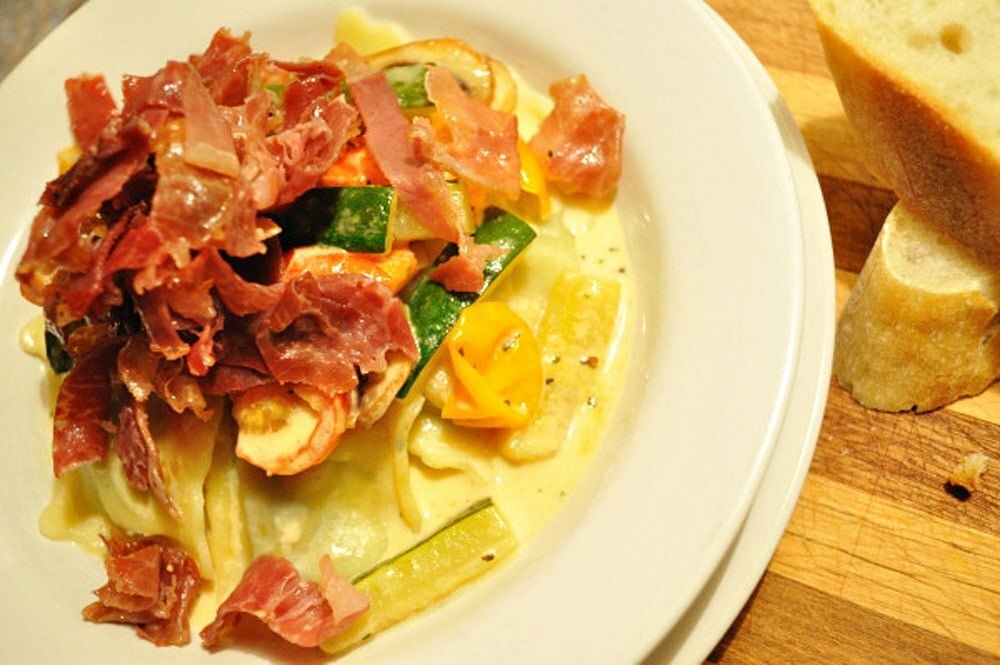 Mushrooms, Zucchini & Cherry Tomatoes in Cream Sauce with Prosciutto
Wednesday night and time to get dinner on the table. A simple little pasta, 45 minutes, start to finish: mushrooms, zucchini and cherry tomatoes in a light cream sauce topped with prosciutto and your choice of pasta.
Here I'm shooting a spinach & ricotta filled ravioli from my local market. We're busy people, making pasta is a weekend event, not a Wednesday night dinner. It's not all Boeuf Bourguignon and Chipolte Chocolate Souffles at Chez Gypsy, pasta is my favorite, simple go to meal during the week, the fewer ingredients the better.
Ingredients:
12 mushrooms, sliced
2 zucchini, cut to suit
12 cherry tomatoes, halved
8 – 10 slices prosciutto, cut into 1/2 inch pieces
2 cloves garlic, minced
3 tablespoons sherry (or white white)
2 cups light cream (10 – 15% milk fat)
1/2 teaspoon dried basil (1 teaspoon fresh, chopped fine)
2 tablespoons olive oil
Salt & pepper to taste
Cooked pasta for four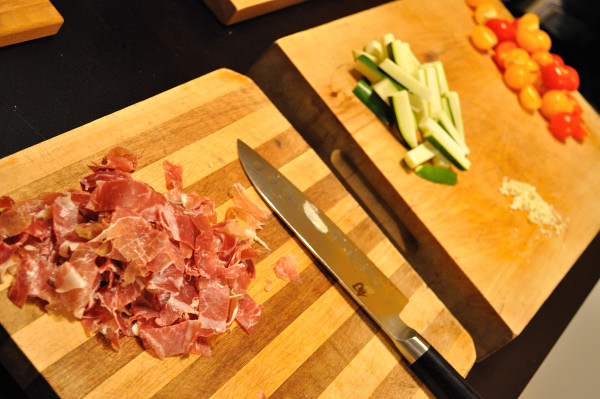 I promised you a meal in 45 minutes to to do that, get that get all your prep out of the way. As soon as that is done, get your pot of salted pasta water on to boil, it's the thing that takes the longest and is excruciating to watch. So prep that and have it standing by as you start your sauce. (At this point, I'm browning mushrooms, lol, try to keep up. )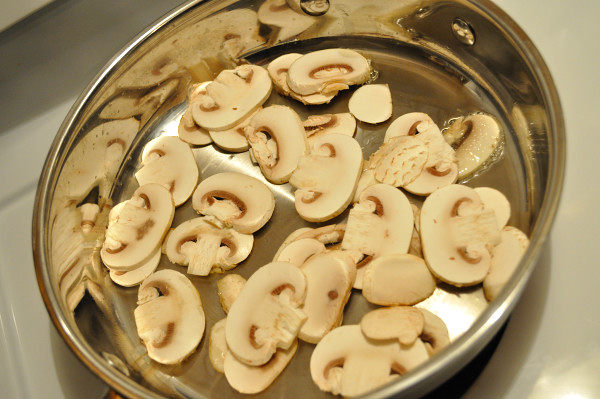 Add olive oil to your pan just to cover bottom of your pan, sauté mushrooms and zucchini, separately, one after the other in the same pan, until just tender and reserve. Add more oil as needed.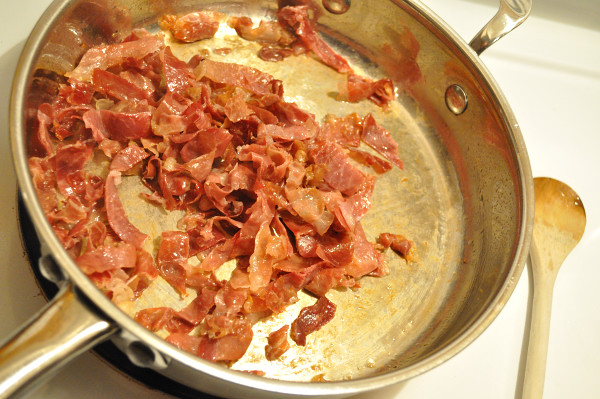 Sometimes, it's all about how you handle an ingredient. I love prosciutto, its smokey saltiness, love it raw, love it cooked, love it on pizza, but I especially love it crisp. Add the prosciutto and cook on medium high heat, until still tender but crisp. Remove from pan and reserve seperatly. Here it's still chewy, you want it darker and firm, like that one little piece on the bottom right.
This is the perfect time to start your pasta, timing is everything.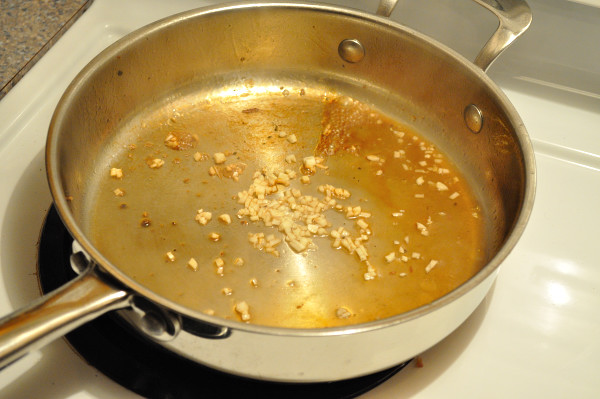 Sauté garlic until transparent. Use all those gorgeous pan juices and a dash of sherry (or white wine) to deglaze before you add your cream and there's our sauce.
"That, brown stuff at the bottom of the pan is flavour, that's pure gold, baby" – Anthony Bourdain.
Don't miss any of it, scrape it off with your spoon, when in doubt add more sherry/wine to help it dissolve (Tony would approve). Then let it bubble just a bit, bending flavours, before adding your cream.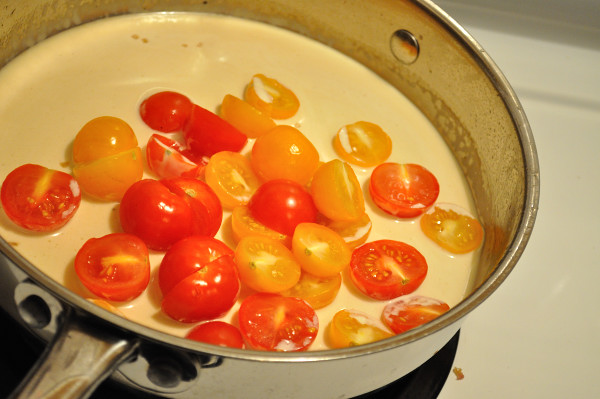 See what nice warm colour that gives the cream? Allow cream to reduce, over medium heat, adding your cherry tomatoes, cook until tomatoes and soft (about 5 minutes). Add basil, cooked mushrooms & zucchini, continue to reduce over medium-low heat, uncovered.
Question: What if my sauce is too thin? Answer: Reduce it longer. Just keep it on the heat a few more minutes, resist the temptation to turn up the heat, or the cream will scorch. Patience. Never rush cream, cream hates to be rushed.
Question: What if my sauce is too thick? Answer: Do what professionals do, add water. When you reduce cream to thicken you're removing water, so to thin; add water. Add it a little at a time to be sure your consistency is what you're looking for.
Nice bit if business: this sauce can stand off the heat for an hour and it will do not harm. Warm over medium-low heat when you're ready, add a touch of water if needed. You're busy, you have stuff to do. Serve over cooked pasta, top with the crispy prosciutto and voila, you're a hero.
Cream makes everything better. Happy Wednesday.