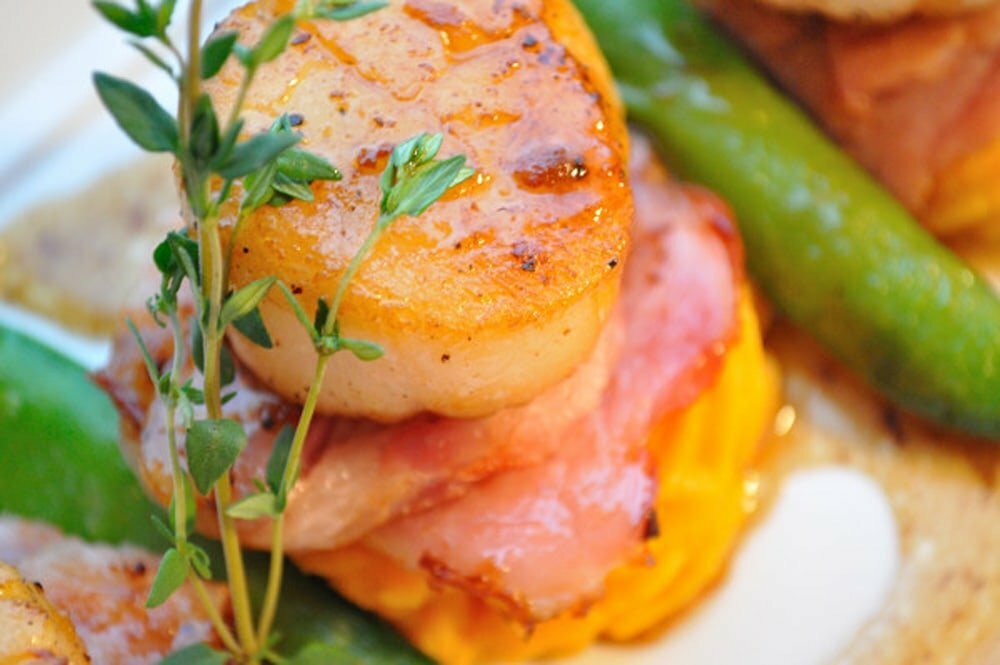 Char Grilled Scallops with Bacon & Sweet Potato Lemon Thyme Champ
In celebration of St. Patrick's Day, here's a little taste of Ireland, straight from a storied medieval castle on the rugged western shores: Char Grilled Scallops with Crisp Streaky Bacon, Sweet Potato & Lemon Thyme Champ.
Head Chef Stefan Matz of Ashford Castle – a five star deluxe hotel, in Cong, County Mayo, Ireland – shares with us one of his informal menu items from Cullen's at the Cottage. A small thatch roofed cottage on the castle's 350 acre grounds with a lean towards hearty, Irish comfort food with a contemporary flair. Chef Matz' Char Grilled Scallops with Bacon, Sweet Potato & Lemon Thyme Champ is a fine example of Ireland's renaissance cuisine.
Ashford Castle has been on my list of gourmet escapes for many years. I am captivated by its elegance and grace, turrets and ivy covered walls.
Over the last week I had the good fortune to speak with Chef Matz at length about Irish cuisine in the 21st century. During our conversation, he debunked every Irish food myth I tossed his way, and thanks to his generosity, I had the opportunity to prepare one of his dishes at home and share it with you.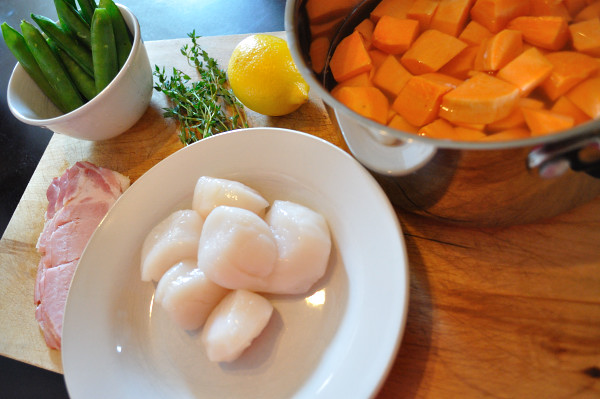 Chef Matz is a five star chef with a deep love of pure ingredients: "Each dish should have a main ingredient that has to come through. I like to bring the natural existing flavours, support and encourage those flavours with either equal flavours or contrasting flavours to bring the main component out."
The recipe card from the castle's kitchens had this photo attached, an outline of ingredients and method, as well as a handy scoring card, which is used to adjudicate the kitchen staff. It was almost like being in culinary school again. My sauce was a bit thin in comparison to Chef Matz' and in our conversation, he gave me a gentle redirect on preparation.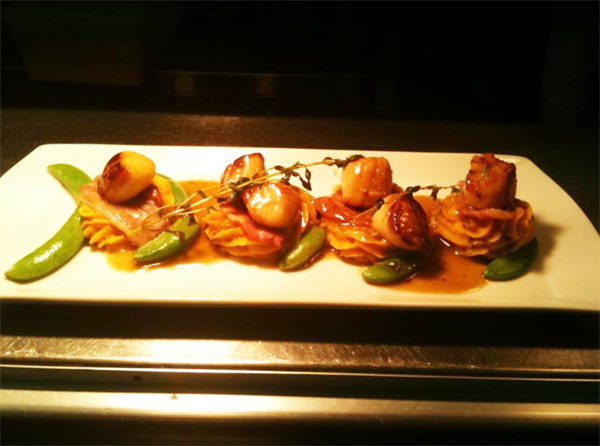 "A little higher heat under the scallops to start will sear more deeply and give you the colour you need. The sauce is really a butter reduction, deglaze with a bit of white wine, then you'll want to let those scallops release those juices and that will give you your sauce."

I couldn't track down lemon thyme, so I substituted a hint of lemon zest, for that light lemon flavour. "The lemon thyme adds a brightness without acidity, it really is one of my favourite herbs." – Chef Matz
I liked the way the thyme moved through the dish, flavouring the sauce, the champ (the Irish way of dealing with leftover cooked potatoes, mash it with something yummy) and the scallops. I couldn't resist tossing a little Irish Wiltshire bacon at it, but in the Castle you would find this done with streaky bacon, or as we like to call it in North America: bacon.
Simple and comforting, it was a warm and elegant lunch on a late winter day, as I dreamed of Ireland, the green countryside of Ashford Castle, and of leprechauns.
Char Grilled Scallops with Bacon &
Sweet Potato Lemon Thyme Champ – Recipe
80 g scallops, roe off (4-6 depending on size)
1 (30 g) streaky rashers, cut into four of equal pieces
2 medium sweet potatoes, peeled and cubed
20 g whole milk (1/4 cup)
10 sugar snap peas
5 g Pomace (1st press olive) oil (1 tablespoon)
25 g butter, divided (1/4 cup + 1 tablespoons)
Splash of white wine
10 sprigs lemon thyme, chopped fine
2 sprigs lemon thyme, washed for presentation
Method:
Peel and cube potatoes, boil in a large hot over high heat until tender, about 10 minutes. In a separate, small pot, infuse milk with lemon thyme, over low heat.
While potatoes cook, boil water to blanch peas.
Dry and season scallops with salt & pepper. Sear scallops in a large preheated pan in a little Pomace (1st press olive) oil until cooked medium rare. Lightly deglaze pan with splash of white wine.
Cook bacon to crispy, remove from heat and reserve.
While scallops are cooking, blanch sugar snap peas, then add to scallops. Add sprigs of lemon thyme, and 1/4 cup of butter to pan allowing it to melt and emulsify, and continue to cook until the scallops are translucent. Allow butter to melt and emulsify, creating the sauce.
Drain and mash potatoes, adding 1 tablespoon of butter, chopped lemon thyme and infused hot milk (as needed). Mash until smooth.
Assemble as per above image and serve immediately.
So, did I get a job in one of the Castle's four kitchens?! No, probably not. But that's alright with me, I'd rather sip wine and discuss whatever outrageous activity I might be enjoying next as a guest of Ashford Castle. Archery perhaps… that sounds very… civilized.
Happy St. Patrick's Day, may it be green.
Thank you to Chef Matz who was extraordinarily generous with his time and knowledge, and to Ashford's Paula Carroll, who helped facilitate our little St Patrick's Ireland feature. You know, I am looking for a wedding venue… however I fear the quality of the golf may distract the groom!
Ashford Castle
Cong, Co Mayo, Ireland
Tel: +353 94 9546003
http://www.ashford.ie/index.htm