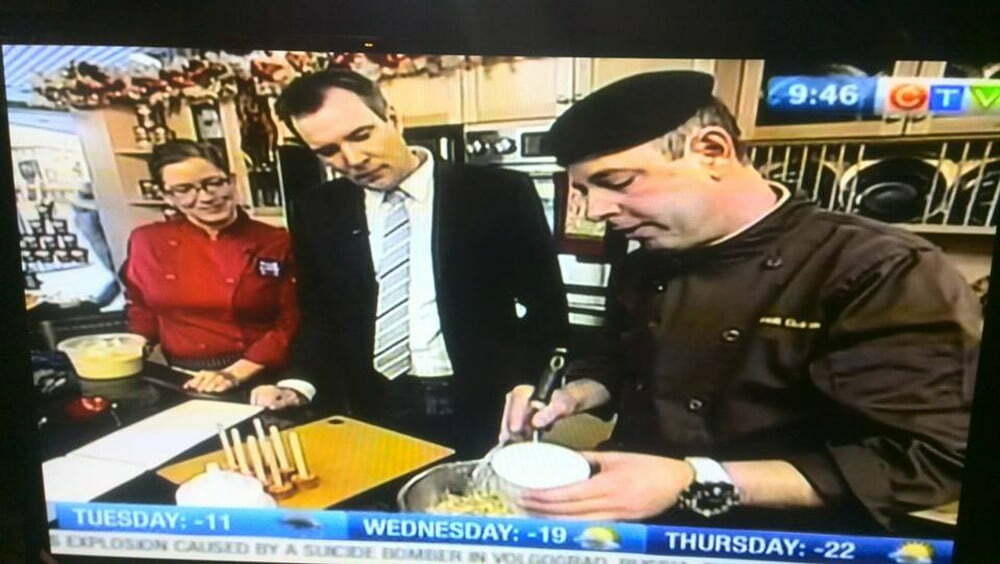 Chef B's Gourmet Chorizo Pogos
During yesterday's visit to CTV's Ottawa Morning Live, our resident chef, Benoit Gelinotte (Chef B) demoed one of his top party food bites from his kitchen at Culinary Conspiracy, the Chorizo Pogo. Due to popular request (and at the behest of host Jeff Hopper) he rattled off that recipe on his way out this morning so that you could whip them up tonight, and wow your new year's eve guests.
The basic pogo (or corn dog) recipe is pretty simple. Most of the ingredients – flour, cornmeal, baking powder, baking soda, onion, paprika, salt & pepper – you probably have in your pantry right now. Pick up some quality chorizo (or sausage of your choice), a can of creamed corn, some buttermilk and a jalapeno and let's get busy.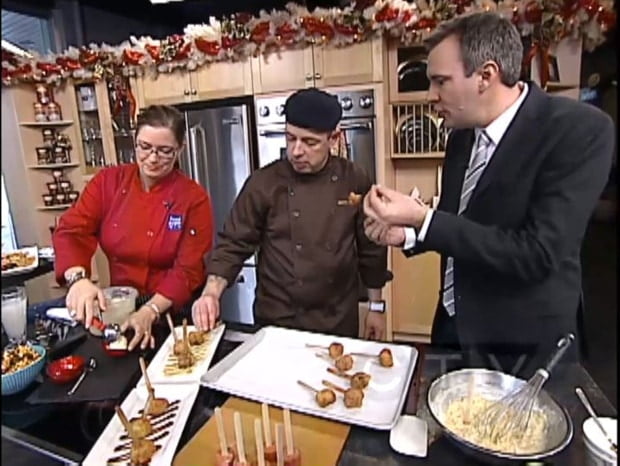 Benoit recommends that you poach your sausage rather than roast or fry to cook. This keeps the sausage casing moist and the meat juicy. Cut the chorizo into bite sized pieces, press each bite onto a wooden stick or skewer. He likes to use popsicle sticks, as they are easy to grab and stable to hold as you deep fry your chorizo pogos (popsicle sticks are available at most big box craft stores, like Micheal's) Be sure to dry the sausage bites well, this will help the batter to stick.
Your batter should be reasonably thick, so it clings to the sausage bites. Depending on the water content of your creamed corn, you may need more or less buttermilk, so add that ingredient last and gauge your batter from there.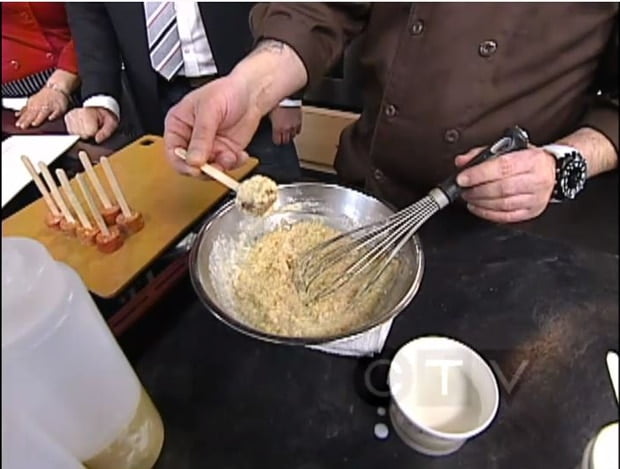 Chef B's Gourmet Chorizo Pogos
Prep time: 30 minutes
Cooking time: 30 minutes
Yield: 24 – 30 mini pogos
6 chorizo sausage links
1 cup flour
1 cup cornmeal
1 teaspoon baking powder
1/2 teaspoon baking soda
3/4 cup creamed corn
1/4 cup onion
1 whole jalapeno
1 tablespoon salt
1/2 teaspoon pepper
1 teaspoon paprika (sweet or smoked)
1/4 – 1/2 cup buttermilk (to consistency)
Method
1. Poach sausage links, whole in a medium sized pot over medium heat, starting in cold water. Bring water to a low boil and reduce, cook for 7 – 10 minutes until sausages are cooked through and firm. Remove chorizo from pot, dry and chill, about 15 minutes.
2. Remove sausage links from fridge, cut into bite sized pieces, about and inch to an inch and a half thick. Skewer sausage pieces on a suitable stick or pick and reserve.
3. In a large bowl combine flour, cornmeal, baking powder, baking soda, salt, pepper and paprika and whisk to blend. Add cream of corn and whisk lightly.
4. Puree lightly chopped onion and jalapeno (whole, seeds in) in a food processor until smooth and juicy. Add to corn batter. Then add buttermilk, whisking to combine to a thick, clingy batter.
5. Heat oil in deep fryer to 350°F (175°C). Once to temperature, begin dipping sausage popsicles into the batter to coat. To fry, immerse only the pogo in the oil, holding tight to the sticks as they fry. If you drop the pogo into the oil, the batter will stick to the basket, so holding them as they bubble and puff is crucial. You'll know they're are done as the batter begins to make the chorizo pogo float to the top. (Yes, this means you only cook two at a time unless you have several hands over the hot oil. Be wary of hot oil splatters.) Remove, reserve and repeat.
These can be made a day ahead and hold cold in the fridge until needed. Re-heat in a 325°F (160°C) oven for 8 – 12 minutes until hot and serve. Our Chef B suggests serving with a fun assortment of condiments your choice of mustards, gourmet ketchup or zippy condiments ( I like sriracha mayo myself). It's party food, have fun.
You can currently find Chef B's Chriozo Pogos on the catering menu at Ottawa's Culinary Conspiracy. Get 'em while they're hot.