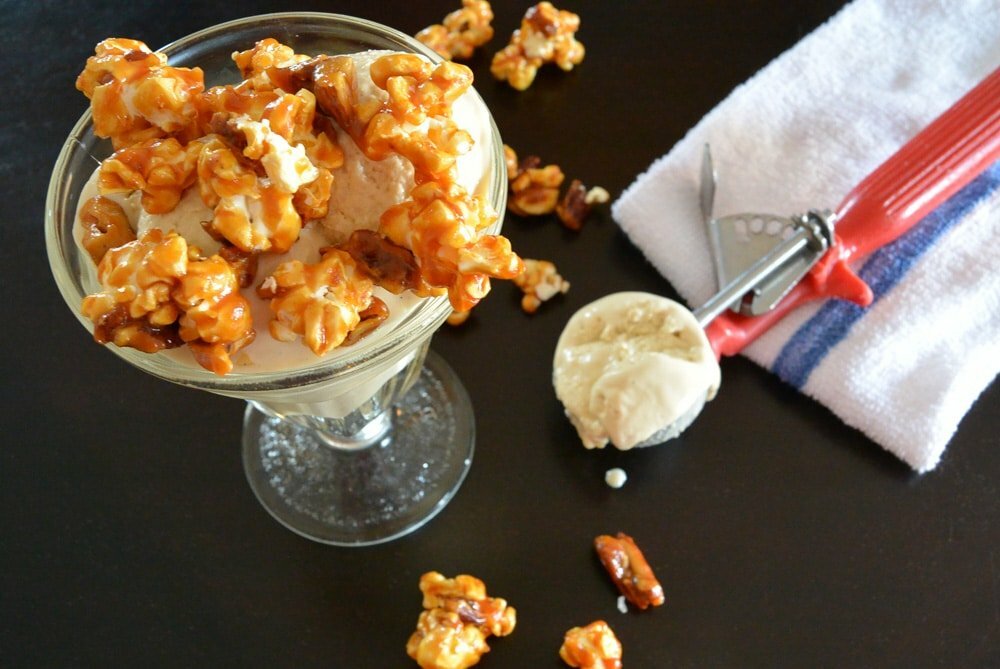 Bourbon Ice Cream with Praline Popcorn
Bourbon Ice Cream with Praline Popcorn, or as I like to call it 'Redneck Ice Cream' made without an ice cream maker, with the help of Mother Nature and yee' old frigidaire.
We have no ice cream maker. In a kitchen of less than 70 square feet in our tiny two bedroom apartment, just where would I put a bulky appliance we might use two to three times a year? Our kitchen is well equipped with knives and bowls, plus a good selection of pots, but half of our collective "stuff' resides in storage, waiting for our next kitchen. But the lack of an appliance should never stop a gal (or guy) from making ice cream! Not when temperatures dip to twenty below (Celsius) and you have premium, overproof bourbon on the shelves.
This began as a holiday treat for the chef in my life, who is a big fan of corn mash and the product it produces. In fact, it's the only way he likes corn! Beginning with a solid custard made with 35% cream, half and half, six egg yokes and brown sugar, this is nothing short of pure, smooth perfection. I used only brown sugar because I wanted that molasses taste to back the bourbon, which is rich with charcoal notes and smokey flavour.
Any bourbon that fits your palate will do, I'm very fond of cooking with Jim Beam. it's price point is right if you're adding a cup of it to a pumpkin soup. A household favorite would be Jack Daniels, we've created a wicked barbecue sauce or two with Jack. The current premium of choice remains Basil Hayden's but it seems Santa left a little Elijah Craig 12 Barrel bourbon under the tree, it is 46% alcohol, which means it's 92 proof. To say that it has kick would be putting it mildly. We topped this particular Bourbon Ice Cream it with a candied corn, done praline style. A rich golden brown caramel coupled with pecans, almonds and cashews and lightly dusted with maldon salt for that mix of salty and sweet.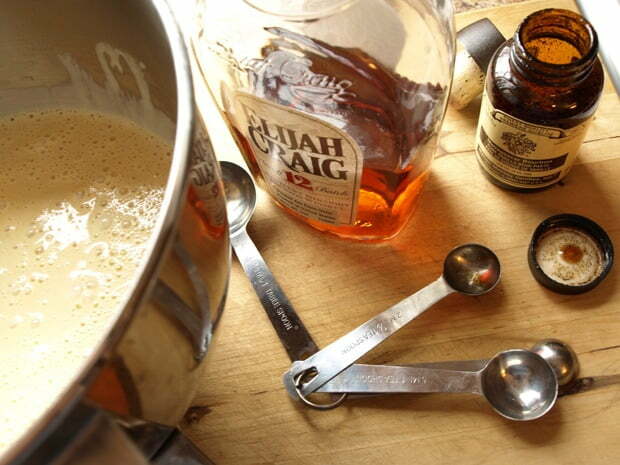 The result appears to be a hit with the future hubs. He raved "this is the best ice cream and topping combination I've ever had" and he continues to gush and moan (over ice cream)… nightly. He's not given to light praise. I might be onto something. Rich and creamy, my secret, is the addition of powdered low fat milk, which added extra protein acting as an natural emulsifier to make it extra smooth.
Working it by hand (the redneck way), every half an hour or so meant that I could see the science of ice cream at work. The whole idea of paddling or churning your ice cream is to break up the ice crystals as the water in the milk products freezes. Using the extreme low temperatures meant that it was even colder on my patio that it was in my freezer, so I wore gloves as I grabbed the metal handle and beat it with a spatula over the course of an evening.
It was my first attempt at ice cream. Not bad for a rookie, with no ice cream maker. Pffffttttttttttttttttt, I don't need an ice cream maker, I AM CANADIAN!
As seen on our appearance on Ottawa's CTV Morning Live, for our other recipe the Muhamara Dip, just click here: Heart Healthy Muhummara Red Pepper Dip.
Bourbon Ice Cream with Praline Popcorn
Prep time: 40 minutes
Freezing time: 3 to 4 hours (+ overnight to firm)
Yield: about 6 cups
Ice cream
2 cups heavy cream or whipping cream
2 cups half & half
1/2 cup nonfat dry milk powder
6 large egg yolks
3/4 cup brown sugar, packed
1/4 teaspoon coarse kosher salt
5 tablespoons bourbon
1 teaspoon vanilla extract
Praline Popcorn
1/2 cup + 6 tablespoons sugar
2 1/2 tablespoons butter, cut into pieces
1/4 cup coarsely chopped pecans, toasted
1/4 teaspoon cider vinegar
1/2 teaspoon sea salt
4 cups plain popped popcorn
Coarse salt, to taste
Method:
1. For the ice cream, start with a large heavy bottomed saucepan combine first three ingredients, heavy cream, half & half and dry milk powder over medium heat, stirring to completely dissolve dry milk powder. Cream mixture to a low simmer and removed from heat being sure not to boil.
2. Wish together egg yokes, sugar & salt in a separate bowl until thick and creamy. Then slowly whisk hot cream mixture into yokes to a smooth, creamy consistency. Once combined, return custard to sauce pan and return to medium-low heat, stirring constantly to thicken. Again, do not boil, this will cause your custard to break and separate. Heat to 175°F (80°C) or until custard clings to the spoon and when you draw a line across it with your finger, it does not run; then remove immediately from heat. Add vanilla & bourbon to taste & blend well.
3. Chill your bourbon custard in fridge or in an ice water bath until cold, then strain into a) your ice cream maker and follow the manufacturer's instructions or b) a chilled freezable bowl or container. If you have a stand mixer, use your mixing bowl so you can easily work the ice cream moving forward.
4. If using the 'Redneck' method (for those of us sans ice cream maker) place the now chilled custard in the freezer to thicken. 45 minutes later remove from freezer and stir vigorously with a wooden spoon or spatula to break up the ice crystals and create a smooth, creamy texture. If using a stand mixer, just slip the bowl into place and use the paddle attachment.
5. Repeat this process, stirring to re-introduce the ice crystals back into the cream mixture, every 30 minutes for about two hours then you can shift to every hour for another two. Place the now creamy, soft ice cream into a freezable container, with a tight fitting lid and freeze for a minimum of six hours, preferably overnight. (Ice cream freezes faster the colder it is, so watch your timing.)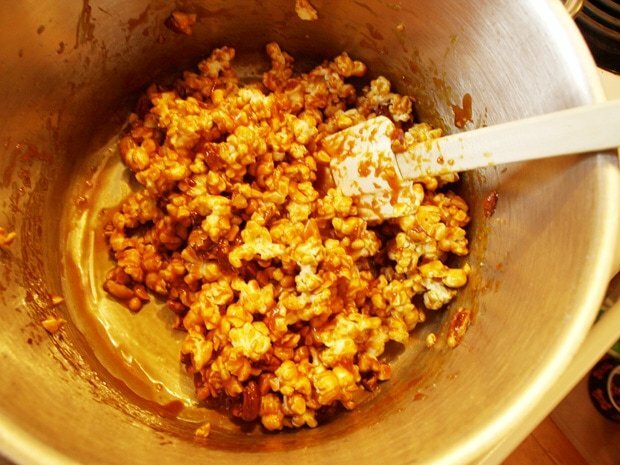 Praline Popcorn
1. Smear a 9-inch square baking dish with oil or spray well with non-stick spray.
2. Heat your sugar in a well dried, wide pot with a heavy bottom over medium heat. Stir lightly with a wooden spoon to distribute sugar evenly until it starts to melt. Then remove your spoon and cook sugar, swirling the pot occasionally to get even heat and colour to your sugar as it begins to caramelize to a deep golden, rich colour.
3. Remove from heat, add butter, pecans and vinegar and stir quickly to combine into a sticky caramel. Immediately add popcorn and stir to coat, then pour out your caramel covered popcorn into the waiting oiled dish to cool and sprinkle with coarse salt. Once cool enough to handle you can rip it apart with your fingers for small bite sized pieces or, wail until completely cool and cut or break your praline popcorn into squares.
I like it bite sized for less snack guilt… and ice cream topping.
Gypsy note: The Bourbon Ice Cream recipe calls for five tablespoons. I may, or may not have added as much as seven, or possibly eight. (Hmm, maybe that's why he likes it so much.) Let's just say "to taste" and go from there shall we?!