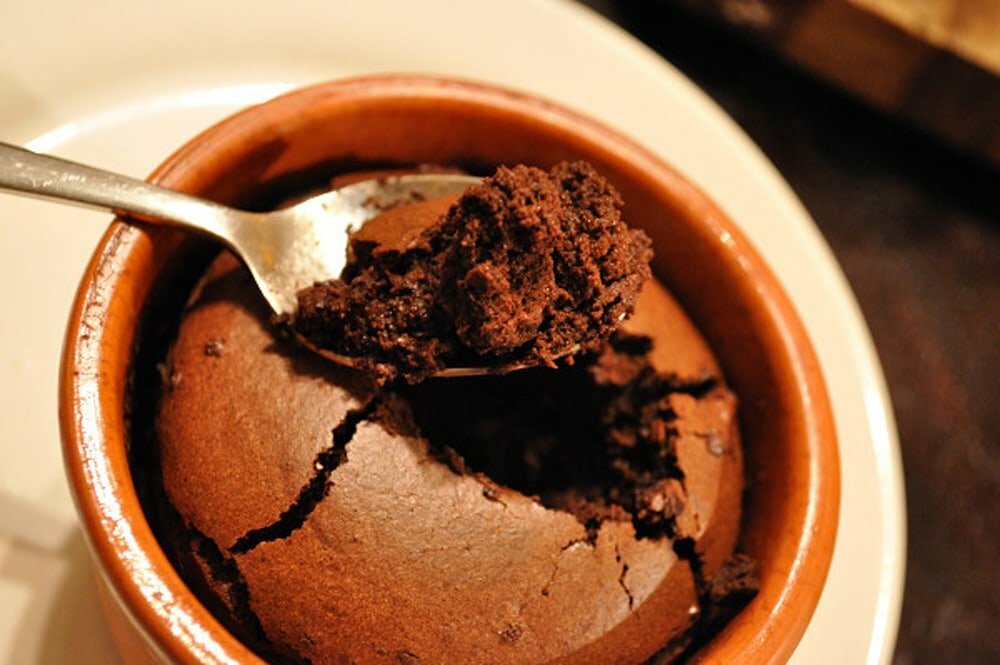 Chipotle Chocolate Soufflé
The Chef in my life, was my first soufflé. He souffléd me before long before we started dating, while I was a wide-eyed student who hung on his every word. He soufflés so well, I've never actually souffléd myself. He makes it look so easy.
So we're tasking Food Gypsy Technical Advisor, Chef Benoit Gelinotte (Chef B), to give us his best tips so you can soufflé like you've never souffléd before, this holiday season. Starting with a little sugar and spice — the Chipotle Chocolate Soufflé.
His first advice: "Make sure there is absolutely no yoke mixed in with the egg whites when you separate them." As his sous chef, that's my job, I separate over a smaller bowl one-by-one, just in case. I am also permitted to grease the moulds with butter and shaved chocolate, he then commandeers my kitchen while I open the wine.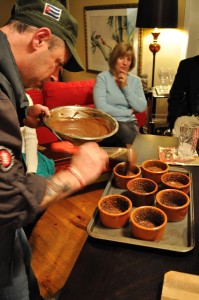 During a recent get together, we all sat spellbound as we watched him revive the batter from a ceased, chocolaty mass. "Don't try this at home!" he insists and I must agree, it's a tricky move involving adding more fat (in the form of cream) and then your batter may be off in consistency.
Better bet; don't allow your batter to cool and solidify while you consume wine. Measure in advance, so can move through the recipe in one shot and get those soufflés in the oven (in minutes) even when you have company. I mean, who doesn't love a live soufflé show?
"Be sure your egg whites are firm, forming stiff peaks. Then add to the chocolate batter 1/3 at a time, folding gently until smooth." The bubbles in those egg whites are important, they make the soufflé rise. So we fold them with a spatula rather than breaking them with a whisk.
One of his best soufflé tricks, his signature move: 'the thumb drag'.

"Take your thumb and remove all the butter and chocolate from above the souffle, dragging the tip of your thumb, slightly in the batter…"
This leaves the sides of the ramekin clean and creates a ¼ inch trench in the batter, causing the soufflé to raise straight up and not spill over. (No one likes a droopy soufflé.)
"Keep the oven door shut!" No peeking, a sudden change in temperature could cause those little beauties to fall. Once out of the oven, serve immediately.
"The soufflé waits for no one! Stop taking pictures of it and EAT it." ~ Chef B.

(He gets kind of cranky if the soufflé falls prematurely.)
Having considerably more soufflé experience than me (third timer) he has stronger opinions on these matters. In a private moment, when our guests had gone he voiced his feeling on the performance of a recipe that was not his own. "It was too cakey, not light and airy at all. It was cake in a mould!"
I like cake in a mould. If it's your first souffle, I think you'll find it performs well, it's rich and chocolaty and (because it's a bit cakey), the soufflé holds a little longer (so you can take pictures). He promises a rematch. I promise to reveal more of his secrets.
Oh Baby, soufflé me.
Chipotle Chocolate Soufflé Recipe
Prep time: 45 minutes
Cooking time: 30 minutes
Makes: 7 individual, or one large 6″ soufflé
¼ cup sugar, divided
2/3 cup milk
3 tablespoons cocoa
2 teaspoons chipotle powder
½ cup dark chocolate
7 eggs, separated
butter & grated chocolate to coat moulds
Method:
Melt approximately 2 tablespoons of butter over low heat, apply to inside of soufflé moulds with pastry brush to evenly coat. Grate about 2 oz of dark chocolate on a fine grater and add to moulds, rolling to coat evenly. Chill in the fridge for at least 1 hour.
Separate eggs reserving both whites and yokes separately.
Bring milk to low boil, add cocoa and half sugar, whisking to remove lumps. Remove from heat.
Melt chocolate over a double boiler or 'bain marie' until smooth, stirring to avoid burning. Remove from heat.
Add lightly mixed egg yokes to chocolate 1/3 at a time, whisking until smooth.
Add milk, 1/3 at a time, whisking until blended and smooth.
Add chipotle powder to chocolate base, start with 1 teaspoon and test, season to individual taste.
In an electric blender with whisk attachment, add egg whites and remaining sugar. Whisk on medium-high until stiff peaks form.
Temper egg whites with warm chocolate; add 1/3 of the chocolate to the egg whites, then 1/3 of the egg whites to the chocolate,fold gently with spatula so as not to break the the bubbles and maintain lightness. Continue adding the egg whites to the chocolate, 1/3 at a time, until blended and smooth.
Spoon or ladle into prepared moulds, until approximately 1/2 to 1/3 of an inch from the top. Using thumb, remove butter and chocolate above the batter line and create a ¼ well in the batter around the sides.
Bake in preheated 370* oven for 30 minutes until risen and hot. Remove from oven, plate and serve immediately.
We toned down the spice a bit in this recipe for the sake of keeping your face from catching on fire. It may have been a *tad* overheated in our original (never let a Gypsy with a stuffy nose be your heat thermometer).
Now friends know why I don't order soufflés while we're out, when the soufflé's this good at home.