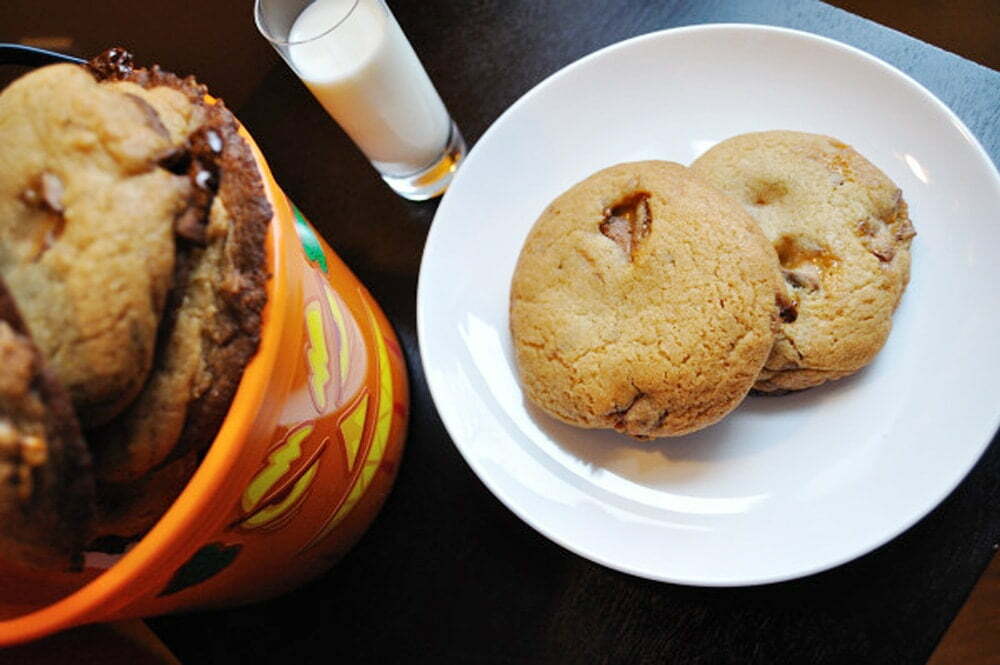 As a child my parents would confiscate much of my Halloween haul. Thanks to rigorous therapy, I can talk about this now, but… *sniff* … it's still painful. What were they doing with all that candy? Why did Halloween-sized chocolate bars appear in my lunch box at the end of November? These are the questions that would plague my young mind.
I figure if you're going to commandeer Halloween candy, there should be some kind of plan for later usage that the whole family can enjoy. Like making cookies! What could be more fun than that?
You can use pretty much any caramel chocolate based candy bar in this recipe; Caramel Mars, Caramilk or Rolo. Or mix it up with Snickers and regular Mars Bars. The cookie base is a basic chocolate chip cookie dough; the trick to using candy bars is the bars have to be frozen solid, chopped into pieces then folded into the dough and then refrigerated for at least 15 minutes. This ensures that both the dough and the candy melt at the same pace.
I also tend to underbake these cookies just slightly, leaving them chewy and soft with big, melted chucks of caramel and chocolate oozing everywhere.
Caramel Mars Bar Cookies are popular with kids of all ages especially when we super-size then and make COLOSSAL COOKIES; cookies that eat like a meal.
What? There's butter, that's dairy and vanilla and chocolate, they're both made from beans and sugar that's… vegetarian. Yea, they're good for you. (Suuuuuuure.)
Fortuantly, we won't be faced with forced candy abduction this year, it was quite a scene at Easter. Finally we broke down and admitted that the Easter Bunny had to return much of the candy in light of financial difficulties. "Times are tough for the Easter Bunny, Honey." That seemed to pass as acceptable. If you're forced to pillage your child's candy, do it gently while they're asleep – then blame it on the Tooth Fairy. "She's always fighting cavities, that crazy Tooth Fairy!"
Happy Halloween.
Caramel Mars Bar (Colossal) Cookies Recipe
• 1 cup butter
• 1 cup packed brown sugar
• 1/2 cup granulated sugar
• 2 eggs
• 2 teaspoons vanilla
• 2 cups all-purpose flour
• 1 teaspoon baking soda
• 1 teaspoon salt
• 1 cup Caramel Mars Bars (3 full sized bars or 8 Halloween sized bars), frozen & chopped
Method:
Heat oven to 350°F
In large bowl, cream butter, brown sugar and granulated sugar until fluffy. Add eggs & vanilla, mix until creamy.
In medium bowl, mix together flour, baking soda and salt. Gradually blend into creamed mixture.
Chop frozen candy bars into small pieces. Fold into cookie dough.
Chill dough for 15 to 20 minutes in the fridge.
Portion out dough into ¼ cup balls, roll lightly between your palms for perfectly round cookies or drop loose on to sheet for nearly perfect cookies. Place a maximum of four cookies per cookie sheet, sprayed with non-stick spray. Bake 12 to 15 minutes until puffy and golden brown.
Keep dough refrigerated until ready to bake. If reusing cookie sheets rinse/wash between batches as caramel will stick and burn. Carefully move cookies with spatula onto a cooling rack to firm up.
Serve warm, when possible with milk shots. What, you don't shoot milk at your house?
Makes 10 – 12 "colossal" cookies (I told you they were big).