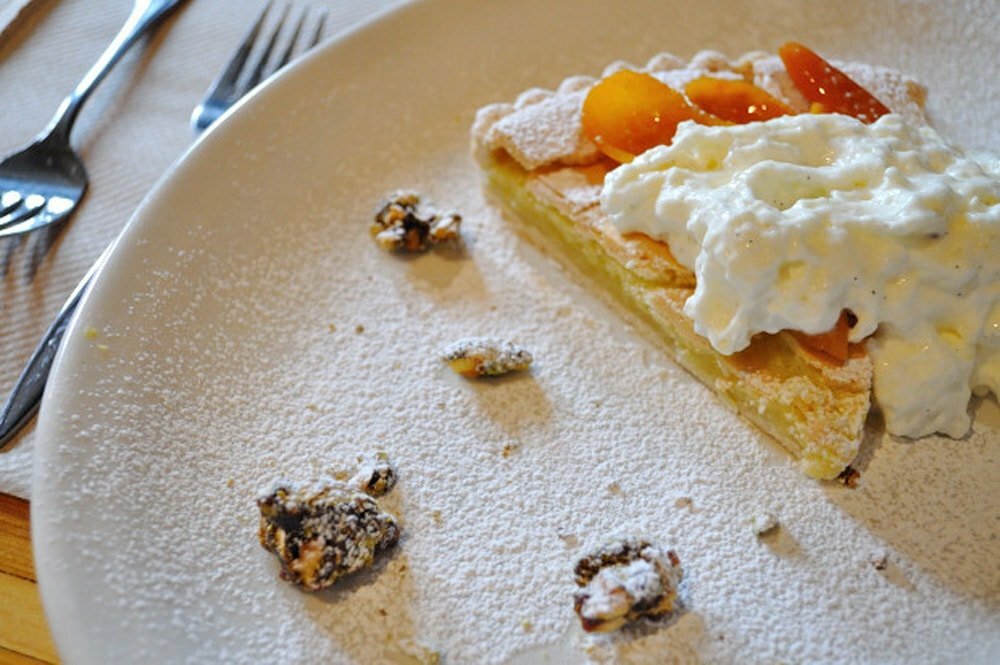 Ottawa's Union 613 – Doin' it Southern Style
Boiled Peanuts, Fried Pickles Biscuits & Gravy, Fried Yardbird and Chess Pie, soul food and casual style at Ottawa's Union 613.
Lunch with my gal Mary, delicious food, scandalous gossip. I am greatly blessed to have gal pals who indulge me with patience as I shoot their food and often (by proxy) their cleavage. I like to think of it as one more reason to read Food Gypsy and look at the pretty pictures. Union 613 was our excuse to eat rich, southern food ( including dessert), while moaning about a disastrous haircut and (minutes prior) broken glasses. Nothing makes a girl feel better than down-home cookin', and female sympathy — though the list of premium bourbon was mighty tempting.
Decor at Union 613 is hillbilly chic. Part industrial part re-purposed with a sense of everything having been cobbled together from someone's backyard. Nothing too fancy; a plank of wood, a bit of iron pipe, a chunk of burlap, mismatched glassware, and entrees served on baking sheets with butcher's paper. Reminiscent of hole in the wall joints down back allies in the Southern states where the food is good and the booze is better.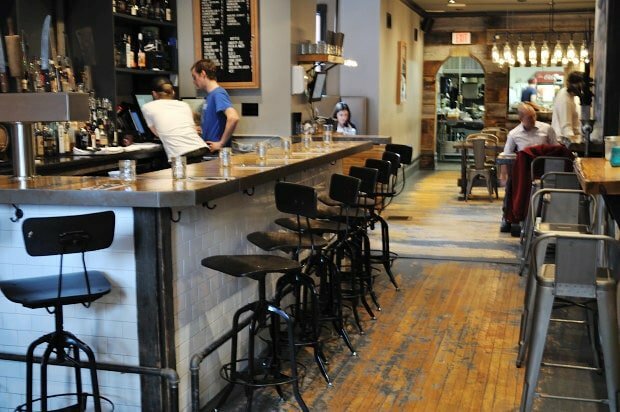 If you're a stranger to Southern food, Union 613 will help you get acquainted with the unique flavour profile from south of the Mason Dixon line. Get familiar with a bit of heat, become one with pork fat and cayenne.
Try a boiled peanut, salty and smooth, with all the fat and flavourr of peanut butter, you may become quickly addicted to peanuts of the boiled variety. Order the house-brewed root beer, pale and sweet it reminds me of home and long summer days when Mom would break out the last of the home brewed root beer from the cellar and I would be forced to share with the neighborhood kids. Indulge in a Hibiscus Punch, a floral rum spiked lady-drink perfect for a bit of 'fiddle-dee-dee'. All to whet the appetite for a the fried pickle.
A perfectly fried pickle (in my opinion) must be salty, not sweet. I demand a hint of heat, crisp not soggy, and with the cool, finish of dill. Made with firm, Kosher dills, Union 613 fries up a mighty fine pickle with a little kick of cayenne in the house ranch dip.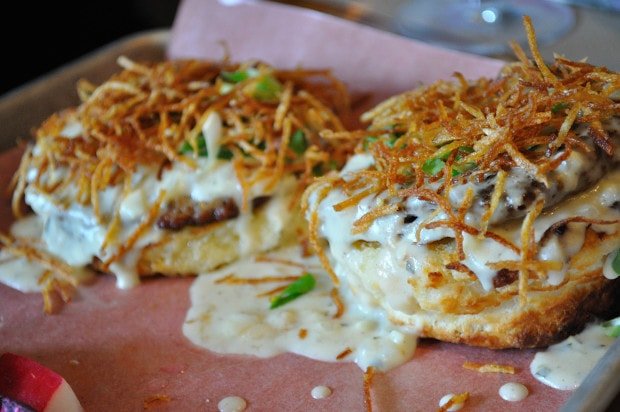 Mary's Lunch: Biscuits & Gravy. (If she didn't do it, I was going to have to!) A southern classic, pork sausage on fresh biscuits covered in sausage pan 'gravy'. "Good biscuits in fact, great biscuits light and moist… but the sausage is a bit lean." Lean and a bit under seasoned to my palate. Fat = flavour particularly when it comes to sausage. That said, still tasty, and authentic.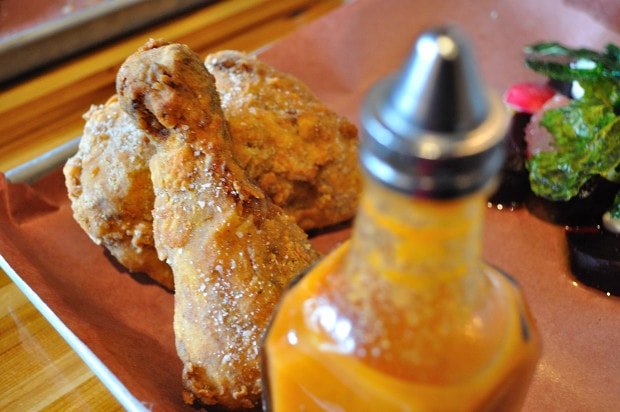 Gypsy's Lunch: Fried Yardbird (AKA: Fried Chicken) Tender and juicy, this is chicken, that tastes like chicken. Lovingly rubbed with spices, it's first cooked sous vide in it's own juices, low and slow, then finally dipped and fried. That's a lot of work for fried chicken, and well worth it. Served with a spicy vinegar that I almost took home, Fried Yardbird is a Union 613 specialty. If you're a heat monster (like me) liberally sprinkle with kick-ass vinegar and let it clear your sinuses.
If they have it available finish with Chess Pie (top photo). Like the appetizer, we shared dessert, and even my gal Mary was won. Mary is not a big sweets lover, but it's tough not to love a butter rubbed crust filled with bourbon kumquat cream. Made with Buffalo Trace bourbon, you smell that hint of smokey corn mash before it hits your lips, coupled with a floral citrus, it's not too sweet, yet oh, so decadent.
If you're a lover of good southern liquor, Union 613 has what may be the best bourbon list in town: Hudson, Basil Hayden, 4 Roses Small Batch, Baker's, Balton's Gold, Corner Creek, Bookers, Old Forester, 1789, Rip Van Winkle, R.L. Weller, Buffalo Trace and Evan Williams along with a fine line of whiskeys, line the bar. (It's for the digestion…)
Only two things missing to feed my Gypsy soul: collard greens cooked in pork fat, and a big ol' plate of grits. I wants me some grits.
Ottawa's Union 613, if the food don't git' cha' the liquor will.
Union 613
315 Somerset St W
Ottawa, ON
(613)231-1010