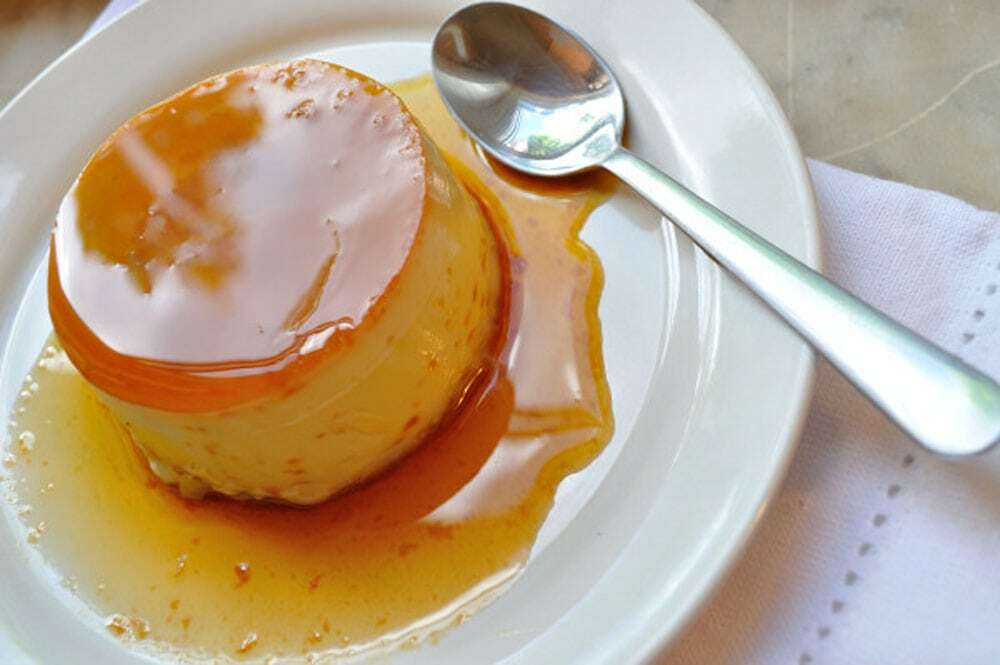 Créme Caramel – Classic Simplicity
Créme Caramel done well is rich, creamy and smooth. When inverted, a sweet layer of liquid caramel oozes over the sides and runs on to the plate to form the perfect puddle of sticky goodness to counter the cool, sweet custard.
Done badly, créme caramel is filled with bubbles, a loose caramel could be watery or bitter, it could be encased in a thick skin and have a rubbery texture. The wrong temperature at any given point can break the custard and cause it to separate leaving you with a curdy mess. There are a myriad of things that could yield a less than fabulous result, it might be a bit of a daunting dessert to try – until now. All you need are a few simple steps and a little respect for the boundaries of this delicate flan.
The man in my life, Chef B, took to the kitchen to satisfy a craving whilst giving a lecture on the supreme qualities of créme caramel. Custards are among is favorite desserts and pastry is something of a sub-specialty for my favorite Chef de Cuisine. This is his take on a classic, and his articulate technical directions so you can have restaurant quality créme caramel in the comfort of your jammies.
Créme Caramel is like a woman, she likes things a certain way. Give her what she needs things will be smooth and sweet, cross her and you pay the price. Her needs are simple: a nice cold bath, care taken wither her sugary bottom, and NO whisking. (Save the whisk for chocolate mousse, she loves a good whisking.) As he stirred and mixed, ever so gently, I discovered how many questionable versions of this classic I've had.
"Five out of ten attempts at creme caramel will fail if you don't know your technique, it's not JUST custard, it's custard in perfect balance with caramel." ~ Chef B.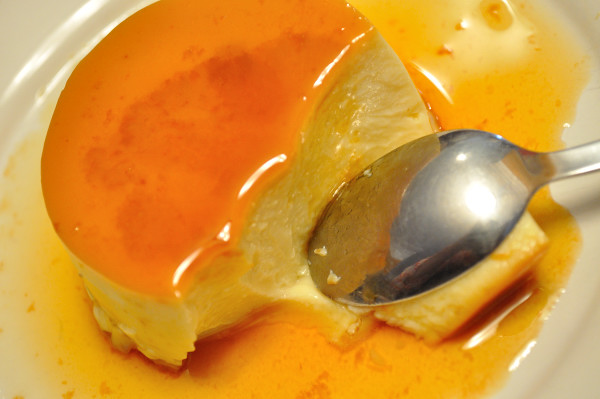 Most custards love a nice warm bain marie, but not créme caramel. This custard likes to start her bath cold and let it warm slowly in the oven. Why? Because if you add the hot caramel to a hot baking dish, it will keep cooking. If sugar cooks too long it burns and becomes bitter. There are times in the kitchen when a bit of burnt sugar serves you, a gastrique for instance, but this is not the case with creme caramel. You want your sugar reduced to a deep, rich, amber and sweet — so pour your caramel into a COLD ramequin to stop the cooking process, and then add your custard.
While you're mixing and pouring, be sure the caramel on the bottom is not diluted by splashing water (or whatever it is you're tossing about). Be sure your baking dishes are perfectly dry, she hates her caramel diluted.
Last, loose the whisk. Créme caramel loathes whisking, it makes her frothy and foam leads to lost product and nasty bubbles, so put down your whisk and pick up a sturdy wooden spoon or spatula. Move her gently back and forth and she will be smooth and consistent.
He's sharing his "secret recipe" in this post, adding a hint of cinnamon and the zest of both orange & lemon to heighten the flavours and lend a light acidity to the fragrance. (Reveling secrets, he must be in a very good mood…)
The future hubs is on a dessert roll lately, bless him.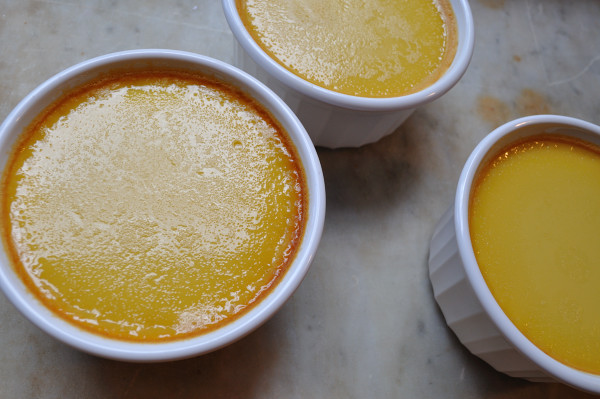 Creme Caramel Recipe
Prep time 20 minutes
Cooking time 40 minutes
Yeild: 8 servings
2 cups sugar, divided
2 tablespoons water
4 cups milk
1 teaspoon vanilla extract
zest of one large orange
zest of one lemon
1 cinnamon stick
10 eggs
Preheat oven 325*F
Method:
1. In a large sauce pan, combine milk, 1 1/2 cup of sugar, vanilla extract, lemon and orange zest and cinnamon stick over medium heat. Stir gently with a wooden spoon of spattula until the sugar has dissolved. Do not bring to a boil. If milk begins to bubble immediately remove from heat. You want it scaling, not boiling.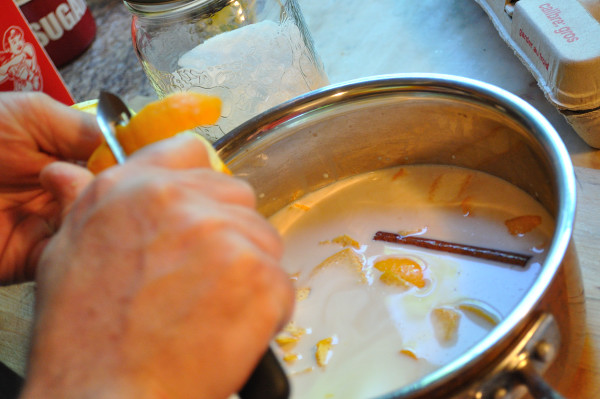 2. In a large bowl, beat the eggs until well combined. Reserve until needed.
3. Prepare a water bath, if you want, you can place a towel in the bottom of large baking dish, to keep dishes from sliding. Place ramekins in the the pan filling with COLD water, to just over halfway up the sides of the ramekin. In a saucepan, over medium-high heat, add the remaining 1/2 cup of sugar and the water, allowing it to bubble until it is a deep, amber brown colour. Divide hot, stiff sugar into eight half cup (125 ml) ramekins or oven-safe dishes, standing in the waiting bain marie.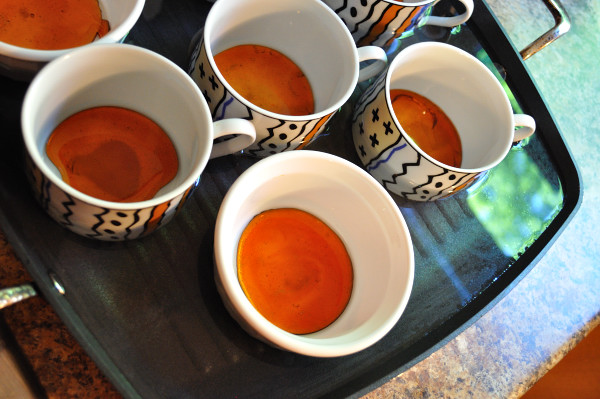 4. Divide a potion of the hot milk mixture into the pot used for the caramel, and place over medium heat. Stir to dissolve the caramel on the bottom of the pot into the milk, about 3 minutes, then pour back to the pot with the milk and gently stir. Add the hot milk to cold eggs slowly in thirds, stirring back and forth to combine, but not froth, the mixture. Once combined, pour through a sieve into a waiting bowl to strain out the zest and cinnamon stick, then give the zest a little squeeze to get all those warm oils into the custard and relaese the citrus fragrance.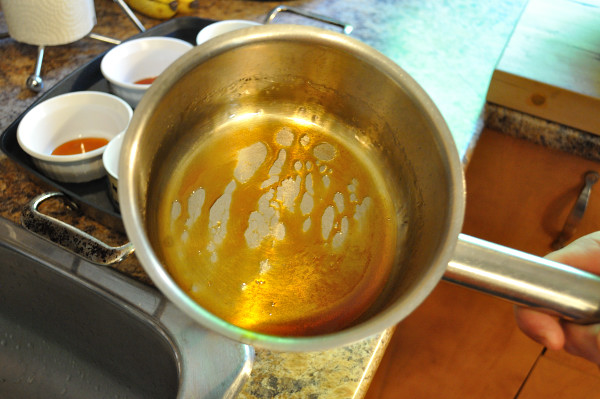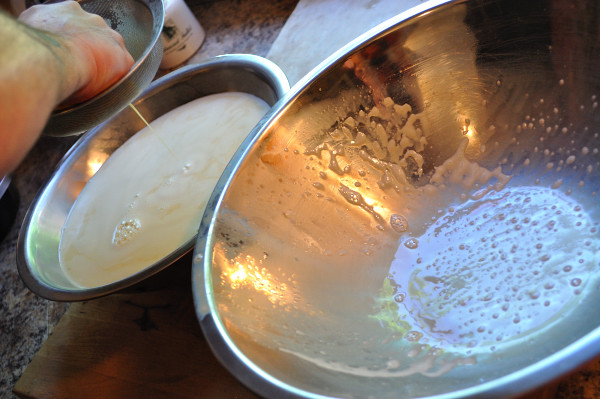 5. Pour into waiting dishes coated with caramel, giving enough headroom to the custard at the top of the dish to easily remove. Carefully place in oven and bake at 335*F for about 40 minutes, ensuring that water never boils, this will mean bubbles and splashing and that dilutes our custard.
6. Gently remove the tray from from the oven, being careful not to spill the water into the flan. Remove ramequins from the water and allow to cool. Refrigerate. To serve, run the blade of a slender knife around the edge of the dishes to loosen the custard from the edge. Place your serving plate on top of the dish and quickly turn upside down while holding the two firmly in place. The custard should gently slip from the dish on to the plate, with very little encouragement. Then lift the dish straight up, gently to relase the caramel in a sweet pool on the plate.
Be sure to serve, very, very cold. Top with fresh, dry raspberries or serve in it's natural state for créme caramel classic simplicity.