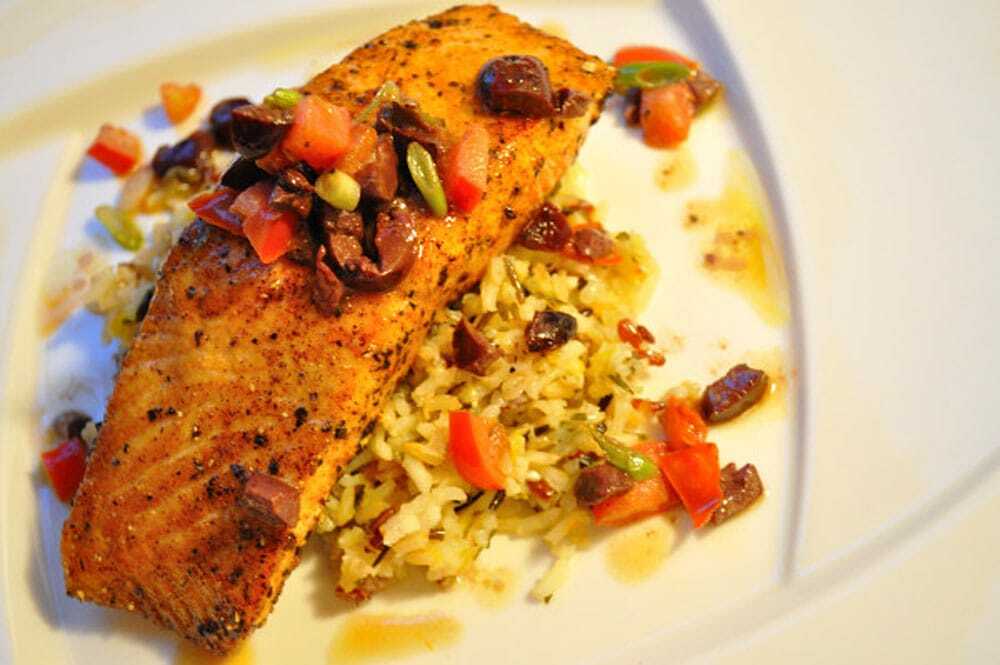 Three Pepper Salmon with Lemon Herb Rice and Olive Tomato Relish
Indulge in fresh Mediterranean flavours and omega threes. Three Pepper Salmon with Lemon Herb Rice and Olive Tomato Relish, is a meal in 45 minutes with colourful citrus rice and a super-fast relish, warmed to make a salty drizzle and capture all those healthy oils.
Sometimes I think it's the simplest ingredients that make the best meals. A fresh piece of fish, a good rice blend and a couple of household staples and you have a beautiful meal in minutes. When I'm combining flavors, I often consider how to balance dominant tastes, like the acidity of lemon. In this meal we work the lemon against a grainy starch to lend power to capsicum and accent with salt and another layer of acidity to enhance a fatty, firm fish.
Here I'm cooking for one, but I'll give you quantities for four, size up or down to fit your needs.
Items you can almost always find in our pantry: lemon, olives, tomatoes, green onions, anchovy paste and pepper of many varieties. Switch up the herbs to suit your palate, or what you have on hand. Lemon Herb rice is a good side for seafood of any kind, pan seared chicken or pork. Simple. Easy. Fast.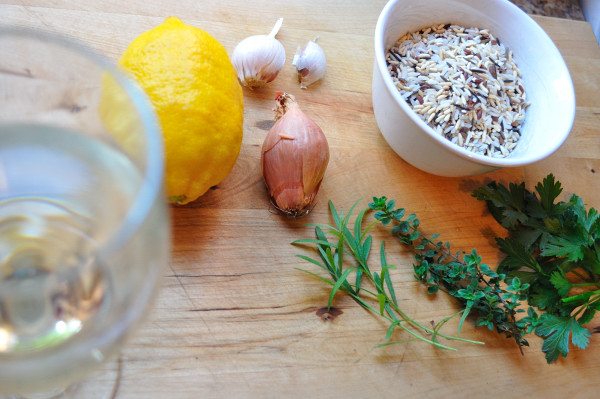 Lemon Herb Rice – Recipe
Prep time: 5 minutes
Cooking time: 40 minutes
Serves: Four
1 cup rice blend (parboiled preferred)
2 1/2 cups water
1/4 cup butter
3 large lemons, zest only
2 large shallots, finely chopped
3 cloves garlic, finely chopped
2 tablespoons fresh parsley, finely chopped
1 tablespoon fresh tarragon, finely chopped
1 tablespoon fresh thyme, finely chopped
Salt & pepper to taste
Pre-heat oven to 350*F (180*C)
Method:
1) In a medium sized, oven proof baking dish, melt butter over medium heat on the stove top. Add rice and stir to coat each grain evenly. Cook, stirring occasionally, until white rice grains begin to to turn transparent.
2) Add lemon zest, herbs, garlic, shallots, salt & pepper and stir to combine. Add water, lightly stir then bring to a low boil. Cover, remove from stove top and place in pre-heated, 350*F oven for 30 – 40 minutes or until rice is light, fluffy, and cooked through.
Olive Tomato Relish – Recipe
Prep time: 5 minutes
cooking time: 2 minutes
Serves: four
2 large tomatoes, roughly chopped
1/2 cup black olives, pitted, roughly chopped
4 green onion stalks, finely chopped
2 tablespoons anchovy paste, or six anchovies, chopped (optional)
2 tablespoons olive oil
fresh cracked pepper – to taste
Method:
1) Chop all ingredients and combine in a bowl, reserve until needed, to quickly deglaze your pan after your fish is cooked.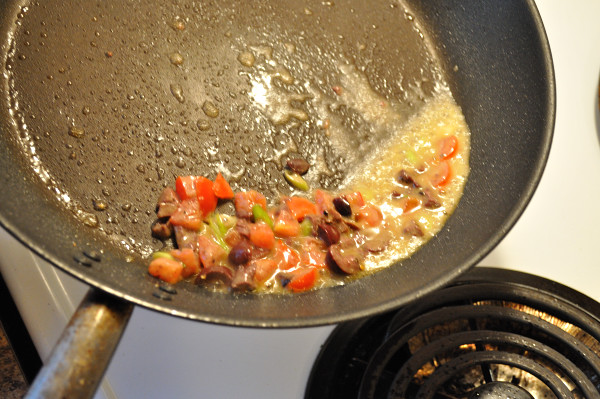 Three Pepper Salmon – Recipe
Prep time: 5 minutes
Cooking time: 8 minutes
Serves: Four
4 fresh salmon pieces, well dried
3 tablespoons olive oil, for cooking
1 tablespoon, ground white pepper
1 tablespoon, fresh ground black pepper
1 tablespoon, ground cayenne pepper
salt, very lightly
Method:
1) While rice is cooking, clean and dry salmon well on both sides. Season very lightly with salt first, as we are using both olives and anchovy (optional) in the relish, it is best to be easy with the salt on the fish, then season with the three peppers. If you wish you can mix them together first for even distribution. Press seasoning into fish fillets with finger tips. (If your salmon has had the skin removed, season both sides.) Allow to stand at room temperature for five to ten minutes – this will help the seasoning to adhere to the fish during the cooking process.
2) In a large pan, over medium-high heat, add olive oil. Allow oil to heat until just below the smoke point. Your pan is ready when the fish sizzles as it hits the pan. (If in doubt, test your pan by touching a piece of salmon to the pan.) If your fillets have the skin attached, start skin-side down, so you can render all those good oils from the skin. Allow to cook, without moving the fish, for about three to four minutes per side (depending on the thickness of your fish), searing well. Remove from pan and rest off the heat for 2 – 3 minutes, for perfect "pink" (medium) salmon. If you like your fish, very well cooked, then extend the time in the pan until you are comfortable with the doneness of your fillet.
3) Drain excess oil if needed. Return pan to heat, add Olive Tomato Relish and toss in pan, to heat through and capture any loose seasoning and fish brownings on the bottom of the pan, about 2 – 3 minutes. Remove from heat.
To plate: Mound rice in the center, or just off center of the plate, top with salmon fillet then a generous spoon-full of the tomato olive relish, finishing with a drizzle of oil around the plate. Serve immediately.
Consume with wine. In fact, consume wine throughout the cooking process… we've had a long day!