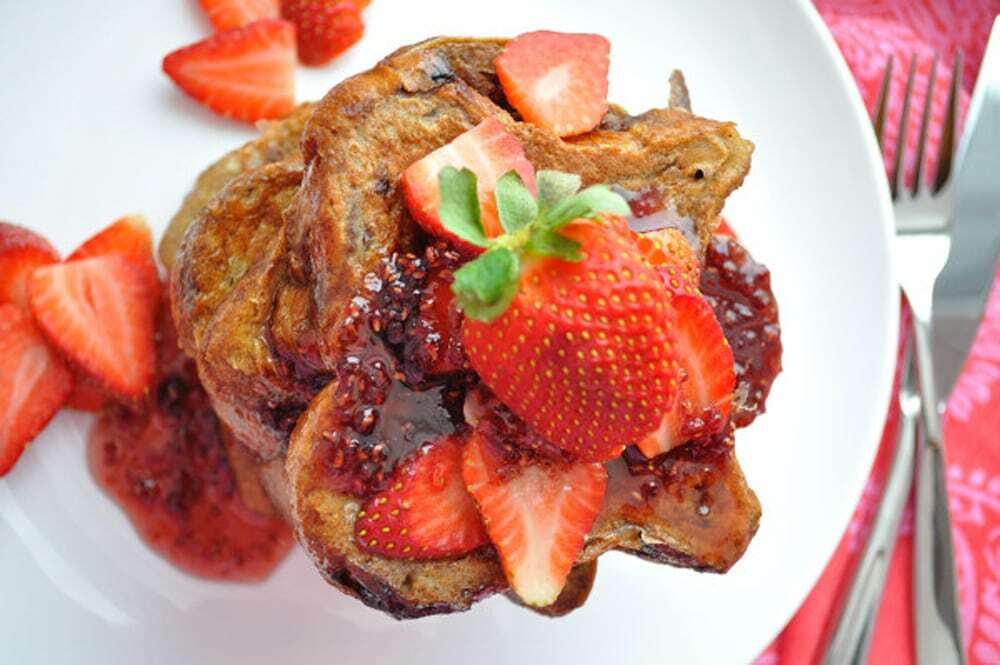 Double Berry French Toast
Nothing like a belly full of warm, spicy Double Berry French Toast in the morning.
In my days as an innkeeper at the Dragonfly Inn, Double Berry French Toast was a guest favorite. Topped with small, sweet Nova Scotia strawberries and smothered in warm raspberry-maple syrup.
The secret is in the dredge, a good spicy dredge of egg and cream soaked into a porous, day-old, dry bread. To make things interesting I use raisin bread, thick-cut and soaked for a minimum of an hour. Soaking overnight (covered) in a shallow pan in the fridge is even better, the bread absorbs all the moisture, firms up a bit and sizzles perfectly.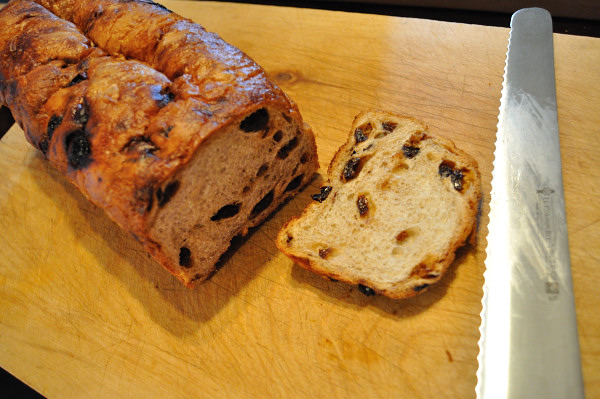 I usually calculate one egg per (thick) slice of bread and depending on the size and liquidity of the egg, 1/2 to 1 tablespoon of cream per egg. A dash of vanilla, enough to make the egg mixture fragrant, a hint of sugar to take the edge off and spices of course; heavy on the cinnamon, lighter on the nutmeg and lighter still on the clove.
The raspberry-maple syrup I make myself, it's a simple way to add a bit of flavor and colour to pancakes, waffles or french toast. In a small sauce pan, add 1 tablespoon good quality raspberry jam to 1/4 cup real maple syrup, mix well and heat to a low simmer on the stove top (or microwave). The warm syrup over the cold berries against the warm, spicy french toast adds a bit of extra tang on a colourful plate.
Like Grandma used to say: "Breakfast is the most important meal of the day."
Double Berry French Toast Recipe
Prep time: 10 minutes
Cooking time: 20 minutes
4 slices of thick-cut raisin bread
4 eggs
3 tablespoons cream (18% milk fat preferred)
1/2 teaspoon vanilla
1 tablespoon sugar
1 teaspoon cinnamon
1/2 teaspoon nutmeg
1/4 teaspoon ground clove
butter/oil for cooking
Fresh Strawberries, sliced
Raspberry-Maple Syrup, served warm
Method:
In a large bowl lightly whisk cream and eggs. Add sugar, vanilla and spices; lightly whisk to dissolve sugar and combine.
Add bread slices, one at a time, turning to coat on both sides. Allow bread, soaked in egg mixture to stand at room temperature for one hour (minimum). If soaking for a longer period of time, arrange bread slices in flat, shallow pan, add any remaining egg over top, cover and refrigerate.
Heat large, non-stick pan over medium-high heat, melt butter or coat bottom with cooking oil. Add soaked bread to fill pan, cover and allow to cook for 2 – 3 minutes until golden brown. Uncover and flip bread when necessary to cook evenly on both sides.
Bread should be firm in the center, not squishy. If needed pop it in the oven for 5 minutes at 300* – nothing worse than under-cooked, gooey-in-the-middle french toast.
Serve with cut berries, and warm Raspberry-Maple Syrup and enjoy.