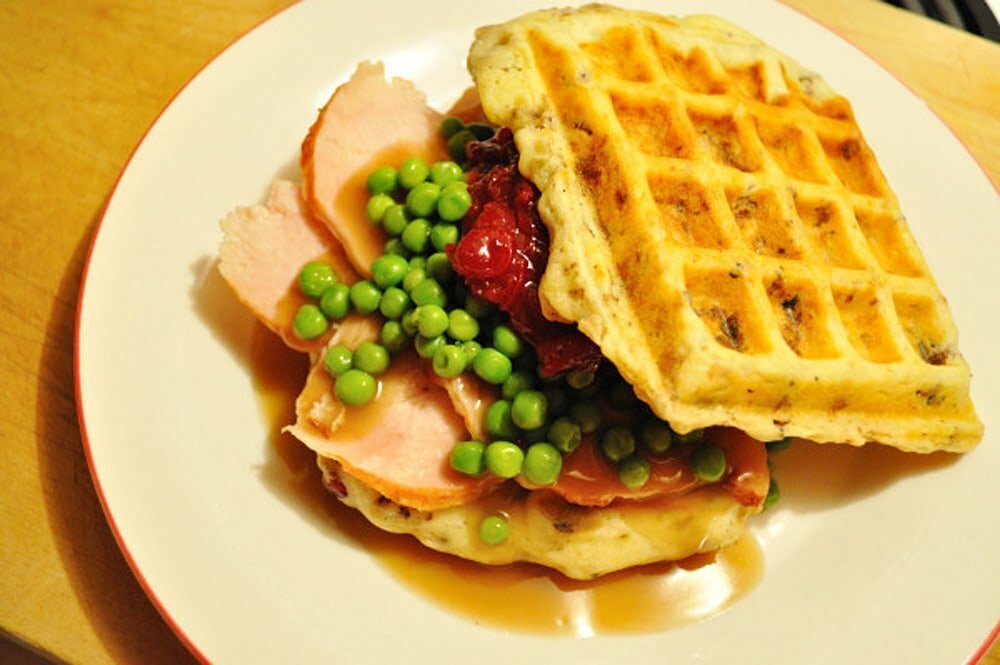 Stuffing Waffle Turkey Sandwich, Fun with Leftovers
Yea, that just happened, I made a waffle out of leftover stuffing and served a turkey sandwich on it, that's how white trash I am.
Christmas 2011; the year of the Stuffing Waffle Turkey Sandwich. Straight out of the Gypsy Kitchen.
What?! Chicken & waffles is great, therefore a little leftover stuffing + waffle batter = stuffing waffles & turkey. (Ta DA!) Chef B arrives home and I share the evening's menu with him and he makes a face. But he's a good sport so he tried it, guess who likes Stuffing-Waffle Turkey Sandwiches?
This is my standard Buttermilk Waffle recipe, borrowed from the Bacon-Waffle-Grilled-Cheese Sammich post. (I LOVE WAFFLES.) For a fun take on the standard post-holiday fare. Besides, chances are the kids are starting to recover from the turkey coma, this will induce a standard carbohydrate coma, so you can get a nap in. (Lord knows you need your naps.)
(Buttermilk) Stuffing Waffle Recipe
Prep time: 10 minutes
Cooking time: 20 minutes
2 eggs
2 cups all-purpose flour
1 1/2 cups butter milk (plus additional if needed)
1/2 cup vegetable oil
1 tablespoon baking powder
2 cups pre-cooked stuffing
Makes 8 (or 9) square waffles
4 servings leftover turkey
2 cups leftover turkey gravy
4 servings of cooked green peas
Cranberry Sauce to finish
Method:
Preheat waffle iron, it has to be good and hot. Most irons have a light that tells you when it's at optimum waffle temperature.
Beat eggs in large bowl with hand mixture until fluffy.
Stir in flour, buttermilk, vegetable oil, baking powder, salt and mix by hand or with electric mixer until smooth.
Break up stuffing into small chunks by hand in separate bowl, fold into waffle mixture, add additional buttermilk, as needed, to loosen batter so that you are able to easily spoon it onto the waiting hot waffle iron.
Coat waffle iron with a thin layer of oil or non-stick cooking spray.
Spoon chunky waffle-stuffing batter onto waffle iron, spread evenly on grill surface and cook until golden brown.
Gently lift waffle from iron and reserve until needed. Easy to make in advance and then heat again quickly in the waffle iron, or toaster. If you have extra freeze them. Instant Stuffing-Waffles. In this photo, I used about a 1/2 cup of waffle batter per waffle because I wanted big, heavy waffles.
Reheat turkey, peas & gravy while waffles cook. As cooked, waffles can rest warm in a 250* oven a few minutes until needed.
To plate: 1 stuffing waffle, top with serving of turkey, spoon over gravy, top with peas, add one heaping spoonful of cranberry sauce and add a second waffle to the side; because clearly what we all need is more carbs.
Fun with leftovers in the Gypsy Kitchen.