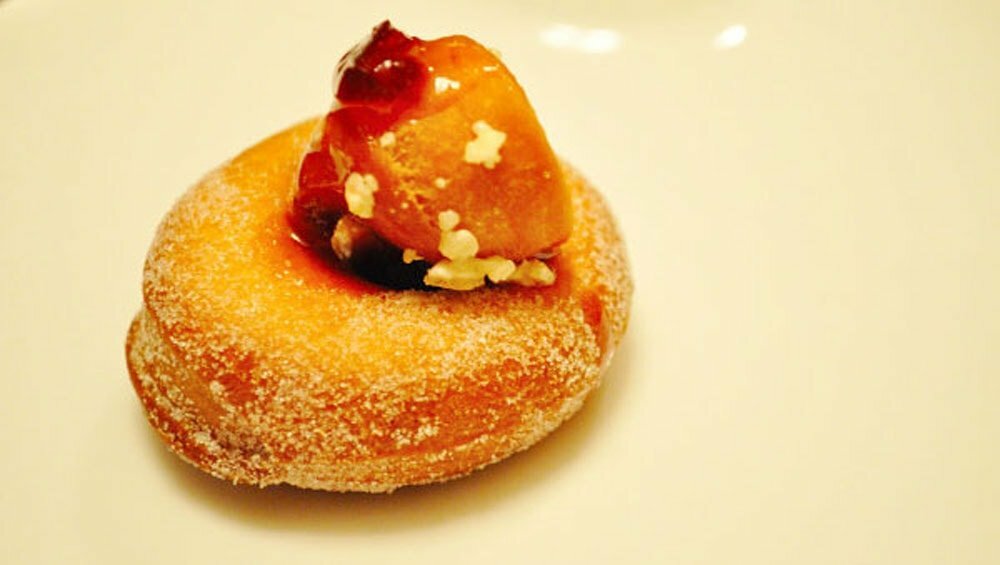 In the mood for mini doughnuts for a little cocktail party treat, we went in search of a recipe to fit our needs. These were not quite what we were looking for, but were still a tasty result. I suppose this means more doughnut taste-testing in our future.
We wanted a light, airy doughnut. (Think: crispy & creamy.) We got a yeasty, dense doughnut. (Think: cakey & dreamy.) While entirely satisfying, we're determined to find doughnut perfection that melts on your tongue and is feather light. We shall then fill it with richness and put magical sugars and glazes on it. This is a fine start, but do stay tuned.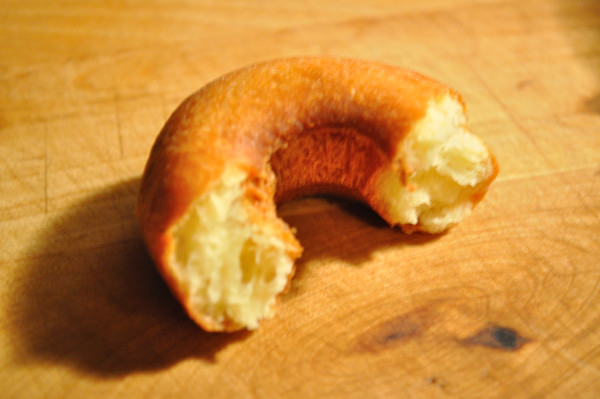 This recipe comes from Flour Bakery & Cafe in Boston, Massachusetts from the recipe index at Epicurious.com. Epicurious has long been a Gypsy favorite, with a massive section from the archives of both Bon Appétite and (the now defunct) Gourmet magazine, it has fueled many an experiment in the kitchen. We tightened this recipe down from it's original time frame, as we found the resting time of six hours (minimum), overly long. There is no logical reason to rest a dough for more than an hour or two. Longer resting times will not further relax the gluten, once it's stood in the cold for an hour to 90 minutes, it's rested. We tightened the timing and still had good results in less than the called for 10 hour timeline. Back to experimenting we go, in search of the perfect, fairy-light doughnut.
Chef B. broke out his favorite popping sugar to coat the doughnut holes, then drizzled with a bit of sour cherry jam for a big kid treat and a bit of fancy party doughnut fun. Party on, party doughnuts.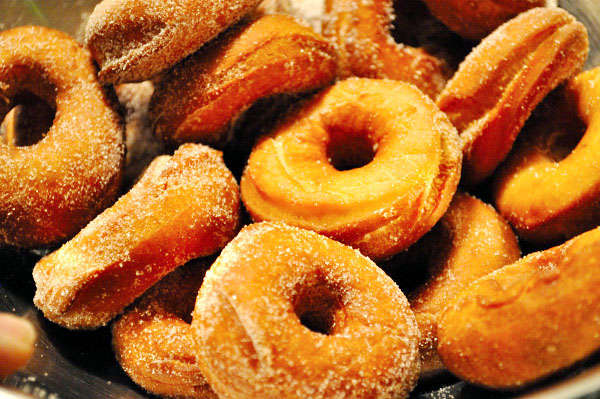 Party Doughnuts – Recipe
Prep time: 3 1/2 hours
Cooking time: 40 minutes
Makes: 2 dozen mini-doughnuts
1 package (2 1/2 teaspoons) active dry yeast
2/3 cup milk, at room temperature
3 1/2 cups unbleached all-purpose flour
1 1/3 cups sugar, divided
2 teaspoons kosher salt
3 eggs
7 tablespoons (3/4 of a stick) butter, at room temperature, cut into pieces
light oil, for frying (sunflower, safflower, corn or canola)
Method:
1) In a small bowl combine yeast and milk. Stir together and let stand at room temperature for one or two minutes to dissolve the yeast.
2) Attach dough hook to your countertop mixer, add milk/yeast mixture, flour, 1/3 cup of the sugar, the salt and the eggs to mixer bowl then mix on low until the dough comes together, about four minutes.
3) Add butter, a few pieces at a time, starting at low speed, and continue to mix for 5 minutes, like a brioche dough. Depending on your mixer, you may need to scrape the bowl down, and remove batter from the hook, then turn the mixer up a few notches to fully incorporate butter into a soft, springy dough.
4) Remove the dough from the bowl, wrap tightly in plastic wrap, and refrigerate for an hour or more. If making dough ahead, you can safely rest it for up to 15 hours.
5) Turn dough out onto a well-floured work surface, roll /press dough into a 12-inch square about 1/2 inch thick. Using a biscuit cutter, chef's rings or other useful kitchen tool (a sharp edged cappuccino cup and a shooter glass will do) cut out your doughnuts to size. This recipe makes about nine – four inch doughnuts or two dozen mini-doughnuts. Arrange cut doughnuts on a lightly floured baking sheet, cover with plastic wrap, and place in a warm spot to proof for 2 hours, or until they are about doubled in height.
6) Line a tray or baking sheet large enough to hold the doughnuts with paper towels before frying. If you are frying on the stove top, you will need about three inches of oil in a deep, heavy pot over medium-high heat. We recommend using a thermometer and heating to 350*F. Place up to six mini-doughnuts in the hot oil at a time, being careful not to crowd the pot. Fry on each side for 2 to 3 minutes, or until golden brown. Using a slotted spoon, fish them your piping hot doughnuts onto the prepared tray to drain and cool.
Add the remaining cup of sugar in a large bowl and toss the warm doughnuts in the sugar to coat evenly. Plate warm and serve.