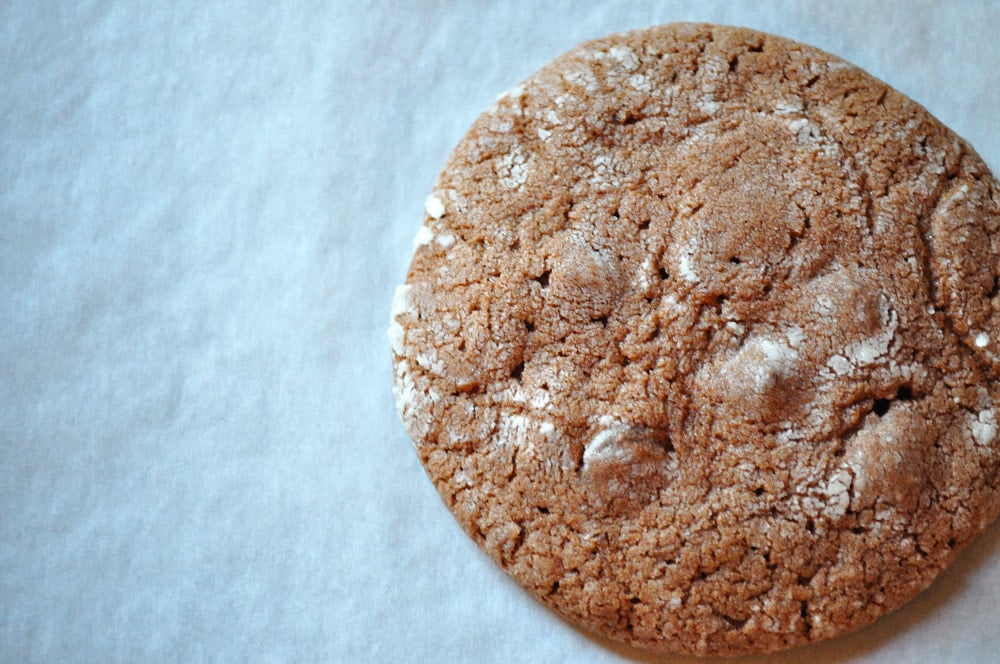 Nutella Crackle Cookies – Git Yer' Chocolate On
Deliciously chocolaty and terribly addictive Nutella Crackle Cookies are crisp on the outside and soft and chewy on the inside. I apologize in advance for causing you to sneak into the kitchen under the cover of darkness for another after you told yourself two was enough. Two is not enough.
Whatever you do, do not taste the cookie dough. This might just be the best cookie dough ever invented, so don't even think about trying it or you'll have a tummy ache and no cookies, and then need to go to bed early (not to mention hitting the gym extra hard all week). Come to think of it, maybe you shouldn't make these at all (but you know you will).
Two tips for perfect cookies:
1. Read the directions all the way through and gather all ingredients first. I can't count the number of times I've started a recipe only to find I'm out of a key ingredient. Case in point; the first time I went to make Nutella Crackle Cookies I found the (days old) jar of Nutella had been raided to the point of depletion. Fortunately for the raider (he's French, he can't help himself) he picked one up the very next day without even so much as a raised eyebrow from me. (I suspect he had planned to finish the jar later that evening…)
2. Bake a test cookie. Instead of tossing in a whole sheet pan full on your first batch, bake a cookie, solo to be sure of your timing. Every oven is different, so calibrate your timing for your oven and then you can deliver consistent, perfectly backed cookies every single time.
This recipe is a sure win and the cookies hold beautifully for days — taunting you. Crap. Fine, I'll have another. (No. Will. Power.)
Nutella Crackle Cookies
Prep time: 40 minutes
Baking time: 1 hour
Yield: about 24 cookies
3/4 cup butter, at room temperature
1/2 cup brown sugar
1/2 cup white sugar
1 cup Nutella
1/2 teaspoon vanilla
2 eggs
2 cups flour
1/4 cup unsweetened cocoa
1/4 cup ground hazelnuts
1/2 tsp baking soda
1/2 tsp salt
1/4 cup icing sugar (to finish)
Cookie options:
1 cup chocolate chips (milk, white or dark)
1/2 cup chopped hazelnuts
METHOD
1. Preheat oven to 350°F (175°C). Cream butter by hand or with a stand mixer with paddle attachment for 3 minutes, until light and fluffy. Add both brown and white sugar and Nutella and mix well, scraping down sides of bowl with a spatula as needed.
2. In a separate small bowl, add eggs and vanilla, mix lightly with a fork, then add to Nutella mixture and blend at medium speed for about a minute until creamy.
3. Sift flour, cocoa, salt, and baking soda in a separate bowl, to eliminate and lumps (particularly in the cocoa), then add ground hazelnuts and whisk lightly to blend. Combine dry ingredients with Nutella mixture on low speed, scraping down the bottom and sides to blend evenly. Remove mixing bowl from stand and fold in any optional ingredients (chocolate chips & hazelnuts), then refrigerate the dough for fifteen minutes to allow it to firm.
4. Put icing sugar in a small bowl and scoop tablespoon-sized lumps of dough on to a clean cutting board and roll, each by hand until smooth then roll each lightly in the icing sugar to coat and place onto parchment paper lined cookie sheets, pressing lightly to form a flattened disk instead of a round ball. Bake your Nutella Crackle Cookies at 350°F (175°C) for 10-12 minutes. Allow to cool on baking sheet for a minute or two before transferring to a wire rack and cool completely.
Don't say I didn't warn you.