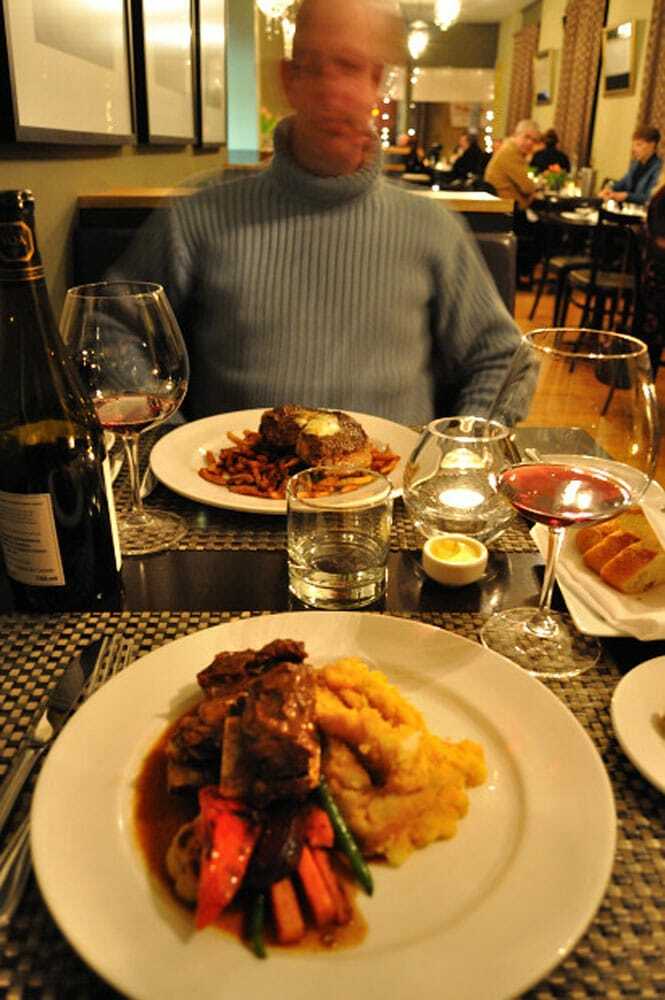 East & Main Bistro, Local-icious
A darling little gem in Bloomfield, Ontario offering seasonal fare, locally sourced, East & Main Bistro is a dining experience for even the most discerning of appetites.
We are not picky eaters, and when I say we I really mean me, I'm a simple girl at heart who just loves a good meal. The Chef in my life is a different story, he can be a tough customer to please. Twenty-five years plus in the industry, growing up in the heart of Burgundy; his standards of excellence are high. The one way to knock it out of the park for both of us, is to handle ingredients with respect and honor good technique in the kitchen. At East & Main Bistro, in the capable hands of Chef Lili Sullivan, we found a dining experience truly worth raving about.
A long, narrow room simply adorned; East & Main is an eclectic combination of found, re-purposed and new decor pieces set against a neutral palate of colour creates a stunning effect. Casual enough to welcome you in denim upscale enough to embrace you in silk. The reclaimed barn wood table top, polished and lacquered to reveal it's beauty, elegant mirrors reflect the soft lighting, and comfortable chairs that invite you to enjoy a leisurely meal.
The menu was concise, with four or five choices under each category; starters mains, sides and daily desserts. Winter's chill still in the air the choices were warm and hearty; braised meats, creamy sauces, root vegetables. Our server, Bellisia, was green but adorable. She lacked confidence opening our wine, but handled our list of questions with ease, darting off to suss out information as needed, and attended to our every need.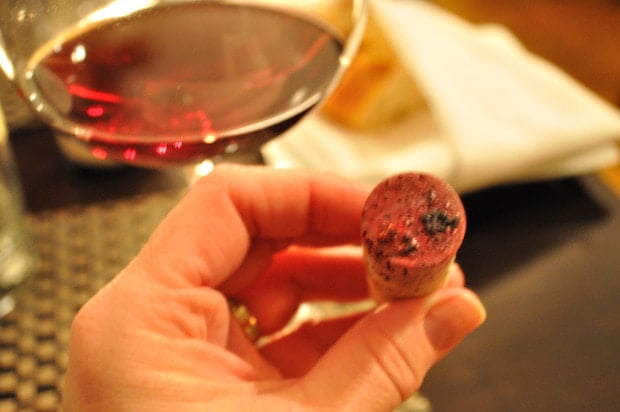 The wine list holds a fine selection of local Prince Edward Country wines as well as imports. As we were in the neighborhood to sample the gapes of the region, we chose a wine picked, bottled and aged mere miles away.
Wine Choice: Hubb's Creek, Unfiltered Pinot Noir
A nose of smoky leather and a ripe, red colour. Taste notes of cranberry and black fruit and an astringent, food friendly quality, make this a local stunner. Low in tannins with a medium finish, it coats your mouth to make you salivate, as a good pinot should
We thank the winemaker for recognizing the depth of the grape, and knowing that the newness of the vines would create a wine that could be shallow and off-putting in it's filtered state. Leaving all the natural sediment in bottle created an opportunity for a young pinot to shine, but only for a short time. This is not a wine that will shelve well, this is a wine to savour in the moment. The crystals on the cork speak to it's purity and the minerals the vine found, in the sandy-loamy like soil above the broken limestone bedrock of Prince Edward County.
A wine note: Hubb's Creek Winery made our short list of wineries to watch. If you're traveling to the county to do some sampling, be advised that they do not yet have a retail space on site, but can be found instead at the Hinderland Wine Company, just down the road, and on the list at East & Main.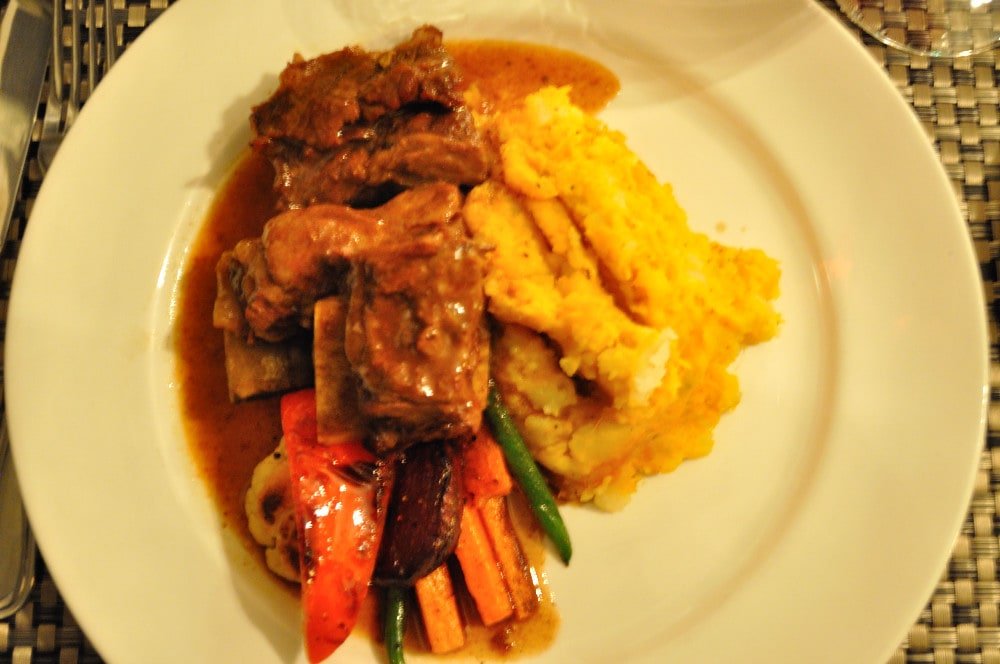 Her Meal: Braised short ribs with root vegetable mash in a brewery beer sauce ($28). Dessert – Sour Cherry Shortcake with a Blood Orange Pastry Cream.
Her thoughts: "Short ribs, the candy of bone-in beef cuts. I will go to great lengths of a great short rib. I love their density, their richness and texture, done right short ribs are cuisine heaven. East & Main does short ribs very, very well. Braised in local brew, the root mash made of parsnips, potato and sweet potato were just the right foil for a meal of pure comfort.
Desert was just exactly what I was in the mood for, before I even knew what I wanted. The remains of last year's local sour cherries, frozen in-house, pulled out in the final desperate grasp of winter featured in an old fashioned shortcake dessert. Such a welcome flavour; ripe and red against a sweet butter cream. The blood orange was lost against the pucker-power of the cherry, but who cares, it really wasn't necessary anyway."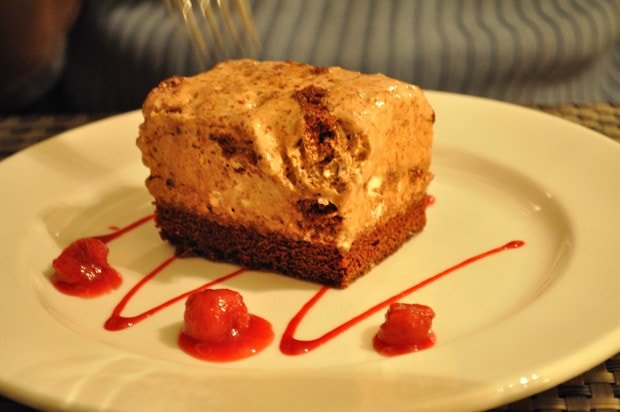 His meal: Pre-dinner cocktail Bulleit Bourbon. 10 ounce grass fed, local ribeye with blue cheese and fries ($31). Dessert – Mexican Chocolate Ice Cream Cake.
His Thoughts: "You had me at Bulleit Bourbon.
As bourbons go it's rare to find Bulleit on the menu, it's a small batch Kentucky Straight Bourboun. Someone at East & Main sure knows their liquor. As for the meal, this was among the best steaks I've had in years. I could have sworn it was U.S.D.A. corn finished. Terrific marbling. Perfectly prepared. A simple meal, well done, it's just doesn't get any better than steak & frites. Crispy, salty fries and a rare steak a hint of ripe blue and I'm a happy customer.
The Mexican chocolate ice cream cake, was in a word: prefect. A moist cake and a creamy, rich chocolate ice cream, a balance of spice, cinnamon and chocolaty. Spicy heat, done cold. Terrific."
We tip our chef hats to the kitchen under Chef Lili Sullican, a 20 year veteran of the kitchen, self-taught chef with an easy laugh and a big smile. Chef Sullivan took the time to chat with us at the end of a busy service and give us the skinny on their beef products, raised locally and sourced by proprietors Kimberly Humby and David O'Connor. You honor the beef with your care of it Chef.
Worth the three and a half hour dive from Ottawa, for a romantic evening and a terrific meal. East & Main Bistro, it's local-icious!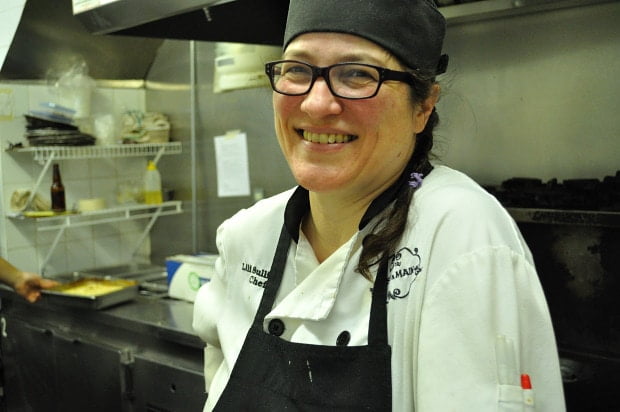 East & Main Bistro
270 Main Street
Wellington, Ontario K0K 3L0
Phone: 613-399-5420
reservations@eastandmain.ca
Thank you to our hosts, Kathleen Bazkar-O'Connell and Kevin Bazkar at Picton's Chatsworth Suites for steering us in the right direction for great dining, and good wining, in the heart of the county.