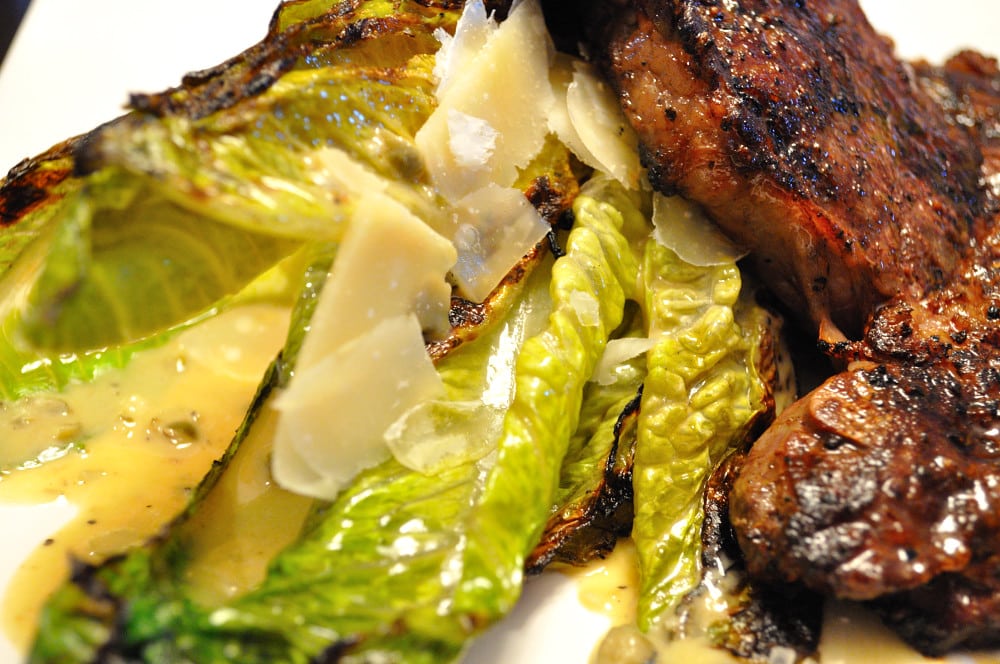 The skies are blue and the snow is gone, it's time to start up the grill and get cookin'! Let's start the season off right with a household favorite, a Grilled Caesar Salad.
A little twist on the original Caesar, we lighten it up a bit for the summer months with a looser vinaigrette base. Sometimes we grill thinly sliced pieces of day-old baguette and rub them with garlic to act as croutons, sometimes we toss on a bit of cooked bacon from the fridge. But more often that not, we keep it simple tossing a half head of romaine on the grill, lightly brushed with olive oil to give it a light char, then drizzle a little house-made Caesar dressing and top a few shavings of Parmesan. Voila, the prefect summer side.
That light grill gives your grilled Caesar salad a light, smokey taste. The heat lightly wilts the lettuce, and because it's served warm, once that garlicky vinaigrette hits it, it opens up with rich, robust aroma.
By and large the traditional Caesar salad dressing, made with a raw egg yoke gets a bad wrap. Many fear of salmonella poisoning when using raw eggs. As a general rule, the lemon juice used will 'cook' off most contaminants in an egg yoke, but to be safe and avoid that pesky salmonella bacteria, we always coddle eggs we use raw in our kitchen to reduce the risk of contamination. If you're a first time coddler here's a quick Gypsy how-to, plus a couple of food safety reminders to keep tummy troubles away from your summer fun.
Food safety note: if you still have concerns over using raw yokes, then skip the egg yoke and heavy up on the Dijon mustard this recipe to help your Caesar dressing thicken. Or, you if you can find them, use pasteurized eggs which have been gently heated in much the same manner. Food safety first.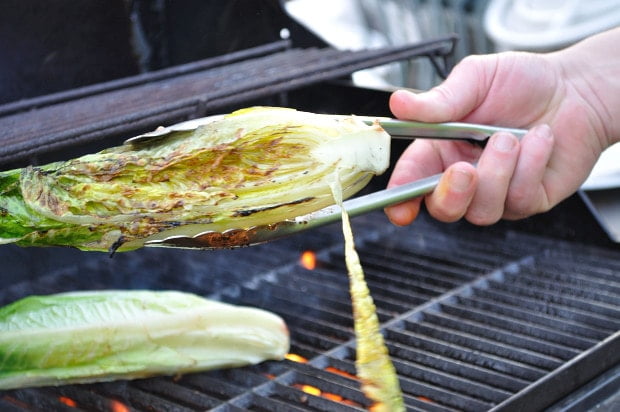 Grilled Caesar Salad Recipe
1/2 cup quality extra virgin olive oil
4 cloves fresh garlic – crushed, minced, fine
1 1/2 tablespoons Dijon mustard
2 teaspoons anchovy paste (or 1-2 anchovies, smashed & minced)
1 egg yoke, coddled (see note above)
Juice of 1 small lemon (plus more to taste)
2 tablespoons red wine vinegar
1 tablespoon pickled capers – coarsely chopped
Freshly ground black pepper & pinch of salt – to taste
4 small heads of romaine lettuce – root cleaned, rinsed & patted dry
2 tablespoons olive oil, for cooking
4 ounces Parmesan cheese, shaved
Method:
1) In a large bowl, whisk together the olive oil and garlic and allow to sit for 15 minutes to a half hour. Add anchovies, egg yoke and mustard to the oil garlic mixture and whisk until creamy and smooth. Add lemon juice and red wine vinegar, capers and a dash of salt and pepper. Taste, add more lemon juice or seasoning to taste. A good Caesar dressing should have the kick of lemon without completely overwhelming it.
2) Cut heads of romaine lettuce in half, lengthwise through the core. Drizzle or brush the cut side of the leaves with olive oil. Place, cut side down, on a hot grill and sear for about three minutes until lightly charred and wilted. Remove immediately from heat, plate, cut side up, drizzle with dressing, top with shaved parmesan and serve immediately with your favorite grilled goodies.
Here's to summer cooking. Let's get outside.