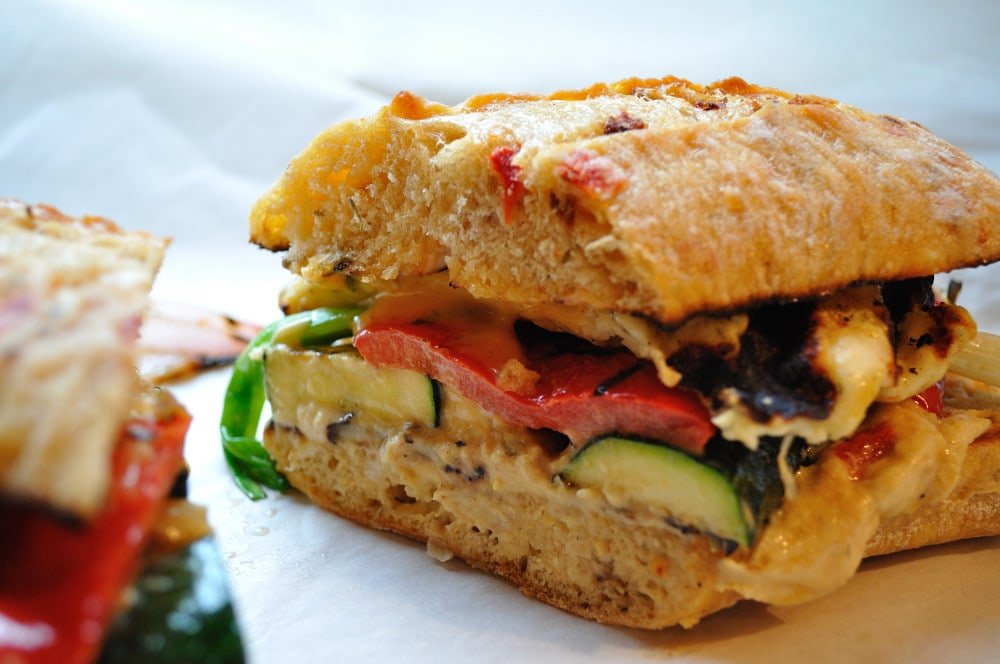 Grilled Vegetable Halloumi & Hummus Hoagie
From our Tastes of Summer menu, the Grilled Vegetable Halloumi & Hummus Hoagie, great grilled flavour on a Meatless Monday.
Sometimes it's the simplest of ingredients that make the best meals. What could be easier (and faster) than a few well chosen vegetables tossed on the grill with a little olive oil and garlic, a bit of cheese and a condiment or two on a fresh baguette or Italian roll? Take the heat outside and enjoy the tastes of summer.
Super quick prep: cut, season and cook. You can make the hummus or just pick one up.
The trick to a great grilled vegetable sandwich, in any form, is a great bread and perfectly cooked produce. We chose a sun-dried tomato sourdough baguette, which we toasted lightly over the grill at the last minute. For best grilling and a flat, easier to handle sandwich I usually cut things like zucchini and eggplant in slices, or rounds, a quarter to a half inch thick, and I cut peppers so they lay flat. But let's face it, this is a messy sandwich, it slips and slides with a little hummus and a touch of paprika mayo (as easy as adding a paprika to your favorite mayo for a bit of colour and a smokey, spicy taste).
To remove the bitter taste of eggplant, slice it first and salt liberally on both sides, then allow to drain on a cooling rack for ten to fifteen minutes before rinsing and drying. The salt removes impurities and excess water, allowing the mellow taste of eggplant to come through.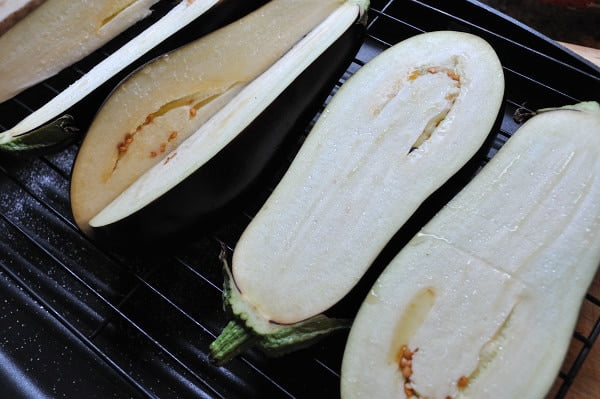 As the egg plant drained, I tossed a few ingredients in the food processor for a quick Roasted Garlic Hummus. We keep a jar of garlic confit in the back for the fridge for just this type of thing, it's sweet and tender. But you can roast a couple of heads of garlic in the oven in about 30 minutes. Or hell — just pick up a tub of your favorite hummus at the grocery store, it's summer don't fuss.
Roasted Garlic Hummus Recipe
Prep time: 40 minutes
Yield: 2 cups
2 heads garlic
1 tablespoon plus 1/4 cup olive oil, divided
1 19-oz. can chickpeas, rinsed & drained
(or two cups of soaked, cooked, drained chickpeas)
2 tablespoons lemon juice
1 tablespoon tahini (sesame paste)
Method:
1. Preheat your oven to 350°F. Cut tops from garlic heads to reveal the clove tips, place garlic heads on a large sheet of foil, and drizzle with 1 tablespoon of olive oil. Wrap garlic tightly in foil, and bake on a cookie sheet for 30 to 45 minutes, or until garlic feel soft when tested through the foil. allow to stand and cool.
2. Pulse chickpeas in food processor to pureé until well chopped. Add lemon juice, remaining olive oil and tahini. Blend all ingredients 2 to 3 minutes, or until smooth stopping to scrape down the sides as needed.
3. Remove garlic from foil when cool enough to handle. Squeeze roasted garlic from each clove into blended chickpeas in food processor. Pulse hummus several times. Season with salt and pepper and stir to combine.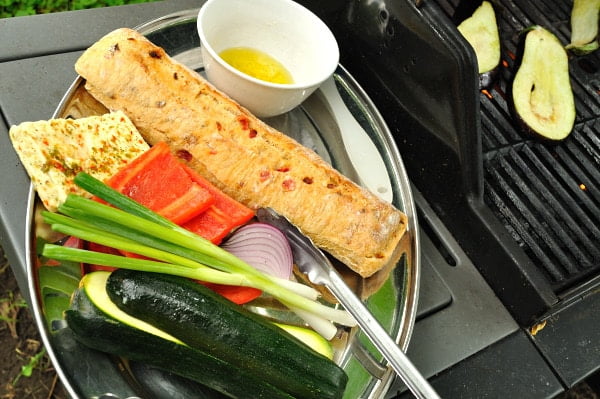 Once you have your hummus made and your eggplant drained and dried it's time to retreat to the grill with the adult beverage of your choice, a pair of tongs and some good olive oil.
Fan of middle eastern food that I am, I just love a good grilled cheese, in this case – spiced halloumi ( above, right). An unripened, brined cheese made from a mixture of sheep and goat (and sometimes cow's) milk, it's set with rennet for a tough, resilient texture that can be easily fried or, in this case, grilled.
Slice halloumi in thick, whole slabs about a half inch thick, brush liberally with oil and grill low, flipping only once grill marks are get and cheese is beginning to soften.
Gypsy tip: One of my best grilling tips is the liberal use of non-stick spray. I coat the grill with it as it heats and this ensures that nothing sticks, not burgers, not veggies, not your seared bread and not your delicate halloumi.
Now slap that baby together, a layer of hummus on the bottom, layers of veggies, topped with spicy, salted cheese, paprika mayo (or another layer of hummus) and feast. That my friends, is the Grilled Vegetable Halloumi & Hummus Hoagie, summer cooking made easy.