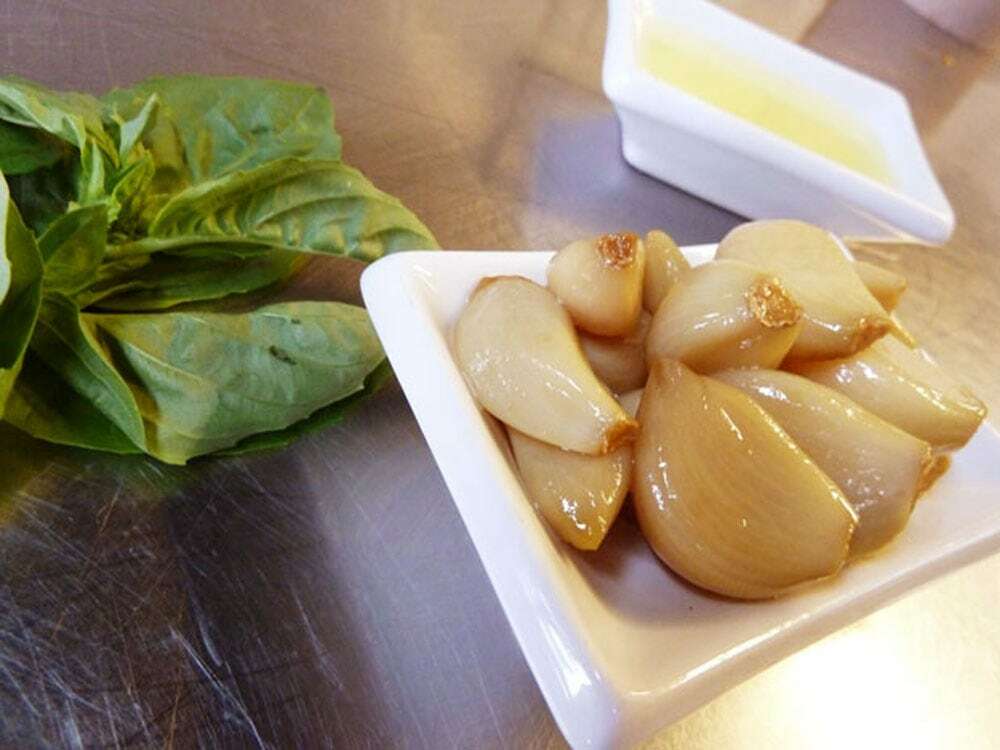 Speedy Kitchen – Garlic Confit
With temperatures on the rise, barbecue season can't be far behind. Time to get ready with a big bot of garlic confit. Cooked slow and low in oil, the garlic becomes sweet and easily mash-able, perfect for quick summer cooking, sauces and condiments.
Confit (pronounce: con-FEE) – From the south-west of France, a term used to describe a method of cooking where food (often meats such as duck or goose) is immersed in a substance (such as fat) for both flavour and preservation.
Once cooked, garlic confit can live in a tightly sealed jar in your fridge, safely for a month. A little prep time and effort with a pot of confited garlic renders you two valuable products in the kitchen, the garlic confit itself and the garlic oil.
Use garlic confit in sauces or soups, or anywhere you might use roasted garlic; mashed potatoes, aoli, tomato or cream sauces, or alone as a sweet, garlic spread on a toasted baguette or freshly grilled meats. Use the flavourful garlic oil in any recipe where you want that sweet, roasted garlic flavour without the heaviness of the garlic itself; marinades, vinaigrettes, biscuits, savory scones, quick garlic crostinis, or use it as a fat medium for your favourite grilled cheese.
I prefer to confit garlic in a decent olive oil, as the temperature remains low you have little chance of smoke. But the oil you choose may depend on the kind of cooking you intend to do with the finished product; an oil with a higher smoke point such as corn, sunflower or safflower also works well if you plan to use your garlic confit in recipes where it will be exposed to high heat.
Time saver tip: You can find big jars of peeled garlic cloves at many Asian supermarkets. Cook your garlic confit on the back of the stove as you prepare dinner, once temperature is reduced just set a timer and let it be.
Below is a quick formula to get you started, but you can cook as much garlic as you wish, just make sure your garlic is completely immersed in oil for best results. A beautiful jar of garlic confit tied with a pretty ribbon also makes a great hostess gift for the food obsessed cook in your life.
"What garlic is to food, insanity is to art." – Augustus Saint-Gaudens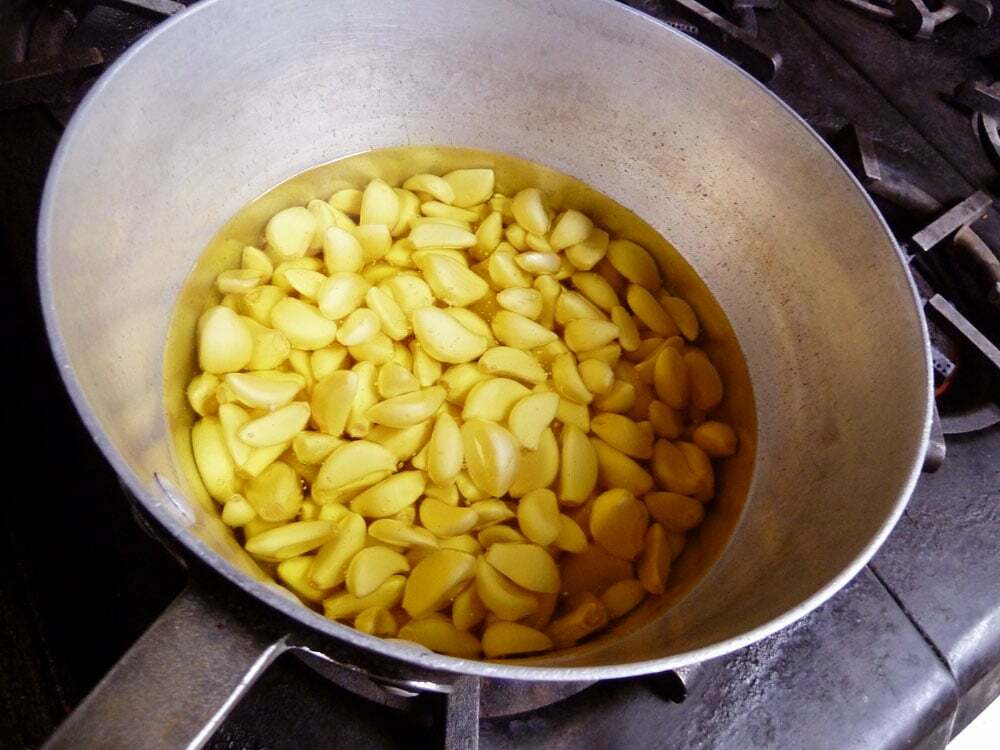 Garlic Confit Recipe
Prep time: 30 minutes
Cooking time: 90 minutes
2 cups olive oil
2 heads of garlic – cloves peeled, whole (about 50 cloves)
Method:
Place garlic in a small, heavy bottomed pot, add oil (adjust amount as needed to ensure garlic is fully immersed in fat). Bring pot to a low simmer over medium-low heat then reduce heat to lowest setting and allow garlic to poach in oil for about an hour, stirring from time to time, until garlic is tender and translucent. Remove from heat and cool. Place garlic confit in jar with tight fitting lid and store in refrigerator.
Use as needed, liberally, and with great abandon.