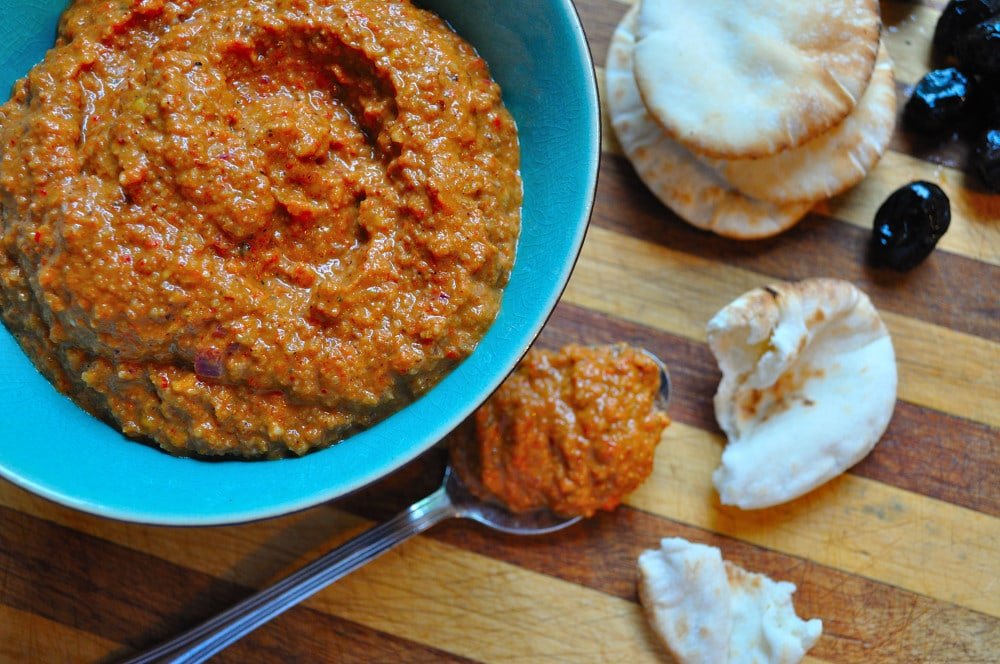 Heart Healthy Muhammara Red Pepper Dip
A Middle Eastern pesto, Muhummara combines roasted red peppers with toasted walnuts, a splash of lemon juice, garlic, onions and the sweetness of pomegranate molasses for a dip that is loaded with heart healthy fats, antioxidants and complex flavour.
One of the things I enjoy most about being in a catering kitchen is the broad variety of flavours that I'm exposed to. On any given week I may be asked to rub, smoke and pull some pork, Memphis-style, whip up a vegan Indian curry, or make a big batch of Muhammara with authentic Middle Eastern depth.
Muhammara is so divers you can use it is a ripe, refreshing dip for breads or veggies or as a condiment with roasted meats, cheeses and sandwiches. This recipe is both gluten-free and vegan for those with dietary restrictions, it makes a mean grilled cheese when combined with a soft, mild cheese like mozzarella or provolone and, it's good for you.
Walnut oil boosts blood vessel functioning and supports "good cholesterol" (HDL) transport and the removal of excess cholesterol from the body. Source: joint study by Penn State, Tufts University and the University of Pennsylvanian. Published June, 2013 in the Journal of Nutrition.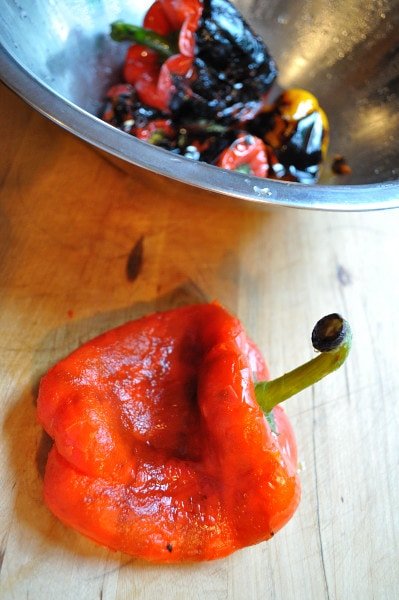 It's barbecue season, so I used the grill to blister and peel the peppers, it's pretty easy to do. Just brush peppers with oil and toss it on to the grill over high heat and let the skin blacken. Don't take it easy on them, scorch the crap pout of them, then toss them straight off the grill into a paper bag or a bowl covered with tinfoil and let them sweat for about 15 minutes or until cool enough to handel. Then the skin peels right off with your finger tips.
Alternately, you can cut, seed and section the peppers, coat with oil and roast in the oven at 400°F (205°C) for about 8 to 10 minutes then let them cool and peel. Same results different method. If it's just too damn hot to cook pick up a jar of pre-cooked, peeled red peppers, drain and start from there. Suit yourself, life should be easy – and tasty.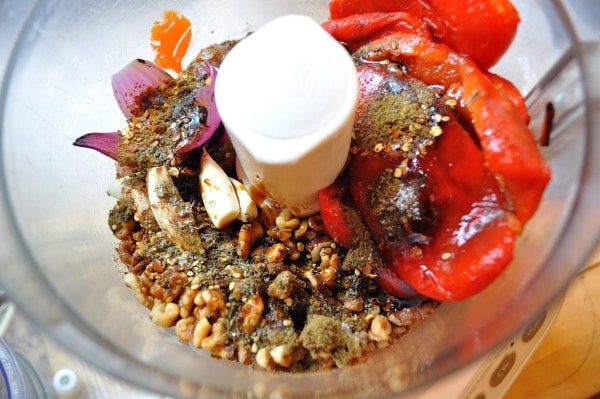 Muhammara Red Pepper Dip Recipe
Prep time: 30 minutes
Cooking time: 10 minutes
Yield: 2 cups
3 red bell peppers, roasted, deseeded & peeled
1 cup walnuts
1/2 a small red onion
3 tablespoons olive oil
2 tablespoons lemon juice
1 tablespoon pomegranate molasses
3 garlic cloves
1 teaspoon red pepper flakes
1 teaspoon za'atar spice (optional)
1/2 teaspoon cumin
1/2 teaspoon salt
Method:
Roast, de-seed and peel peppers using one of the above methods. Grill red or saute red onion lightly, until transparent, to add sweetness (optional), or dice and use raw. Toast walnuts in 300°F (150°C) for about 5 to 7 minutes until golden, being cautious not to burn.
Once cooked ingredients are cool enough to handle, combine all ingredients except olive oil in a food processor and pulse until smooth. Run food processor on lowest setting and slowly add olive oil until it is completely incorporated. Check texture and consistency, what you're looking for is a sauce that is easily palatable, thick enough to dip, thin enough to spread. Taste and adjust seasoning as needed.
Serve muhammara as a dip or condiment, chilled or at room temperature.