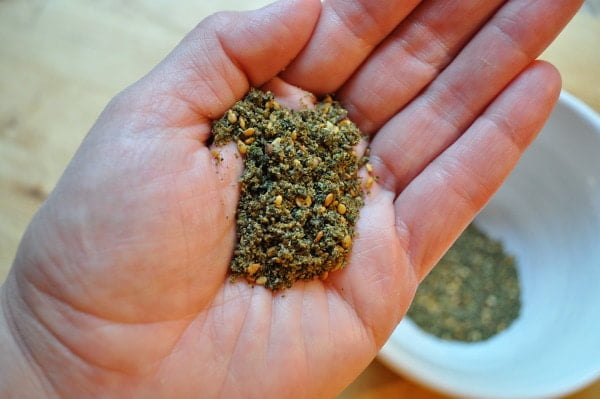 Za'atar Spice – Middle Eastern Flavour for Your Pantry
Za'atar is to Middle Eastern cooking what Herbs du Provenance is to Southern French cooking. A spice blend so versatile and so pungent, it's used on meats, vegetables, in rice dishes and (my favourite) Za'atar bread.
A savory addition to your pantry, try it on lamb chops next time you're grilling with just a bit of olive oil. Za'atar also makes a wicked marinade for tougher cuts. Also an optional ingredient in our Heart Healthy Muhammara Roasted Red Pepper Dip recipe, it adds a warmth that gives added dimension to the tanginess of red pepper.
So simple you can make it yourself with the right combinations of spices, or just pick up a jar pre-mixed at your local Middle Eastern specialty store.
Za'atar Spice Recipe
Total Time: 5 minutes
Yield: half a cup
1/4 cup sumac
2 tablespoons dried thyme
1 tablespoon roasted sesame seeds
2 tablespoons dried marjoram
2 tablespoons dried oregano
1 teaspoon coarse salt
Method:
Pulse roasted sesame seeds in food processor, lightly or mash with mortar & pastel. You just want to break them up a but, not crate a paste. Add sumac, thyme, marjoram, oregano and salt and pulse or mash to mix well, until combined and fragrant.
Seal za'atar mixture in a glass jar, plastic zip bag or appropriate airtight container and store in a cool, dark place. If stored properly, your za'atar will last up to six months. Use in place of salt and lower your salt intake in a jiffy.