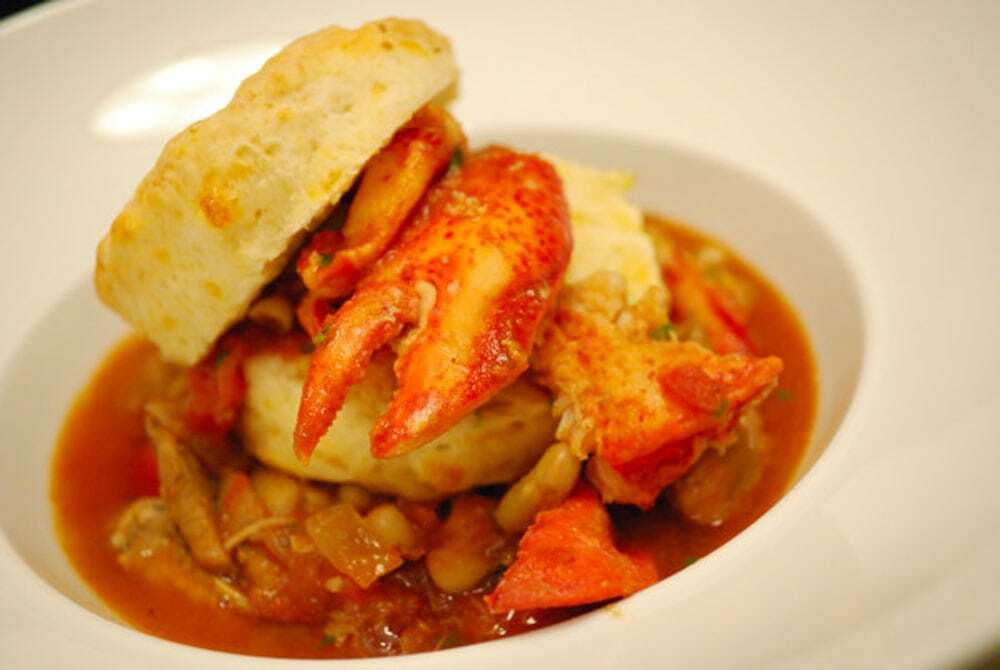 Lobster Chili & Garlic Cheddar Biscuits
Lobster Chili, you'll be the hit of the tailgate party. MAN FOOD, with a refined twist (and buttery, garlicky, cheesy biscuits).
Ma Nature, sure knows her calendar. September 1st, right on schedule, the nights began to cool.
Chef B calls from his kitchen "It's cold, I'm making chili."
"Not really in the mood for chili actually, too heavy."
"Well, you've never had my Lobster Chili…" he says waiting for me to gasp "LOBSTER CHILI?! Whaaaaaat…?"
And that, my friend, is how he gets me every time.
If you're new to Food Gypsy you may not be familiar with the comings and goings at the Gypsy Kitchen. Chef B (Benoit Gelinotte) is the man in my life, a fancy-schmansy professional Chef and our Technical Director at Food Gypsy. Which means; I run ideas by him and he either smiles and offers advice or his eyes bug out, he shudders and makes faces and gagging noises.
Sometimes, I don't listen to him, I often later regret that. After 20+ years in the kitchen, he's usually right. (Something I'm sure he'll remind me of the time he 'technically advises'.)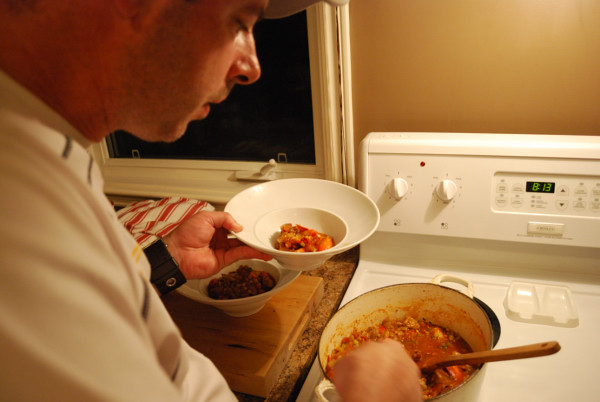 Once a month we trot down to Chef B's kitchen and he shares one of his favorite recipes with Food Gypsy readers. (for more, click on the Chef B tag in the right sidebar) This is his Lobster Chili, accompanied by Garlic Cheddar Biscuits from my kitchen.
(We have "his & hers" kitchens.)
And his Lobster Chili starts with — chicken. Allowing for a meat base that builds the chili flavour and extends your budget. The lobster we add last, so it doesn't get tough. The prefect bite has equal parts chicken and lobster in a slightly smokey, rich & spicy tomato, bean stew.
Another way to extend your budget (and save time in the kitchen): canned, frozen lobster. Real claw & knuckle meat; it's perfect for chilis and chowders for those of us who don't have a ready supply of lobster at hand. We like it because it's quick and easy. Just as quick; lobster tails often on sale at your local fish counter – though often not as budget friendly.
If you take nothing else away from this post: Fire Roasted Tomatoes. They're a new favorite, for a hint of smoke in a tomato sauce. Add them to a ragu, or use them as a base in a rosé cream sauce. Beautiful.
The other 'secret ingredient' from Chef B's kitchen – liquid smoke. If you have an aversion to additives by all means omit, but if you're looking for robust flavour, a little dab will do ya'. In this case, less is more or you will wind-up with smoked chicken instead of subtle smoke in your chili.
The prep time on this meal is less than 40 minutes, then your Lobster Chili can simmer while you do more important stuff (vacuuming, laundry, Facebook) before you add the finishing touches, bake some biscuits and enjoy a bowl of comfort and warmth.
The biscuits are based on my Grandmother's recipe, which she clipped from a magazine. It was yellow and tattered when I transcribed it years ago.
A few things I frequently borrow from her Irish heritage; oat cakes and baking powder biscuits. I'm kind of addicted. Amped these up because those Red Lobster people keep taunting me with biscuits in their commercials. (They should be banned.)
Great little biscuit trick: the shortening & butter is frozen and grated directly into the dry ingrediants. This makes the fat easier to blend with the flour. For fun, whipped up some garlic butter, froze it, cut it into small pieces and placed it on top of the cheddar biscuit dough. The butter melted into the biscuit, basting them in butter and garlic.
Take that Red Lobster.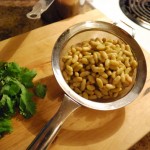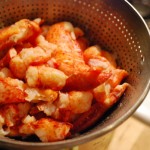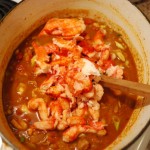 Lobster Chili – Recipe
Preparation time: 10 minutes
Cooking time: 2 hours minutes
Makes: 4 to 6 servings (how hungry are you?)
Ingredients:
8 chicken thighs (boneless, skinless) – cut into chunks
1 medium onion – chopped
5 cloves of garlic – diced
1 can fire roasted tomatoes
I cup tomatoes – chopped
1 can flageolet beans
3 stalks green onion, coarsely chopped
1 pound lobster meat – cut into small chunks
1 teaspoon paprika
3 tablespoons cumin
1 tablespoon chipotle powder
1 teaspoon liquid smoke
1 teaspoon Siracha sauce
1/4 cup cilantro leaves, coursely chopped
Salt & pepper to taste
1 tablespoon olive oil
Method:
In a large pot or cocotte, add oil and chicken thighs cut into chunks and sear over medium-high heat stirring frequently (about 5 minutes). Season with salt and pepper. Add onions and cook to transparent.
Reduce heat to medium. Add spices; cumin, paprika, stir to coat. Cook 2 – 3 minutes. Add garlic and liquid smoke and Siracha, cook for 2 – 3 minutes until garlic is transparent. Add water, to cover and scrape any reside from the sides and bottom into the sauce (that's the good stuff). Add tomatoes, both canned and fresh. Reduce heat to lowest setting. Cover and allow to simmer until chicken is falling apart. About 90 minutes.
To finish: bring heat back up to medium, add green onions, cook 2 – 3 minutes. Taste for seasoning. Adjust as needed. Add can of flageolet beans, cook for 3 – 5 minutes. Add lobster meat and corriander, cook for 2 – 3 minutes. Remove from heat. Serve immediately.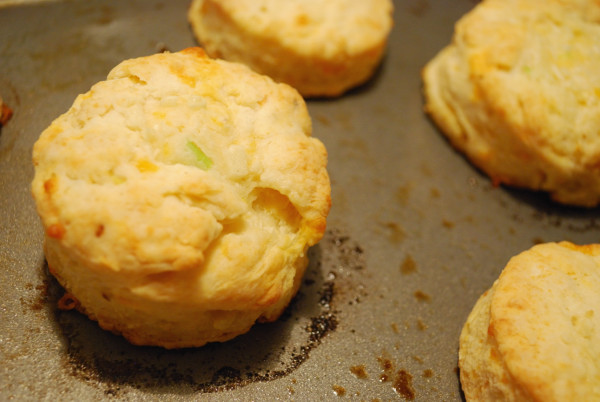 Garlic Cheddar Biscuit – Recipe
Preparation time: 15 minutes
Cooking time: 10 to 13 minutes
Makes: 12 to 14 biscuits
Ingredients:
2 cups all-purpose flour
4 teaspoons baking powder
1⁄2 teaspoon salt
1⁄4 cup frozen butter
1⁄4 cup frozen vegetable shortening
1/4 cup butter, room temperature
2 cloves garlic – finely minced
1/3 cup extra old, sharp cheddar cheese – grated
¼ cup green onion – finely sliced
1 cup milk
Method:
Combine garlic and soft butter in a small bowl with a spoon or spatula until thoroughly mixed. Turn garlic butter onto a piece of plastic wrap, fold plastic wrap over butter. Flatten butter to approximately ¼ inch thickness and form a square. Freeze butter until hard (about 30 minutes)
Preheat the oven to 425*F. Grease baking sheet with non-stick spray (or line with parchment paper).
Measure flour, baking powder and salt in a bowl, whisk to combine. Grate the frozen butter and shortening into the flour mixture and work through with fingers until evenly distributed. Add cheddar and green onion, gently toss to blend with flour. (This mixture can stand at room temperature for up to two hours, covered with a clean cloth.)
Gently mix in milk until a loose dough forms, then turn dough onto a floured surface.
With hands, gently knead and shape the dough into a ball. Flatten into a 3/4 to 1-inch thick disk. Useing a lightly floured, round cutter cut dough into disks. Place disks on baking sheet. Gather up the scraps of dough, and press and cut into biscuits.
Remove frozen garlic butter from freezer. Cut into ½ inch square pieces. Place a square of frozen garlic butter on top of each biscuit before baking.
Bake biscuits in the middle of the oven for 10 to 13 minutes, until puffed and golden.
Serve warm… with said chili.
Booze Ideas:
Opted for an easy drinking Cotes du Rhone. In most cases, I avoid red with spicy seafood as it often leaves a metallic aftertaste. But with a mixed seafood/meat dish and a spice/smoke compliment, a light red worked well. More options; Pinot Noir, Gamay, Sangiovese, Grenache or a simple Chianti.
For lovers of hops; try an ice cold Hoegaarden a white, wheat beer with citus-corriander undertones and enough chutzpah to stand up to Chef B's Lobster Chili.
Live. Love. Eat… well!