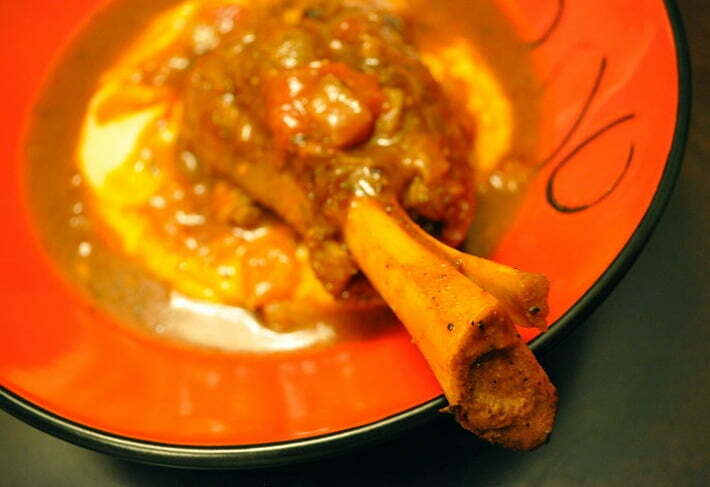 Moroccan Inspired Lamb Shanks
Cooked low and slow, until they're fall off the bone tender, Moroccan Inspired Lamb Shanks is comfort food at it's midwinter best. Warmly spiced and heavily sauced with rich, meaty intensity.
There was a time when farmers couldn't give shanks away, but now with a resurgence of slow food, the shank has become a preferred cut. You frequently find them in your local frozen meats section, and they're no longer pennies a pound. There is little that compares to a braised meaty dish, cooked bone-in, for all that marrow richness. What could be easier then season, sear, spice and simmer?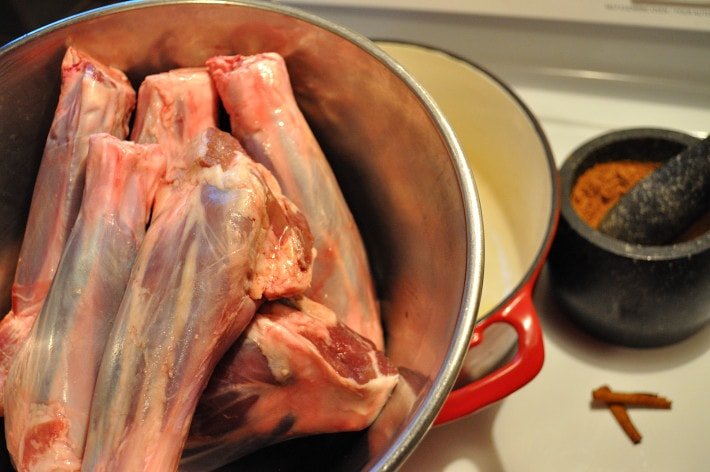 With temperatures dipping below -30⁰C it's time for meals that make you warm from the inside out. This is when I opt for cayenne laden jambalayas, spicy chilis and the occasional vindaloo that will bow your mind (and kill anything not welcome in your digestive tract).
Moroccan spicing is different, the warmth of paprika and curry is subtle, it leans slightly sweet with the addition of cinnamon. It's not meant to make your nose run and murder taste buds, but rather to entice the senses with deep flavour heightened by the acidity of tomato.
May your belly be full and your heart be warm.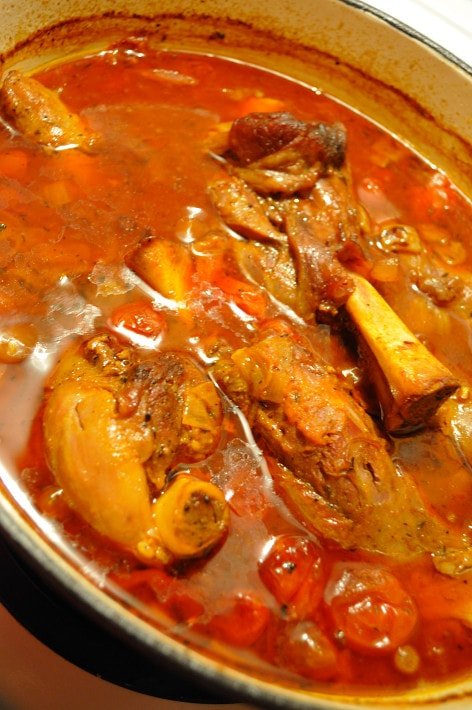 Moroccan Inspired Lamb Shanks – Recipe
Prep time: 20 minutes
Cooking time: 2 – 2½ hours
Serves: Six
6 meaty lamb shanks
salt & pepper
3 tablespoons olive oil, for cooking
1 teaspoon paprika
1 teaspoon curry powder
1 teaspoon chili powder
1 teaspoon dried thyme
½ stick of cinnamon
2 medium onions, chopped
3 cloves garlic, chopped fine
¼ cup flour
4 cups veal/beef stock
2 cups fresh tomatoes, chopped
Pre-heat oven to 325⁰F (160⁰C)
Method:
1. Dry lamb shanks well, then liberally season with salt & pepper. In a small bowl mix together curry mix: paprika, curry, chili and thyme, or give it a quick bang with a mortar and pastel, and reserve.
2. Place a large ovenproof pot or dutch oven, on the stove top over medium-high heat. Add olive oil, heat until meat sizzles when it comes in contact with the oil. Sear shanks until lightly coloured and remove from pot.
3. Reduce heat to medium, sauteed onions and garlic until golden brown, adding oil if needed. Sprinkle flour over browned onions & garlic, stir to coat and cook; about 2 minutes. Add spice mixture, one teaspoon at a time, stirring to coat onions and garlic until well and flavoured and spices are lightly toasted (about 3 minutes) then add tomatoes and cinnamon stick and stir to coat.
*GYPSY NOTE: You may not need the entire spice mix, taste for flavour and intensity. This is a sauce that will reduce and amplify, best to be under-spiced and add more at the end of cooking time than to be over-spiced and have to thin the sauce for it to be palatable*
4. Deglaze pot with veal (or beef) stock, scrapping off all the brown pits with a wooden spoon. Bring sauce to a boil, then add lamb shanks back to the pot. Add water (if needed) to (mostly) cover shanks and place, tightly covered, in a pre-heated 325⁰F oven and cook for minimum of two hours. Be sure to check the moisture/sauce level at about the 90 minute mark, this is a rich, saucey dish, be sure as the lamb cooks it remains as moist as possible. When the meat begins to pull away from the bone and crush easily between your finger tips, it's done.
5. Remove dish from oven. Check consistency of sauce, if the sauce is still a little loose, gently remove shanks from sauce and reserve in a warm spot, covered. Bring sauce to a low boil over medium-high heat for about ten minutes, stirring occasionally to reduce to desired thickness. Add shanks back to sauce to be sure they are hot and serve, piping hot and steamy over your choice of side.
Yummy side dish ideas: couscous, rice flavoured with apricots and cinnamon, a loose polenta, pureed potatoes or cauliflower.
We served with a creamy polenta, made all the more rich with a grate of semi-firm goat's cheese and bits of black olive for that middle eastern lean. I've always considered clean plates to be the sign of a great meal.