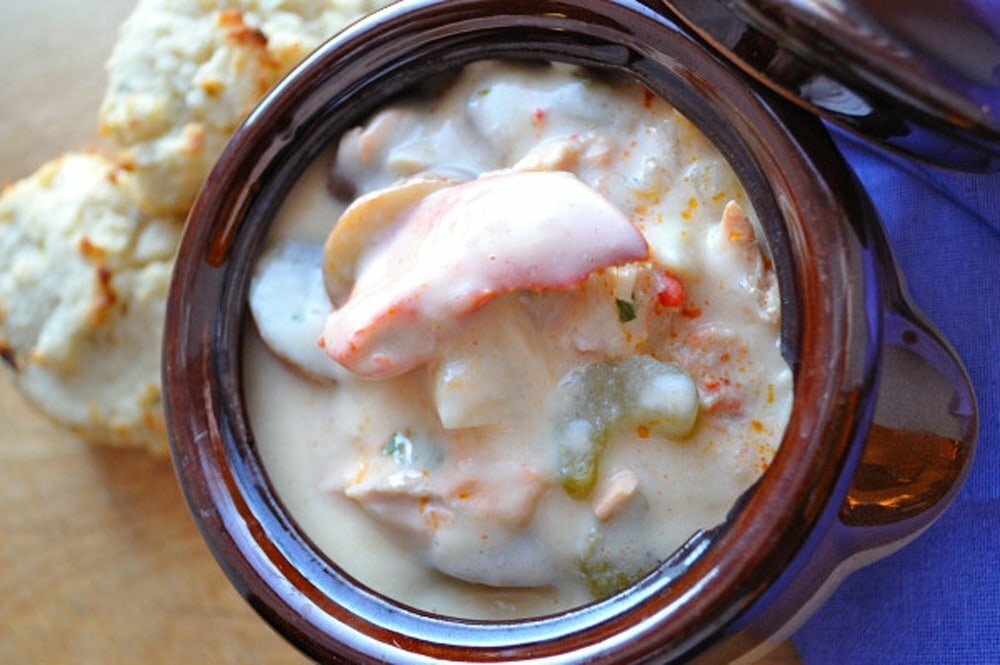 Old Fashioned Nova Scotia Seafood Chowder
A Nova Scotia seafood chowder, brimming with chunky bits of sea flesh, it's good old fashioned Maritime fare. When the snow flies there's nothing as satisfying is a big, creamy bowl of chowder.
My first chowder came as a result of living the heart of Nova Scotia's Annapolis Valley in Canada's original town; Annapolis Royal. There I owned and operated the Dragonfly Inn for five years, in a journey that would change my life and take me into the kitchen. This chowder is a Christmas Eve favorite for parties, once made it can rest warm in the slow cooker as a hot edition to a big buffet feast.
Took the low and slow approach to this recipe by making a fish fumé (stock made with fish) to start. You don't have to do this for this recipe to be a success. You can use fish bullion or a bottle of clam juice for that fresh from the sea taste. I'm not a fan of mussels or clams, they are among the few foods I don't eat (one bad mussel with ruin you for life).
Making a clear broth as a base keeps my skills alive and, as I used salmon, it also helped infuse healthy omega oils into each bowl. Atlantic salmon in particular is rich in good fats, because the Atlantic is a colder than the Pacific it's fish have more body fat.
I take the omega oils thing one step further when I add the salmon piece whole, skin on (scales removed), into the simmering chowder and allow it to poach. Once the flesh is opaque, remove the fillet, gently peel off the skin and discard. Salmon skin is packed with fish oils and I want all the omega oils this salmon has to offer.
If you're going all in, you can pick up fish bones (or a fish head) from your local fish counter. Some times they will give it to you at no charge, or they may charge you as much as fifty cents, it's well worth it. The head and in particular the gills contain a lot of blood, so you want to be sure you clean and rinse any parts your using in COLD water. I only used the cheek and front fins, simmered low and slow for 45 minutes with some leeks, seasoning and white wine then stained. It was a great start to a wicked chowder.
We've paired this with one of the simplest, fastest Blue Cheese Scallion Biscuit recipes I've ever come across, I was thrilled with the results. The biscuits are light and fluffy in and loaded with blue cheese, sour cream and butter. A sharp accompaniment to a creamy bowl of Old Fashioned Nova Scotia Seafood Chowder.
Wine paring suggestion: I went with a bright, fruity Riesling, which bounced of the cheese, the seafood and the cream beautifully opening the palate and allowing all the brine of the sea to shine through.

Old Fashioned Nova Scotia Seafood Chowder Recipe
Fish Fumé (prep time: 10 minutes, cooking time 45 minutes)
12 oz fish bones (or fish parts, cleaned of all blood)
4 inch piece of green leek, cut in half lengthwise
12 whole peppercorns
1 bay leaf
3 or four fresh parsley stems
3 sprigs of thyme (1/4 teaspoon dried thyme)
1 cup dry white wine
2 cups of water (enough to just cover the fish)
Chowder (prep time 20 minutes, cooking time 45 minutes)
3 tablespoons butter
2 onions, chopped
3 stalks of celery, finely chopped
3 tablespoons flour
12 red skinned baby potatoes, halved
3 cups of light cream
1 – 2 cups water (to taste)
1 (16 oz) fillet of haddock
1 medium sized (16 oz) fillet of salmon
8 – 12 scallops, cut in half (or quarters depending on size)
1 can cooked frozen lobster, thawed and drained
1/2 teaspoon sweet paprika
1/2 teaspoon cayenne
1/2 teaspoon dried thyme
3 tablespoons fresh parsley, coarsely chopped
salt to taste
Method:
Fish Fumé –
1. Clean and rinse bones and flesh of all blood using cold water. Once water runs clear, reserve in cold water until ready.
2. In a medium sauce pan add bones, leeks, thyme, bay leaf, peppercorns, white wine and enough cold water to cover the fish. Bring to a boil then reduce heat to medium low and simmer, for 45 minutes. DO NOT ADD SALT. This is your base, it will reduce and therefore concentrate any flavours, including salt, season the chowder in its final stages instead.
3. Remove from heat. Let stand for 15 to 20 minutes. Strain and reserve liquid.
Chowder –
1. In a large, heavy bottomed pot (or dutch oven) melt butter. Add onions and celery and sweat over medium heat until onions are tender and transparent about 5 minutes. Add salt, cayenne pepper and paprika and stir to mix. Add flour, cook, stirring constantly for 2 minutes.
2. Add fish fumé, and scrape any golden brown bits off the bottom of the pot so you get all that nice flavour in your chowder. Add potatoes; add water as necessary to cover ingredients and raise above about an inch, then bring to a boil. Reduce heat and simmer, stirring as needed until potatoes are tender, about 12 minutes.
3. Stir in cream over a low simmer. Add scallops and stir. Add haddock & salmon fillets whole (with the salmon skin on, as above) resting on top of the chowder so you can monitor doneness. The haddock will break apart naturally as it is cooked, this will keep it tender and flaky. Allow the salmon to poach whole, skin on, baisting it with the hot chowder base, about 5 minutes. Once the flesh is opaque, remove the fillet, gently peel off the skin and discard and return salmon fresh to the pot.
4. Add lobster, stir in parsley and thyme. Break apart any large chucks of fish with a wooden spoon. Cook at a low simmer about about 4 minutes until lobster is warmed through. Taste for seasoning level and add salt as desired.
This is a recipe you can make ahead, store in an airtight container in the fridge, gently warm and serve the next day, when it's even better.
After a bowl of it don't be surprised if you star giving directions by time as opposed to distance, without any mention to street names and referencing landmarks that no longer exist. "Do you know where the big red barn used to be? No? It burned down in 1978, terrible fire…" Among the things I found most endearing about Nova Scotia and it's people. (Hope to see you soon Nova Scotia!)
Bundle up, stay warm and eat chowder.