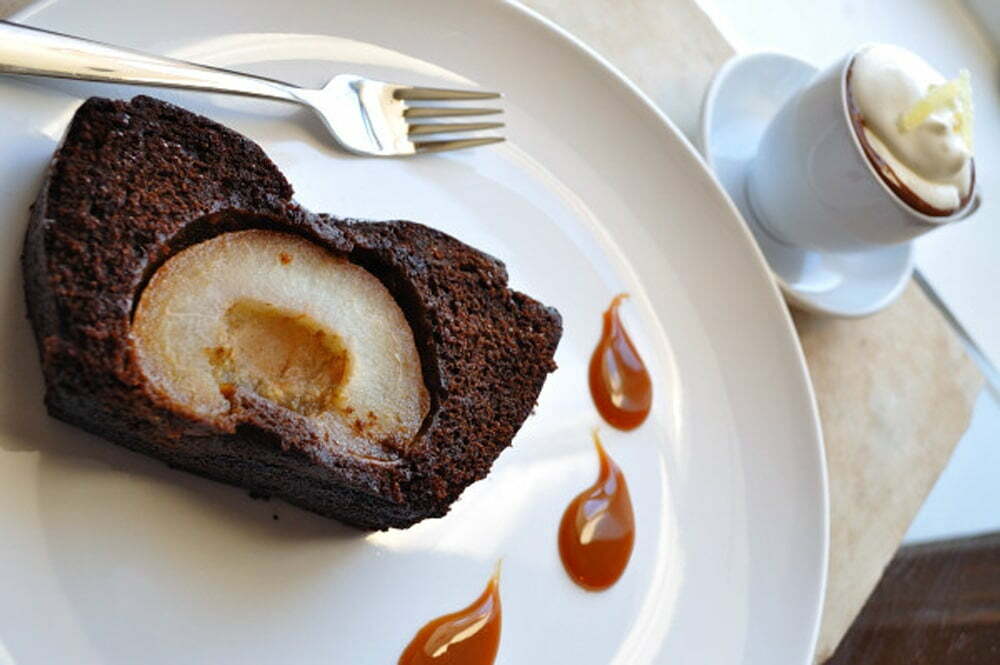 Asian Gingerbread Pear Cake
A far east twist on a holiday favorite, Asian Gingerbread Pear Cake is slightly sweet, moist and intense with the bright addition of poached pears for a show-stopping, simple cake; the prefect fit for holiday entertaining.
Pear and ginger being such a stunning flavor combination, I looked at maybe a hundred different recipes and was leaning towards a Upside-Down Pear Gingerbread Cake when Food Gypsy Technical Director, Chef B, suggested I look at a recipe from Ricardo Larrivée. My guy always has great ideas in the kitchen with 25 years of experience to back them up, when he says "it's a cake I've been wanting to try" I go and check it out.
In his Pear Spice Cake, Ricardo features the full pear in a dramatic tone-on-tone cake that is subtle and beautiful. Baked loaf style, each slice highlights the silhouette of the pear on the plate, to stunning effect.
Shopping for the perfect pear, these beautiful Chinese White Pears caught my eye. This Asian pear varietal is crisp and juicy with creamy white flesh, a slightly sweet taste and a hint of tartness near the centre. Choosing them as my pear shifted my recipe direction as I began looking for a gingerbread with an Asian lean.
Fortunately, I stumbled on this gem from the blog Blue Kitchen, Marion's Gingerbread which they described as: "Dark molasses, black pepper and Chinese five-spice powder make for big-flavored gingerbread with a spicy bite." Huston, we have our gingerbread.
I pushed the pear poaching liquid with a hint of lemongrass, then reserved that to replace the boiling water in the original recipe adding a level of acidity to help marry the two flavours and heighten the spice. The collaborative result was this dramatic, dark, rich, spicy cake in contrast to the mellow, creamy flesh of pear — and a new personal best.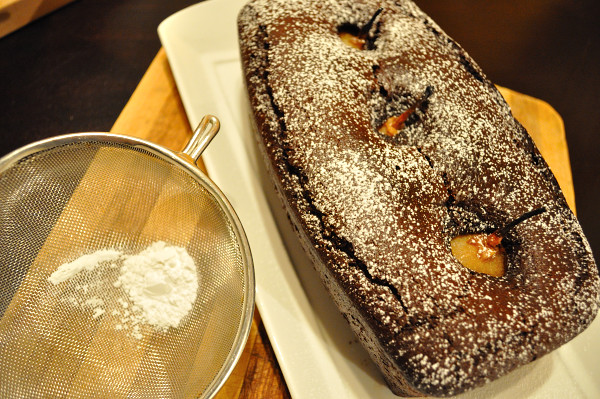 The top maintains a wonderful slight stickiness, perfect to dust with a touch of icing sugar, and now, three days later it's still moist and holding it's goerogous shape.
A couple of notes from the Gypsy Kitchen before you dive in:
First, I used a silicone pan so I didn't have to rely on the Magic of Christmas to get this sucker on a plate. Alternatively, a piece of parchment to line the pan would be a good idea. The pears weigh the cake down and I would hate to see it break after you've spent your precious time on it.
Second, Chinese White Pears are not essential, Bartlett pears will work just as well. Try to find three that are about the same height, shape and weight – so they cook evenly.
Third, I just love a recipe in which I must use my melon baller. Just sayin'.
Asian Gingerbread Pear Cake being a less sweet version of gingerbread with a very adult, spicy back, a few serving suggestions for you: sweetened whipped cream, vanilla ice cream or as you see below, a good, gooey caramel. You may also wish to pair it with our Gingerbread Hot Chocolate because… it's like… FREAKIN' AMAZING.
Happy Holidays!
Asian Gingerbread Pear Cake Recipe
Preparation time: 30 minutes
Cooking time: 70 minutes
Poached Pears (adapted from Ricardo Larrivée)
3 Asian pears, ripe but firm, with stems
Juice of 1 lemon
6 cups water
1 1/2 cups sugar
2 teaspoons lemongrass powder (or 1 stick of lemongrass)
1 cinnamon stick
Asian Gingerbread (adapted from Blue Kitchen)
1-2/3 cups flour
1-1/4 teaspoons baking soda
4 teaspoons ground ginger
1-1/4 teaspoons cinnamon
1-1/4 teaspoons five-spice powder
1/4 teaspoon fresh ground black pepper
1/2 teaspoon salt
1 egg, lightly beaten
1/2 cup white sugar
1/2 cup molasses
1 teaspoon vanilla
1/2 cup plus 2 tablespoons poaching liquid, boiling
1/2 cup vegetable oil, plus oil for the pan (if needed)
Method:
Poached Pears –
1. Peel the pears, leaving the stems in place and the pears whole. Working from the bottom, core the pears using a melon baller. Place the pears in a bowl and sprinkle with lemon juice. Set aside.
2. Place the water, sugar, lemongrass (powder or fresh) and cinnamon in a saucepan and bring to a boil. Add the pears and the remaining lemon juice. With the syrup barely simmering, poach the pears until tender, 10 to 15 minutes. Transfer to a bowl and let cool to room temperature.
3. *Set aside 1/2 cup plus 2 tablespoons poaching liquid.*
Asian Gingerbread –
1. Preheat the oven to 350ºF. Prepare loaf pan by oiling the bottom and sides or line with parchment.
2. Grind the pepper if needed. Fresh ground pepper is preferred as it has all it's oils intact.
3. In large heatproof bowl, sift the flour, baking soda, ginger, cinnamon, five-spice powder, pepper and salt.
4. In a separate medium bowl, whisk egg, then add sugar, vanilla and molasses and mix well until smooth and shiny.
5. In a small saucepan, combine oil and reserved poaching liquid over low heat. If it begins to boil before you are ready to add it, turn off the heat (or it may boil over).
6. Pour the egg-sugar-molasses mix into the dry ingredients. Stir thoroughly. It will resist you and at first, but put some muscle into it and it will soon come together into a stiff batter.
7. When the batter is thoroughly mixed, bring the oil-and- poaching liquid to a boil and pour it quickly (all at once) into the batter. This activates the baking soda and makes a fizzy, foamy batter. With a wooden spoon or whisk, stir thoroughly until the batter is smooth. The batter will quickly become shiny and rather liquid.
8. Pour about 1/3 of the batter into the prepared loaf pan then place poached Asian pears in pan, stem up, at an equal distance apart. Spoon remaining batter into pan around pears, leaving stem exposed and place in the preheated oven on the center rack. Set a timer for 40 minutes and test. it may need more time depending on the water content of the pears.
*The cake is ready when a tester inserted near the center emerges with just a few crumbs on it, and it has begun to pull away from the sides very slightly (also, the top may crack as it bakes, don't panic).*
9. Cool the cake in the pan on a rack. Run a pairing knife around the edges to loosen before removing from the pan (or lift gently with the edges of the parchment).
Carefully remove and plate, cutting each slice to expose the pear. Serve warm or cool. Enjoy.