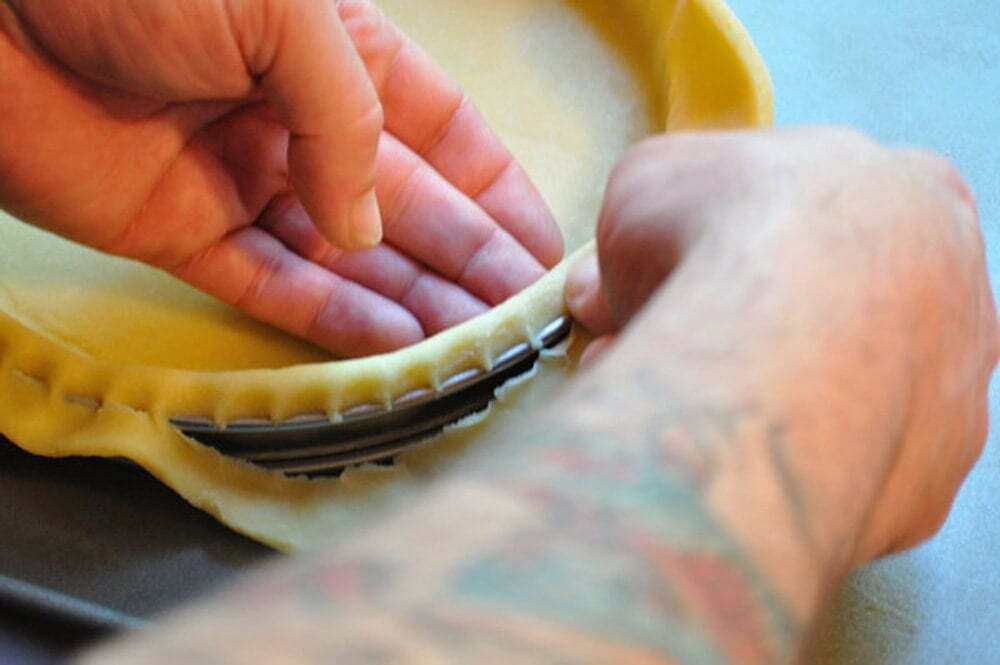 Perfect Pate Brisse (Pie Crust) with Chef B
Making the perfect Pate Brisse (pie crust) has been one of those things that has been hit or miss for me, I love to bake, but pie crust has proved my nemesis. That is, until a few classes at Le Cordon Bleu where my then instructor (now finacé), Chef Benoit taught me the art of the perfect pie crust every time.
That was long before he called to ask me out, and he became our Technical Advisor on Food Gypsy. His advice then, in Basic Cuisine was the same as it is now:
"The trick to a perfect Pate Brisse is incorporating the butter with the flour. If it's well blended, it will be perfect every time." ~ Chef B.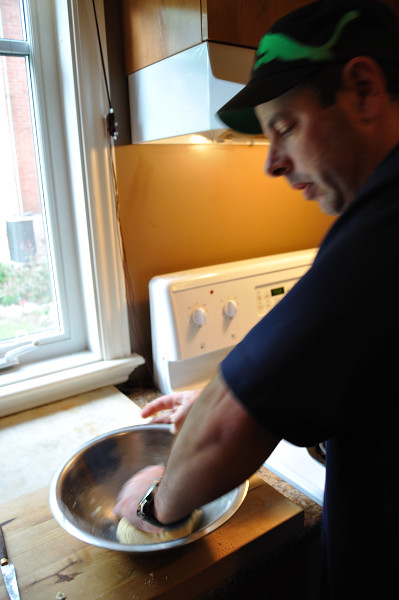 This truly is timeless advice, he learned it from his Grandmother (a French Chef in her own right), and put it into to practice in his years of schooling and the twenty years in the kitchen since. Sometimes I vary from the technique he showed me in Lesson Four of Basic Cuisine to try other methods, and wind up in a pickle with less than perfect results. So this weekend, as he prepared a beautiful Tarte a l'Alsacienne (Apple Custard Pie) for my birthday, I hovered over his shoulder (while he complained, sighting my previous education) to capture his technique and share it with you so for perfect Pate Brisse /Pie Crust, every time.
Nothing like a good refresher course to really nail it and let go of the annoying habit of questioning his expertise and surfing the Internet for lesser advice then hearing the"tut, tut, tut" of Chef B's disapproval.
"Where did you get this recipe?" "Ummm… the Internet." "Did you use egg?" he says poking at it, grimacing at the bubbles and uneven texture "No… I was trying something new." "Just do it the way I taught you, blend your butter, use the WHOLE egg, let the dough rest and, there you go. I don't know why you do this…" throws up his hands, goes for a smoke.

Yes Dear.
I'm sure you don't have this kind of scrutiny in your kitchen, but I'm secretly glad to have it in mine. Chef B pushes me to deliver solid product, on Food Gypsy and at our table. I like to push myself and my knowledge, he is now and always will be an excellent instructor, and very generous with his knowledge. I'm still going to try new stuff and look for fun ideas, but when it comes to Pate Brisee, he's right, just stick with what works.
Let's start with the ingredients and then we'll detail the method, step-by-step, including working with a pie ring, just to show you something fun and interesting. You never know maybe Chef B will insipre you to push a bit in the kitchen too.
Pate Brisse (Pie Crust) – Recipe
Prep time: 25 minutes
Makes two 8 inch pie shells
250 grams (2 cups + 1 tablespoon) flour
160 grams (2/3 cup) butter (room temperature prefered)
1 egg ( lightly mixed)
5 grams (1 teaspoon) salt
15 grams (1 tablespoon) sugar
15 mL (1 tablespoon) milk
*Omit sugar if making a savory pie*
Method:
In a large bowl, place the flour, salt, and sugar and lightly whisk to blend. Cut the soft butter into dry ingredients in small cubes.
Pinch the butter into the flour mixture using the tips of your fingers, to blend. As the peices of butter breakdown, scoop the mixture between your palms and rub them together, incorporating the flour (etc) into the butter until the mixture resembles coarse meal.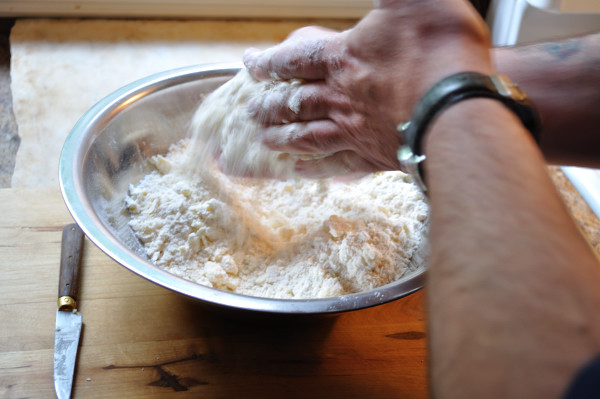 Form a well in the center of the butter mixture, add one full egg, and milk to moisten. Begin blending wet ingredients starting at the center and working outwards, until a soft dough starts to form. Add an extra drizzle of milk if dough remains dry. Kneed lightly to bind dough into a soft mass.
Turn the dough out onto your work surface and gather it into a flat disk. Depending on the size of your pie, you can divide your dough into two equal pieces, flatten each portion into a disk, cover with plastic wrap, and refrigerate for 30 minutes to one hour before using. This chills the butter and allow the gluten in the flour to relax so your dough holds together and becomes light and flaky. (You can also freeze the dough for later use at this point if you wish.)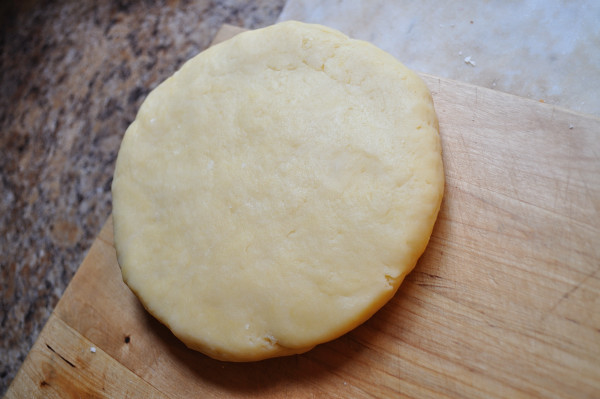 Now, this could be the end of today's post, because this is all you need to know about pate brisse and making the perfect pie crust. From here simply roll on a lightly floured surface, place gently in your pie shell and off you go. But today we're going to show you a couple of snazzy finger moves to make a beautiful edge, and how to use a pie ring so you can get bakery-quality results in your kitchen – cuz' that's how we roll.
Using a Pie Ring
Rolling a pate brisse is simple if you just take it easy and slow. Once you remove the dough from the fridge you'll find it's cold and hard to work. Let it stand at room temperature for about ten minutes, then a couple of light bashes on the top with your rolling pin will wake that puppy right up, and start it flattening out. Flouring your surface is important, but be careful not to use too much flour as this will make your dough dry.
Gypsy Tip: If you find your dough becoming dry and brittle because you've used too much flour on the rolling surface, scrape it all back into a ball, dampen your hands with water and pat the surface of the dough to re-hydrate kneed lightly a few times and start to roll again. If you do this one than once, you may have to rest the dough again (for 10 minutes or so) as you will have added gluten back to the rested dough and it will resist efforts to work it, and be tough and thick as a result.
Start from the center as you roll and work your way out, rolling with even pressure. Lift and rotate the dough as you roll, to form a rough circle about 1/4 inch thick.
Place your ring over the rolled dough and cut, leaving a two inch surplus for the edge. Prepare your pie ring and baking sheet with non-stick spray or a generous rub of butter and a light dust of flour.
To transfer the delicate pate brisse from your working surface to your waiting pie ring, gently fold over your rolling pin, and move it to the center position over the ring. Then unroll the dough so it hangs evenly over the sides.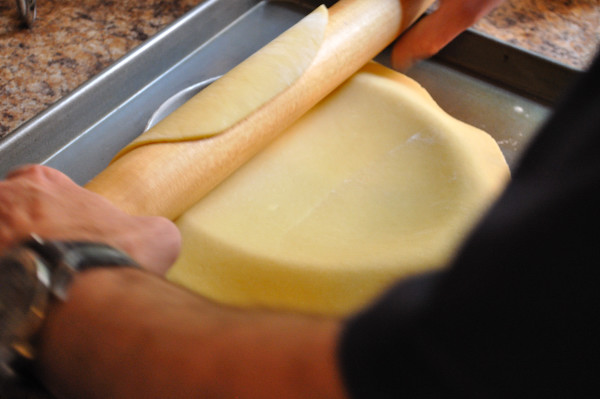 Using the tip of your finger, gently press the dough into the the bottom of the ring and up the sides, lifting the edge slightly with the other hand so that the dough does not tear. If you look closely at the photo below, you'll see the imprint of his finger on the delicate pastry, one beside the other, as Chef B turns the ring to secure the edge, using just enough pressure to shift the dough and not tear it.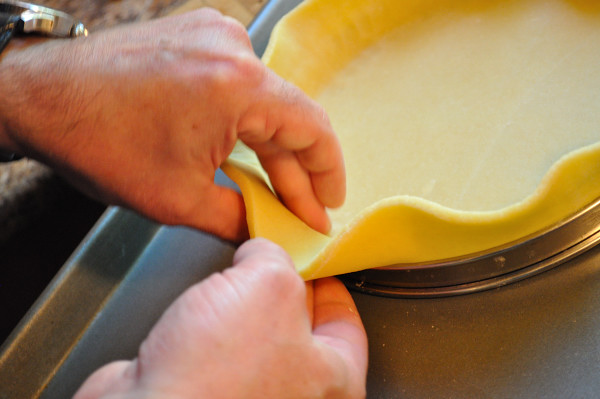 Next, using just the pad of your finger, gently press the dough into the inside bottom edge, along the curve to remove any air bubbles under the dough and form a uniform bottom. Then crimp the dough with your thumb, against the edge, using your other hand as support for the dough and form a well defined edge and remove extra dough.
Once the excess is removed, pinch the edge between your fingers to raise the pie crust above the edge so you can finish with a light scalloped shape.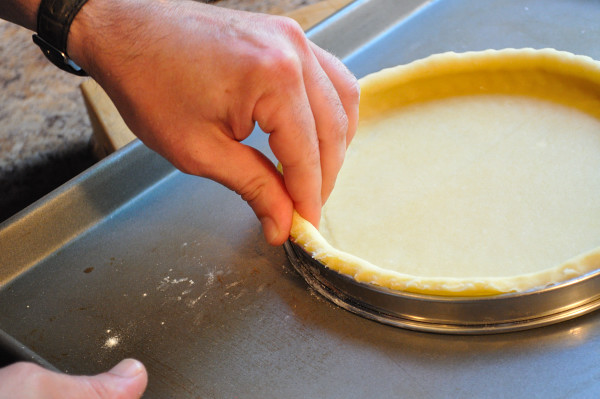 The final step to preparing your pie crust in the ring is to scallop the edges, pressing the dough between your thumb and two fingers of the opposite hand along the edge to form a well defined, beautiful wavy edge on your perfect pie dough.
There you have it, a little basic technique with Pate Brisse, just like I learned it at Le Cordon Bleu, straight from our kitchen. Kind of handy having a former instructor in the house isn't it?! He's pretty good with pastry, even if his specialty is cuisine. Now, let's go make pie.
Coming right up… Tarte a l'Alsacienne.