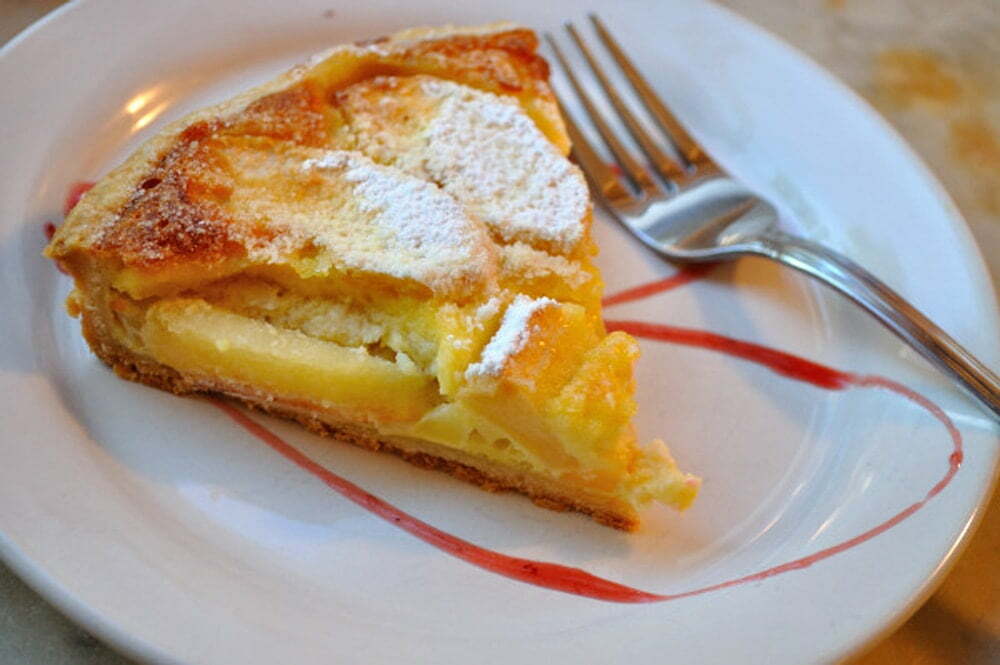 Tarte a l'Alsacienne (Apple Custard Pie)
A light dessert, artfully finished, Tarte a l'Alsacienne (Apple Custard Pie) is a French classic. Once you know the basic recipe you can substitute the apples for raspberries, sweetened cranberries, brandied cherries or fresh blueberries for an elegant finish to any meal.
This was a little birthday sweetness from my Honey Chef B, the passage of years were marked somewhat discreetly with a little candle and a whole lot of champagne.
The custard makes it creamy, the apple makes it bright, a dusting of confectionery sugar gives the top a light glaze, contained in a light flaky pie crust; it's a bit of grown up comfort food. in this version of Tarte a l'Alsacienne Chef B opted for a bit of savory almond meal to accompany the apple, in the classic version you rarely find almond but the favour was so warm, it's a nice addition to the tradition of this sweet tart.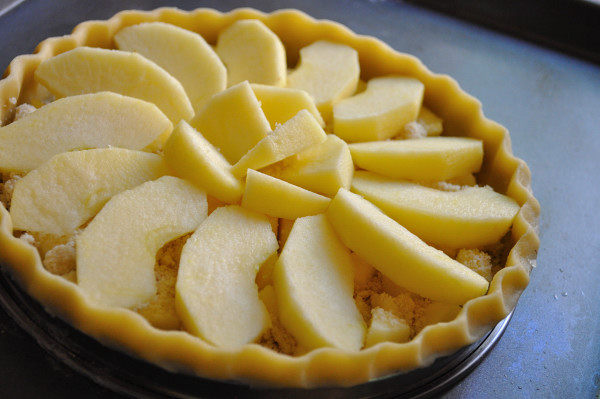 Before sharing this recipe, we shared Chef B's secrets of Perfect Pate Brisse (Pie Crust) in a step-by-step tutorial which is as much of a refresher and reference point for me as it may be for you. No more pie crust failures for this Gypsy.
It's important to note that we mention using a metal pie plate in the recipe, with this method of cooking if you use a less conductive cooking surface (i.e. ceramic) the crust will be soggy and the custard won't cook through. Nothing worse than spending afternoon on a new recipe only to have it flop.
One of the best kitchen tips from this recipe; adding your liquid (cutard, eggs whatever) to the fully prepared pie while it's standing on the oven rack ready, oven heated and ready to close. This is a little something you can apply with any custard or egg based pies, I find it essential for quiches.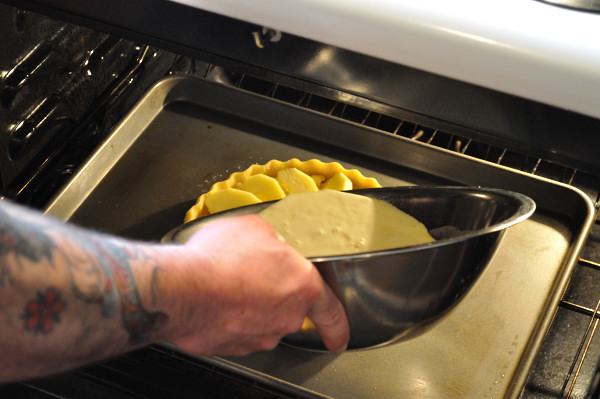 Adding the liquid this way means that the filling can be even and perfect and it averts many a disaster, particularly in a busy kitchen be it home or commercial. All it takes is one toy or a pet underfoot and your pre-filled pie shell spills (or worse) on the way to the oven. This method also allows you to fill it right to the top, and be perfectly level in your oven.
It's the little things that can be difference between a stunning success and a kitchen disaster.
Tarte a l'Alsacienne (Apple Custard Pie) – Recipe
Prep time: 30 minutes
Baking time 40 – 45 minutes
1 egg yoke
2 whole eggs
50 grams (1/4 cup) sugar
180 mL (3/4 cup) milk
120 mL (1/2 cup) heavy cream
3 mL (1/2 teaspoon) vanilla extract
3 mL (1/2 teaspoon) almond extract
50 grams (1/4 cup) almond meal
2 large apples, peeled & cored
26 grams (2 tablespoons) icing sugar
Pre-heat oven to 430*F (to start)
Method:
Prepare your pie crust (see our recipe here), in a well-lubed metal pie plate using either non-stick spray or a generous smear of butter coated lightly with flour.
In a large bowl combine egg yoke, 2 whole eggs, sugar, milk, cream & extracts and whisk until well blended but not frothy. Set aside at room temperature.
Cube one apple into 1 inch pieces, line bottom of prepared pie shell with apple one layer deep. Sprinkle almond meal over apples, distributing evenly. Slice second apple in 1/4 inch slices and arrange on top of bottom layer, at the outer edge of teh pie. Depending on the size of your apple, you may be able to fit both an inner and outer top layer of apples. Most likely you will need to cut a the final slices and arrange in the centre to complete the top of the pie.
Place filled pie on a baking sheet, extend rack at the centre of the oven and place pie in the middle. Fill prepared pie with custard to fill all gaps, pouring evenly over pie to coat apples. Carefully slide oven rack back in the oven, close door and bake at 430* F for 5 – 7 minutes then REDUCE TEMPERATURE to 375*F and bake for 25 – 30 minutes or until custard is set and apples are cooked.
Remove pie from the oven, dust lightly with icing sugar, return to oven for 5 minutes, again at 375*.
I'm going to highlight the temperature change and reiterate it's importance; that first burst of heat (430*) to start allows the pie crust to cook. Dropping it down (375*) after five to seven minutes helps the rest of the pie to properly bake, the custard to firm and the apples to be soft but not mushy.
Serving suggestions include finishing the plate with a strawberry coulee, or salted caramel, or finishing a slice with a simple créme fraiche. This is a pie from the North East region of France, where the cream is thick and the pastry tradition is simple and clean.