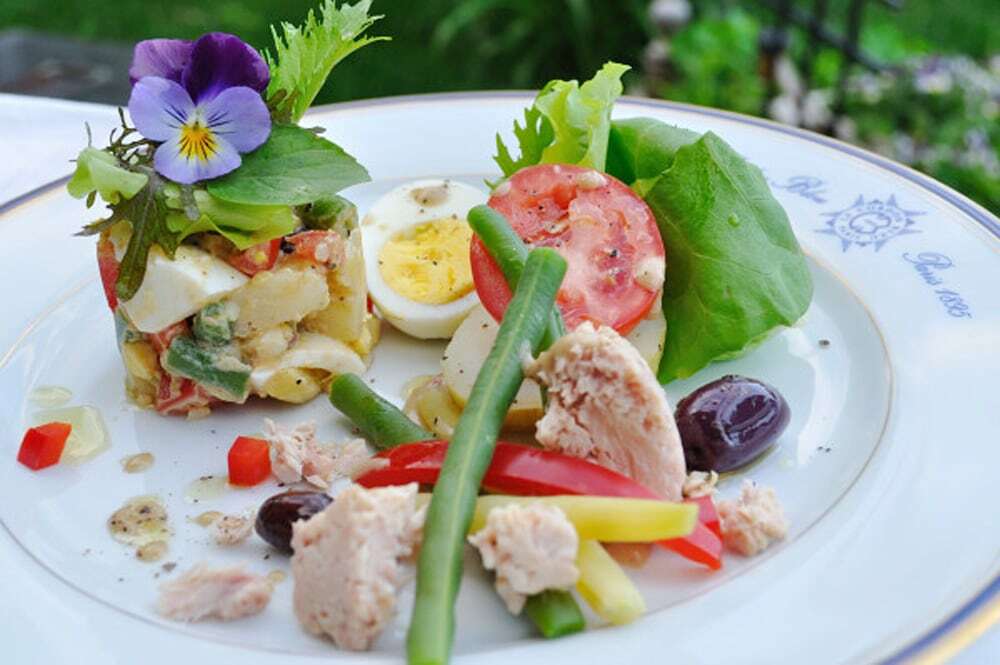 Salade Nicoise inspired by Julia Child
This week we join the many voices celebrating what would have been Julia Child's 100th birthday in August of this year, with JC100. Starting with Salade Nicoise, from Child's The Way to Cook, a light, fresh garden salad from the south of France.
We join JC100 in progress, with weekly recipes based on Julia's published works. We're picking up at week 4 with Salade Nicoise because neither of us are overly fond of week 5's recipe, Vichyssoise, a cold leek and potato soup, and hey, someone's gotta' eat this stuff. This is not my first Salade Nicoise, but this time I was not timed or graded, as I was the first time in Basic Cuisine at Le Cordon Bleu, Ottawa.
A simple cold salad, from Nice in the South of Prance, Salade Nicoise is a meal for the hot days of summer. Cold, boiled potatoes, hard boiled eggs, cold cooked beans, fresh peppers, radishes, tomatoes & red onion, black olives, anchovies and tuna all served with a light vinaigrette on a bed of soft leaved lettuce.
Sounds simple right? It is this, Salade Nicoise was one of the dishes I cooked at Le Cordon Bleu, Ottawa, and one of the first dishes where I was trusted with protein, in the form of eggs, anchovies and a can of tuna.
Below is the demonstration plate by Chef Instructor Armando Baisas and my attempt at the same dish, showing a very traditional plating of Salade Nicoise. I've come a long way since plating this salad in Lesson 9 of Basic Cuisine, thanks to home tutoring by Chef B. This time, we thought we'd show you something a bit more modern, a plate you might receive in a sweet little bistro in the south of France on a hot summer day. The basics remain the same, but then we mixed it up a bit – literally.
We mix and mingle the flavours & textures for a tasty version of French potato salad and in our version you'll find the anchovy in the dressing to give it big flavour, without the fishy aftertaste of the whole fillet, making it a bit broader in appeal. No need to hold the anchovy, you just barely know they're there.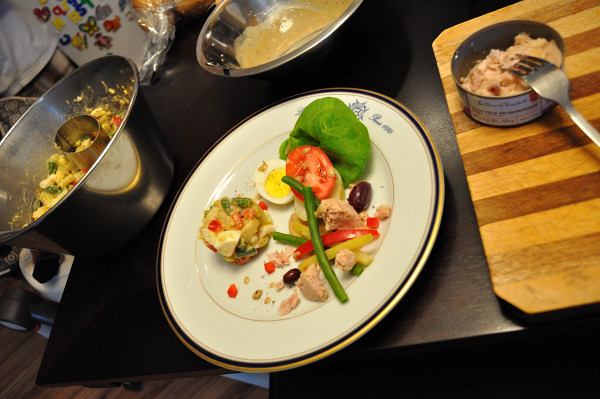 Salade Nicoise Recipe
Adapted from The Way to Cook by Julia Child
1 large head of Boston lettuce
1/2 lb. green beans, washed, ends removed
1/2 lb. yellow beans, washed, ends removed
2-3 ripe red tomatoes, cut in quarter wedges
170 gm. can of chunk tuna in broth and oil, drained and flaked
4 hard boiled eggs, peeled and cut in quarters
1/2 cup olives
1 large red pepper, cut into slender strips
8-10 new potatoes, boiled & chilled
French Mustard Vinaigrette
1 1/2 shallots, finely minced
salt and freshly ground pepper
3 tablespoons red wine vinegar
2 teaspoon Dijon mustard
3 teaspoons anchovy paste
1/3 cup light salad oil (i.e. sunflower oil)
Method:
Make ahead: boil and chill the potatoes and eggs. Peel both and reserve cold.
Be sure the lettuce has been washed and dried well, then rest it in a moist paper towel in the fridge.
Cook green & yellow beans in large post of salted, boiling water until bright in colour and slightly soft. Remove immediately from heat, shock in cold water and chill. Reserve cold.
Reserve one potato, two tomatoes, a dozen green and yellow beans and several whole olives to plate. Cube the remaining potatoes, egg, beans, red pepper and tomato into a large bowl. Add the olives, pitted and cut (or broken by hand) into pieces.
French Mustard Vinaigrette
In a separate bowl add shallots, mustard, red wine vinegar, anchovy paste and seasoning. Whisk lightly. Slowly add oil, drizzling a little at a time, whisking to blend and emulsify into a smooth, cohesive dressing.
The dressing should easily cling to your finger when dipped instead of slipping off due to the oil remaining on the top.
Mix about 80% of the dressing into the bowl of mixed vegetables, and toss lightly, season as needed.
To plate, we positioned the lettuce on the plate, featured all the the main ingredients of the salad, the tomato, potato, half an egg, a few beans, a slice of pepper and olives then formed the mixed, tossed salad into a ring. We loosely cast some dressing on the plate, added the tuna and then finished with very lightly dressed baby greens from the garden, and a grind of fresh pepper to a stunning effect.
A nod to the traditional with a modern kick, I love this salad served this way, each bite is different and surprising. So filling and yet so light… perfect as the garden begins to bloom and the temperatures rises. Thanks Julia.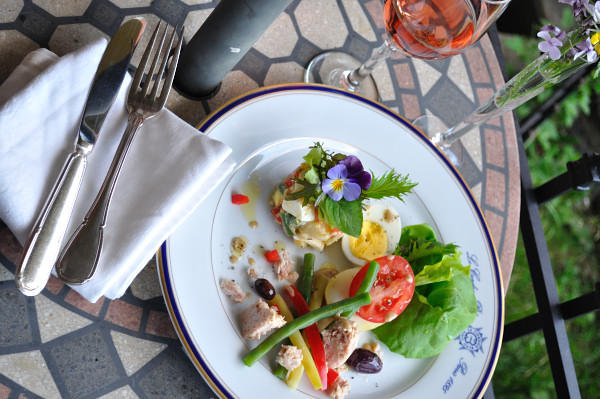 Adapted from The Way to Cook by Julia Child. Copyright © 1989 by Julia Child. Reprinted with permission from the publisher Alfred A. Knopf, a division of Random House, Inc.
We hope our readers will follow along, exploring Julia's considerable legacy through food. We will pick and choose as recipes are selected week to week, you can follow along on Facebook and on twitter @JC100 or #JC100.