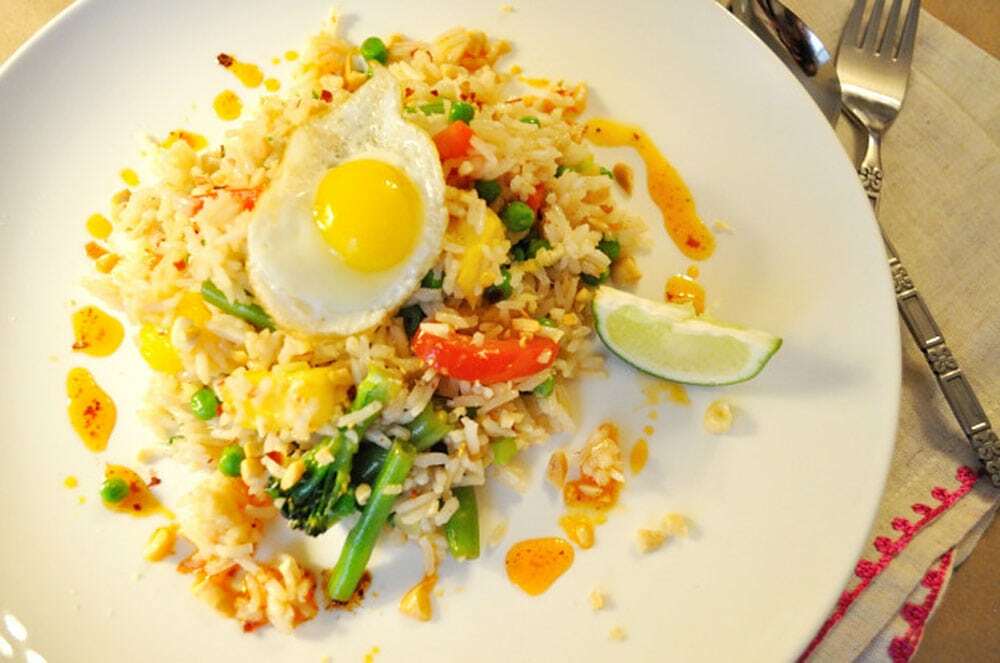 A trip to Thailand some years ago was my first unofficial Food Gypsy journey, I became a fan of Thailand through its food and beautiful book called "The Cooking of Thailand" that changed my life and the way I looked at food forever.
It was the first cookbook I ever read, cover to cover, like a novel.
It is beautifully shot and wonderfully written, breaking down each region, what and how they cook, and why. Fascinating read. Sadly, now out of print. Of all of my cookbooks, it is by far my favorite. That book is the reason I toured Thailand and rode on elephants (Well, that and I really love elepahants. Though I discovered they are very hard to steer).
I miss "The Cooking of Thailand" – it sits in storage and I am longing to break it out along with several otehr books, but I don't need it today, this is a recipe I know by heart.
When traveling I eat odd things for breakfast, actually I eat odd things for breakfast – period. Largely due to the fact that I avoid leavened bread, I eat it but sparingly. I'm a simple carbs and protein in the morning kind of gal.
This version of Thai Fried Rice was breakfast (and often lunch) in The Land of a Thousand Smiles.
Thais don't eat cereal or toast for breakfast, mostly they eat a mild fish and soup or black rice coconut pudding. Instead of asking "are you hungry" in Thailand you hear "gin khao reu yung?", literally translated "have you eaten rice yet?". Fried rice for breakfast? No problem.
This is typical vegetarian food in Thailand – packed with crisp, fresh stir fried vegetables, a hint of pineapple a dash of chili and topped with a fried egg.
The yoke, once broken, spills into the rice making it creamy and rich… on top of all of that tangy, tasty spicy rice.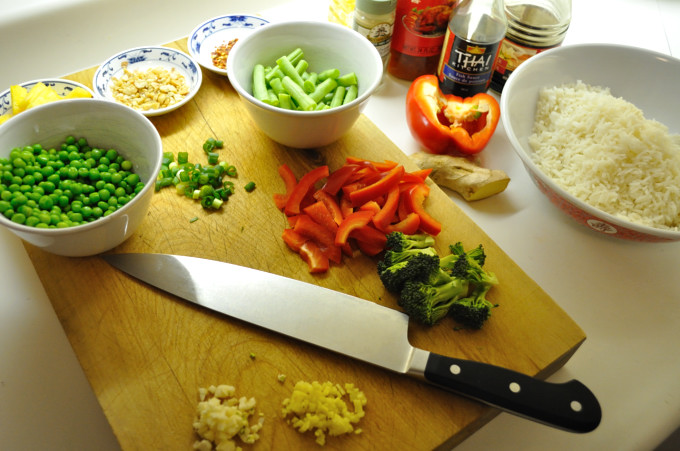 Gypsy Rice Tip: For fried rice I prefer Jasmin rice; as a long grain rice it holds together well and it has a light, nutty fragrance. If using fresh cooked rice, leave it for an hour or more in the refrigerator in a large bowl, uncovered, this will dry and cool it so it won't stick in clumps.
Today we finished with chili oil (just love that stuff) but if you don't have the same cast iron stomach, gauge the spice level to suit your taste. (Beware white pepper; just because its white doesn't mean it's got no kick.)
I've used a quail egg in this shot – tiny and delicate – but you can use any egg you like or skip the egg altogether and call it vegan.
Like most Asian cooking, the secret to a successful stir-fry (and all cooking for that matter) is your 'mise en place' or prep work. Having everything cut and prepared in advance and all ingredients at the ready ensures a fast, smooth execution.
Wok cooking is speed cooking, high heat, lots of stream and tossing/stiring. It's fun.
Be happy. Live healthy.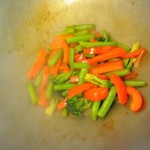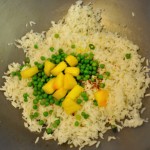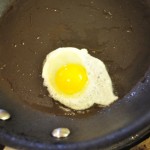 Thai Fried Rice with Egg Recipe
Prep Time: 30 minutes
Cook Time: 10 minutes
SERVES 2-4
Ingredients
3 Cups cooked rice, preferably a couple days old
3-4 Tablespoons vegetable stock
2 Cloves garlic, chopped fine
2 Teaspoons fresh ginger, chopped fine
2 Green onions, chopped fine
1/2 Cup pineapple chunks
2 – 4 Eggs (one egg per serving)
1/2 Cup peas (fresh, or thawed frozen)
1/2 Cup green beans, cut in 2 inch pieces
1/2 Cup red pepper, cut in to two inch pieces
1/4 Cup Broccoli, cut into small florets
2 Tablespoons peanut oil
2 Tablespoons Fish Sauce (for veggies, vegetarian fish sauce, aka: Mushroom Sauce, found in Asian food stores)
1 Teaspoon Soy Sauce (light soy sauce preferred)
1 Teaspoon red chili flakes (to taste)
1/2 Teaspoon sugar
1 Teaspoon white pepper (to taste)
1/4 Cup roasted peanuts, chopped
1 Teaspoon chilies, in oil (optional)
Method:
Mix 1 Tbsp. oil with the rice, using your fingers to separate any chunks into grains. Reserve.
Drizzle 1-2 Tbsp. oil in a wok/large frying pan over medium-high heat. Add green beans, cook stiring for one minute, add garlic and ginger stir-frying until fragrant (1 minute). Whenever the wok becomes dry, add a little stock (a tablespoon at a time to keep the wok from scorching and steam the vegetables).
Add red pepper cook until becoming opaque around the edges, add broccoli, add dash of sugar, stir, adding more stock if needed and when cooked to crisp, remove from heat into waiting bowl – let stand.
In a hot, dry wok add the rice, pineapple chunks, green onion and peas, drizzle the fish and soy sauce on rice, add white pepper and chilies and gently stir-fry to combine over medium-high heat. Add cooked vegetables back into the rice, continue cooking until the rice "dances" (begins to make popping sounds) – about 4 minutes total.
In separate, clean, pan add oil and fry your egg(s) to medium then remove from heat and let stand.
To plate, spoon rice on to a plate or bowl, sprinkle with peanut pieces, top with fried egg, drizzle with chili oil and… ENJOY! I like mine with a little squeeze of lime, it adds that light acidity to complement the spiciness of the dish.
"Aroy mak, mak!" (translation – "very, very delicious" – good phrase to know in Thailand because everything is "aroy mak mak".)