Art Is In Bakery – Hipster Bread Heaven
Art Is In Bakery, or as I like to call it Club Bread. Dragged the chef in my life off on a little food recognizance mission in Ottawa's Hindonburg neighbourhood. Target: Art is In Bakery's warehouse kitchen/retail outlet.
Eleven in the morning on a Saturday, we puddle-jumped the parking lot and scrambled up the stairs as the icy wind gripped us, opening the door we were ready to blot inside but instead stopped in our tracks, just barely squeezing in at the end of a long line of Art Is In fans.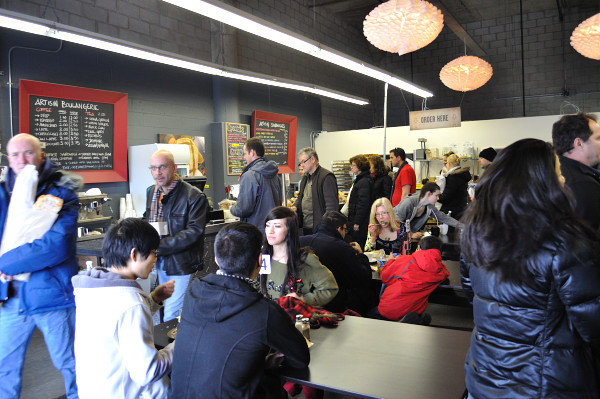 Heavy curtains form a small alcove at the front door which opens directly into a space where industrial meets hipster; charcoal walls, long cafeteria style tables, a row of bar chairs along the window and a cozy sofa nook in the corner for the coffee clique crowd. The ambient music strikes a chill lounge vibe, the staff behind the counter smack of art student, and the product is intoxicating. The queue was thirty-plus deep, taking us past the rack of impossible-to-resist breads and plates of baked treats and the two large backboards listing the day's offerings – apparently we were not the only ones with yeast on the brain.
The only thing missing for the full on Club Bread experience at Art Is In is a large hairy man at the door wearing a headset asking skill testing questions to qualify your level of hip-ness in order to gain admittance: "do you own technology that starts with an 'i'?"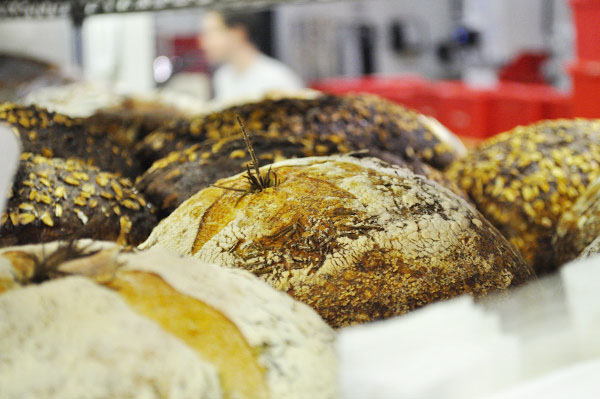 The art of great bread is the life's work of Art is In's Kevin Mathleson, who creates some of the most beautiful old world bread I've seen in years in this artful space, breads big on texture and mighty on taste. I'm a fan of the of sourdough line – white, flax, roasted garlic & rosemary and raisin. Filled with the big, loose bubbles associated with natural fermentation, it reminds me of the bread I used to make with my grandmother. Bread we would knead for hours in her hot kitchen and bake in her wood stove with a tray of water underneath to steam cook it to a golden brown; taught crusts and a tangy, chewy centres.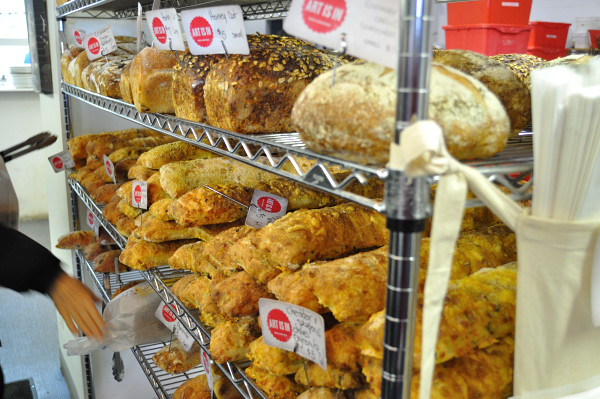 Bread made by hand is such a rare commodity in the modern age, lovingly molded, shaped and slapped – each loaf has a character of its own, be it smooth or bumpy, seed or flour covered – like the breads of Art Is In Bakery. There's no mistaking great ingredients and those of us who value a product made with unbleached flour and the distinct absence of canola need never fear, we're the kind of 'hip' that's always welcome at Art Is In.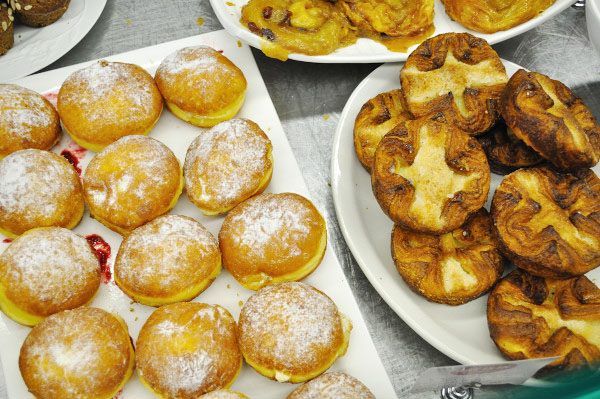 The bread I knew, I've been greedily snatching it off shelves and enjoying it as part of great sandwiches all over the region. This recon mission was in search of their new naan style bread, which was (sadly) sold out. Instead we opted to enjoy a sandwich or two and select (only) one item from an impressive array of sweets. From sticky buns to jelly filled doughnuts, chewy chocolate cookies to almond brioche toast, the baker's counter is a decision dilemma for sugar freaks like me.
We settled on the almond brioche toast (top photo) delicately favored, the brioche was rich and spongy, the almond cream was not too sweet and the icing sugar was a light dust. It was practically perfect in every way except for the edges, which were a touch dry. A light brush with thin coat of simple syrup over the brioche slab prior to applying the cream, and re-baking, and this could easily be one of my favorite treats in the city.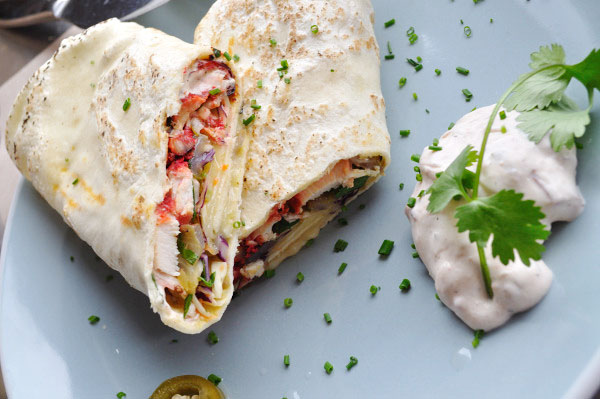 His sandwich: chicken tika and cucumber, cabbage, celery & pineapple slaw on an in house tortilla with jalapeno mayo ($8.95).
I'll be honest, my eyes bugged out when he ordered the wrap, it really is more my style than his so it didn't surprise me when he wasn't thrilled with it, but his reasons were valid, finding it under-seasoned and the play of ingredients a bit off. The chicken wasn't as much 'tika' as it was 'tandoori', still it was tasty and tender, but a hint under-spiced. What did surprise me was that he ate it, and that it seemed to grow on him. He had only praise for the tortilla itself and the jalapeno mayo, but between bites there were low grumbles of "I'm eating my vegetables", I think they were meant for me, I also make him take his vitamins.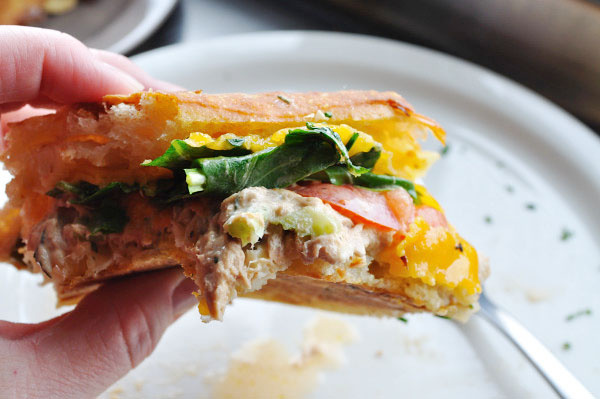 Her Sandwich: tuna melt with shredded carrots topped with tomato, arugula and cheddar on Art Is In Dynamite dill, potato and caramelized onion bread ($7.95).
In a word: yes. Simple is good, and this is a simple sandwich done well. A touch of paprika, a light background of dill and served on a gorgeous handmade bread that balances the flavour well and soaks up (some of) that gooey goodness. Oh sure, I could have shot it dry on the plate (in fact, I did), but then you would have missed this moment and all the things that make this a great sandwich.
Overall: Art Is In is worth lining up for, good value and great bread. Next time I shall endeavor to funk my do and liberally apply eyeliner… in case they install that doorman. This is my kind of clubbing.
Art Is In Bakery
250 City Center Avenue, Bay 112 – 114
Ottawa, Ontario
613-695-1226
www.artisinbakery.com