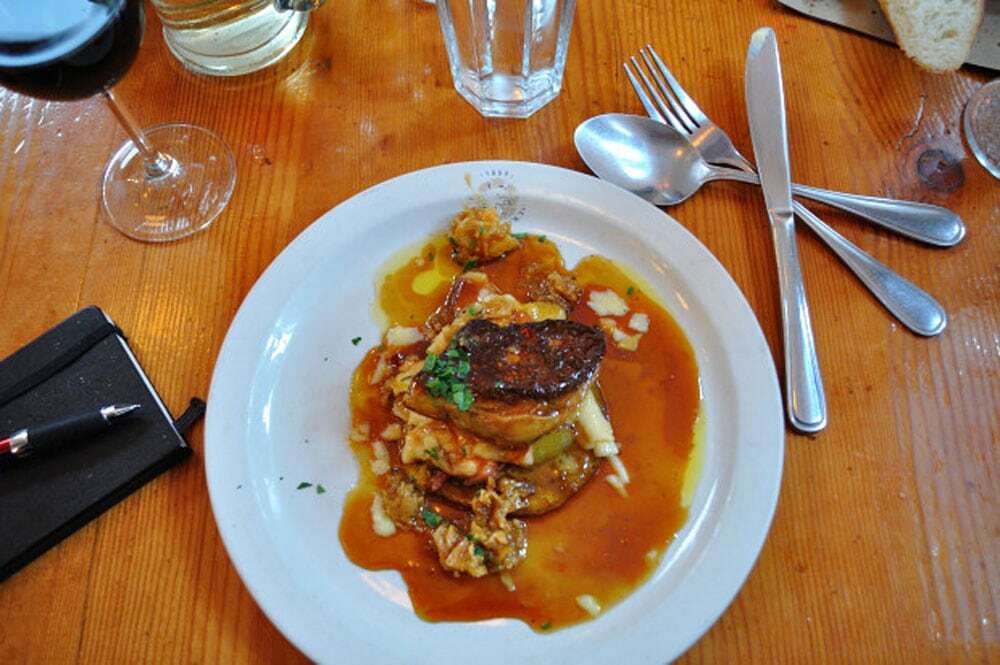 Au Pied de Cochon – Extreme Gourmet
The slippery slope of gourmet gluttony is a downward tumble into a pit of decadent debauchery at Au Pied de Cochon in the capable hands of Montreal Chef, Martin Picard.
The long, narrow room is simple and almost minimalist. Polished wood tables and black bistro chairs line the walls. Voices echo off the ceiling to create a chatty din. Warm scents drift from the open concept kitchen, fronted by a deep, wood planked bar, lined with guests enjoying the best seat in the house overlooking the busy brigade.
A carnival for carnivores, the food at Au Peid de Cochon (PDC) is rustic and rich with the accent squarely on Quebec cuisine and ingredients. Despite, or perhaps because of, its rather infamous reputation; PDC remains approachable, serving blue collar food in a white collar atmosphere, that will not only indulge your senses but assault your liver, arterial and digestive system with it's high fat, protein driven, calorie laden excess.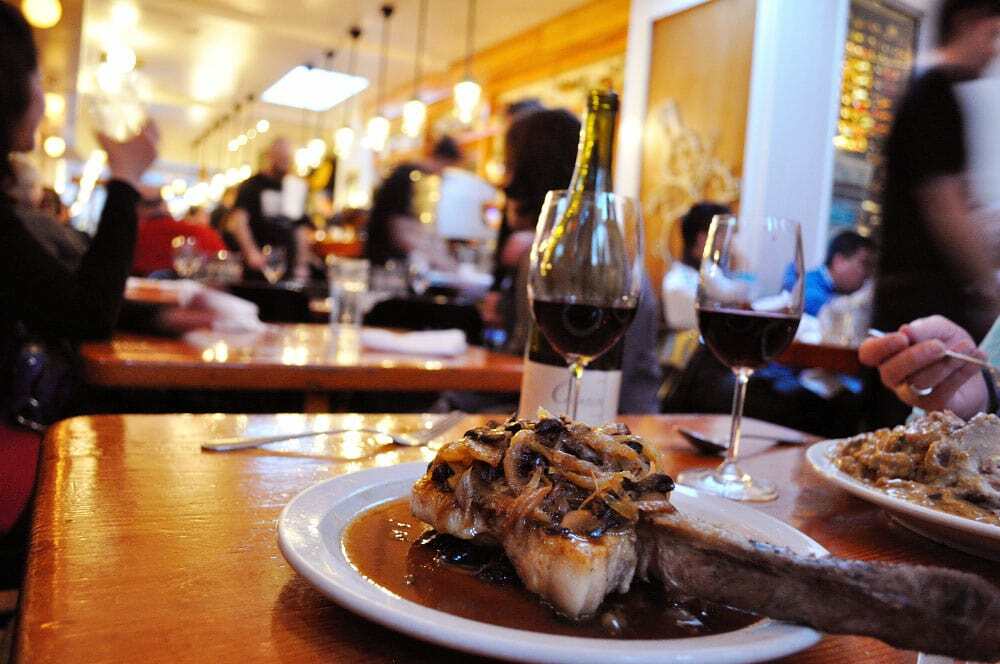 One read of the menu at Au Pied de Cochon should alert diners of the evening of debauchery to follow. Heavy with foie gras and pork products, even the lightest of items is smothered in a rich tasty sauce (Duck Magret in Mushroom Sauce), covered with cheese (French Onion Soup), or deep fried (Crispy PDC Salad).
Half the fun of being there is watching as some of Picard's most notorious dishes made their way to tables near by. The Foie Gras Burger, rising intimidatingly off the plate (with a double slab of seared foie gras, garnished with a skewered cornichon), that when grasped sends riverlets of duck fat over hands and down arms. Cans of Canard en Conserve (Duck in a Can), opened table side, expertly flipped on top of a celeriac pureé then slowly pulled upward, with a slurping, sucking sound as duck breast, foie gras and sauce emerge. Or the spectacle of a crispy Roasted Pigs' Head (for two), the body of a lobster in it's gaping mouth, held high on a platter, leaving a trail of steam.
This is not your everyday fare.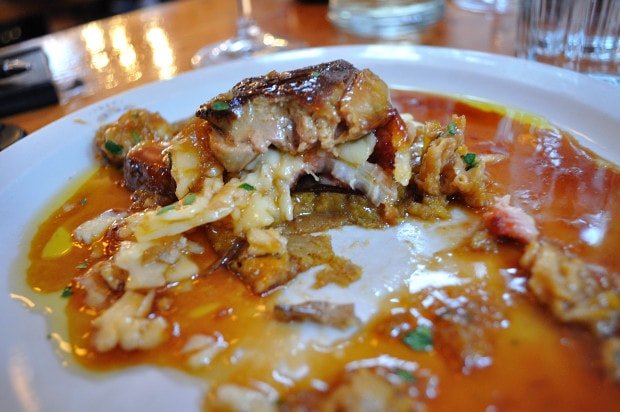 And so it began…
The house bread was so good we could have been billed right there and then and we would have left happy customers. Light, crisp, moist, the crust lightly bubbled from high heat baking, this is a baguette to write home about.
His starter: Foie Gras Poutine – duck fat fries, foie gras & house gravy (small $13). "Foie gras, french fries, cheese curds and a rich sauce – pure poutine heaven", reported the chef in my life (Benoit Gelinotte, AKA Chef B.), grinning from ear to ear.
Her starter: Plogue à Champlain – buckwheat pancake, potato, fle-aux-grues cheddar, fried egg, thick cut Canadian bacon and foie gras covered in a maple syrup reduction ($26). Plogue à Champlain, is a brilliant balance of sticky, sweet and savory. The bacon was slow cooked and pull-apart tender, crushing under my fork as I scooped up bite after syrupy bite. Coupled with the bitterness of foie gras and the starchy base of potato and pancake, this plate was eyes-roll-back-in-my-head, moaningly good.
I am now ditching my Wheaties to eat Plogue à Champlain for breakfast, every day, until I get sick of it or my arteries burst — which ever comes first.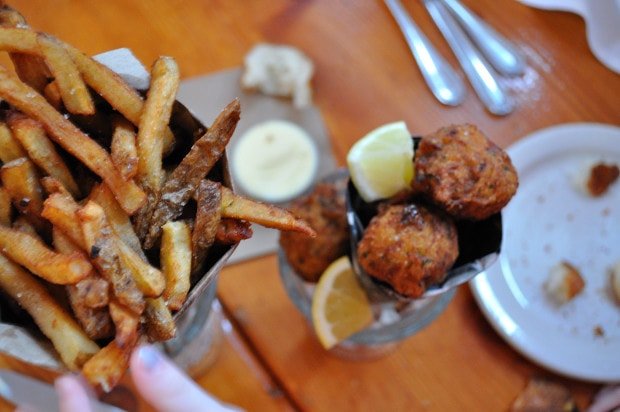 "I like these French fries!" declared the the soon-to-be four year old in our life, using her outdoor voice without reproach in the raucous room. Our little carbatarian knows her fries. French Fries – fried in duck fat ($4.75). Codfish Fritters – salted cod, mashed mixed with a quick batter and fried until golden brown & crisp ($6.00), not as popular with her, but a hit with her father who could have bathed in the house-made mayo served with them; which he spread liberally on his bread.
Surprisingly child friendly, we saw several parents with progeny in tow at PDC. Come on, what kid doesn't love French fries, crispy with duck fat?!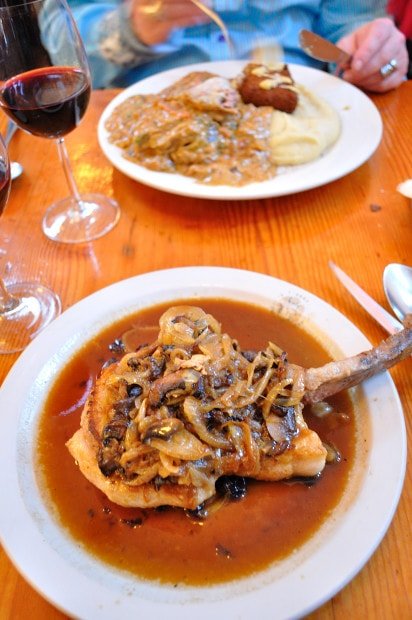 From the wine list: The three page wine list represents a well stocked cellar. So well stocked it's glass walls are lined with boxes as the shelves are all filled. We chose a ripe Californian; Copain, syrah, 2007 ($65.00). Sound and soft, a medium body and a lightly floral nose; this was a wine that rode along side of, rather than over top of, our meal.
His Main: Pied de Cochon – pig's foot, deboned, braised, then breaded and fried in duck fat, PDC mashed potatoes, braised pork hock, smothered in with a cider sauce ($22).
On the topic of his main, the house specialty, Chef B was a bit more vocal "JESUS CHRIST, this is a mountain of food!" His eyes bulged as the plate hit the table, the tiny parcel of the pig's foot, melted down to pure meat, fat and gelatin then deep fried, was perched on a gigantic scoop of creamy mashed potatoes. Beside it (unexpectedly) was the entire braised pork hock, under a heavy drape of sauce. He gripped his chest in mock heart attack as he dove in. "Why stop at the hock?" he quipped "the hock is connected to the ham, next time I want the whole leg!" (He didn't finish, in fact he didn't even come close.)
Her Main: The Happy Pork Chop – pork chop, served on a bed of braised cabbage, covered in a mushroom, onion sauce ($25). Classic and easy on the palate, the sauce accents but does not overpower the gigantic chop. I… can't believe I ate the whole thing.
If you plan a night of unparalleled fat-drenched dining at Au Pied de Cochon, take a little friendly advice from this Gypsy:
Make a reservation. This should be a no-brainer, but we watched as dozens were turned away at the door in the short time we were there. Front of house staff is bilingual, courteous and accommodating, call in advance.
If you're not familiar with Montreal, it's one way streets and limited parking take a cab and further, know the address. Located on a narrow, one way street Au Pied de Cochon has no distinguishing marks or outdoor signage. Its a wood trimmed window front facade is sandwiched between a chocolate shop and another restaurant. 536 Duluth East, write it down.
If you're on an early seating expect to be moved through quickly. This is not a complaint, we're in the industry and knew full well what an early reservation entails. We were well prepared, we had an idea of what we were ordering before we crossed the threshold. Turnover is prompt and you will be politely kept on schedule by your server.
Last, but not least, take the sage advice of your wait staff. I've heard several unflattering accounts of the service at Au Pied de Cochon. As a general rule I ignore naysayers and open the door to my own experience. In this case, we have nothing but the highest of compliments for front of house. Truly, an exceptional dining experience, made all the better with both service and menu knowledge that was absolutely spot on.
Service can make or break an evening out, our server Florent ("but you can call me Flo…") rattled off the daily specials with clarity, and a touch of poetry. He offered savvy advice when necessary "Monsieur, the Pied de Cochon is a lot of food, may I suggest the small sized poutine…" And guided our experience with a touch of humor "la petite chop for Madam…" referring to the inch and a half thick chop, so big it extended off the plate before me.
Professional and communicative, Florent made us feel like a part of the extended family of Au Pied de Cochon. When we praised his style and service he smiled and said "I love what I do, and I love the food at Pied de Cochon!" He expertly handled every question, query and request.
"Flo, what do we have that's quick and kid friendly for dessert?" "How about the Milkshake with PDC Maple Toffee ($5.00)? It's the fastest option… do you like milk shake?" <Insert child nodding here.> On our table in no time flat, a hit with the kid, it also had to be sampled by yours truly.
I now want a maple toffee milkshake to go along with my daily morning Plogue à Champlain, because if you're gonna' go… go happy.
Au Pied de Cochon
536 Duluth East
Montreal, QC
Phone: 514-281-1114