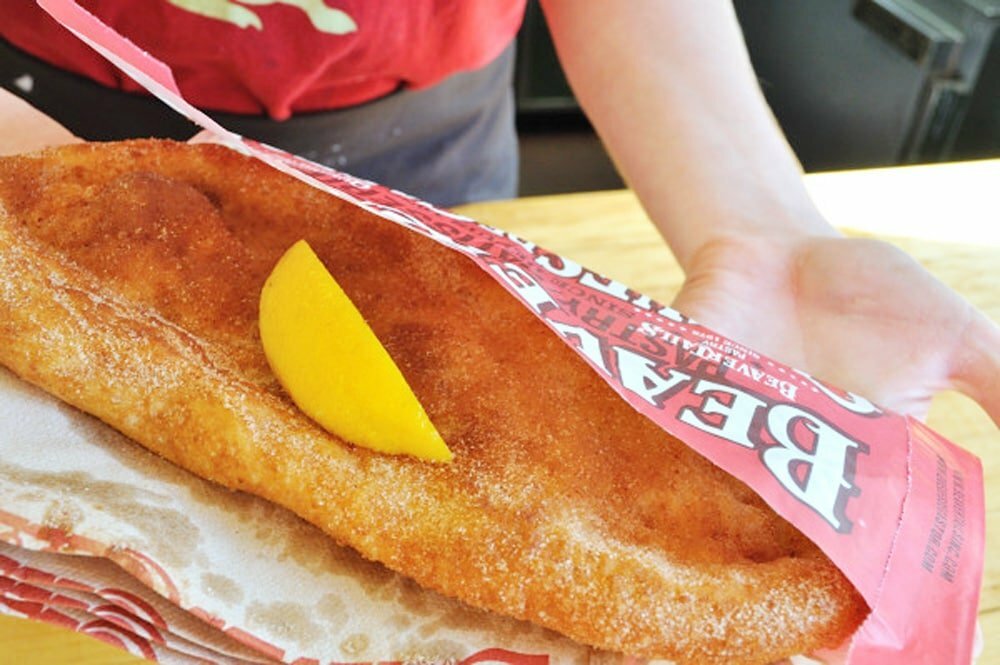 Bits, Bites & BeaverTails
A Canadian original since 1976, BeaverTails got their start in our nation's capital, Ottawa, Ontario and are now served in three countries; Canada, the USA and Sudia Arabia. (Yes, Saudi Arabia.) Heck, thery're so big they've got a Wikipedia page, even President Obama has enjoyed a BeaverTail.
So how is it that this fried dough pastry has eluded this Canadian gal? Perhaps I have been too busy sucking back soup or licking the bottom of my wine glass but there's no avoiding the Great Canadian Beaver Tail in Ottawa's Byward Market so one fine fall day, I took the plunge.
The menu was dizzying, the Classic with sugar and cinnamon, the Killaloe Sunrise (Classic with lemon), Maple Butter with Chocolate Drizzle, Chocolate Hazelnut Spread, Reese's Pieces, Oreo, Skor, Apple Cinnamon with Caramel Swirl, and Chocolate Hazelnut Banana. How does one decide? Obviously one asks the perky BeaverTail gal with green hair…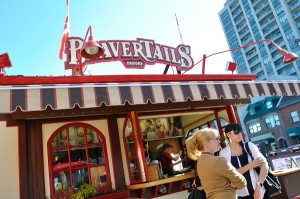 "It's my first time, what do you recommend?"
"It's your first time? Where you from?!"
A well touristed location, frequented by visiting dignitaries, I could be from anywhere. Moral dilemma, do I lie and utilize any one of the half dozen or so alter-egos and pretend to be — American? Alas, years of conditioned niceness kicks in and I cop to the tragic truth.
"Actually, I live here… but I'm from Vancouver originally. " (Being from the west acts as a blanket excuse in Central and Eastern Canada, it's almost like being from another country.)
"WHAT? And you've never had a BeaverTail?!"
Ears around us perk, some look and smile and the six year old to my left laughs out loud. I have my Nikon around my neck, I could easily be a tourist but no, I am one of them. Her grandmother apologizes for her, "Oh, I'm sorry we didn't mean to laugh, its just that we can't imagine it" she confesses, "we've grow up on BeaverTails."
"I know, I feel as though I've neglected part of my Canadian heritage. It's like never having had a Tim Horton's doughnut. How could I let this happen? Let's fix this right now… what am I having?"
My first BeaverTail was the topic of group debate, with several BeaverTailers voicing opinions from their sunny outdoor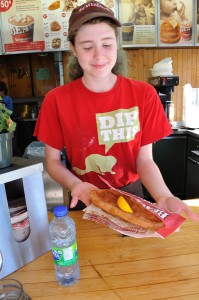 perches surrounding the little shack that bears the sign "BEAVER TAILS" overhead. The banter is rapid; chocolate no chocolate, candy no candy, turns out we are all of like mind, my first should be a straight ahead approach, the Killaloe Sunrise. The simplicity of the Classic (sugar and cinnamon), plus the slight acidity of a squeeze of lemon. Nothing complicated.
The BeaverTail itself is a simple idea; a chunk of whole wheat bread dough, flattened it out into an oval shape (to resemble a beaver's tail), dropped into a fryer until golden brown then topped it with something sweet. They're served hot and fresh, slipped into a custom envelope.
The yeasty aroma fills the senses as I taste one for the very first time; like cinnamon toast but doughier. It reminds me of Sundays when Mom would bake bread and Dad and I would gorge as it emerged, fresh from the oven.
Moist, fresh, slightly fatty; the sugar clings to your fingers and it is your obligation to lick them free of stickiness as you tear your BeaverTail apart and consume with glee.
Those who assisted in my selection walk by on and nod "Good huh?!" "Oh… " my mouth is full, vocational hazard "yeaaaaaa." I have now opened Pandora's box, apparently it contains BeaverTails.
Good food doesn't have to be complicated, a simple idea goes a long way. I wish the same could be said of politics.
Last week, one of our fine Canadian politicians, Senator Nicole Eaton (who clearly has too much time on her hands); proposed that our beloved beaver be replaced by the majestic polar bear as the official emblem of Canada. A swift vote in the Canadian Senate defeated the notion, much to the satisfaction of the people of Canada. Perhaps Ms Eaton should get out more often, enjoy a BeaverTail now and then, they're available just minutes from Parliament Hill. Turns out Canada's pretty attached to it's beaver.
BeaverTails, Byward Market
69 George St
Ottawa, Ontario
http://www.beavertailsinc.com/