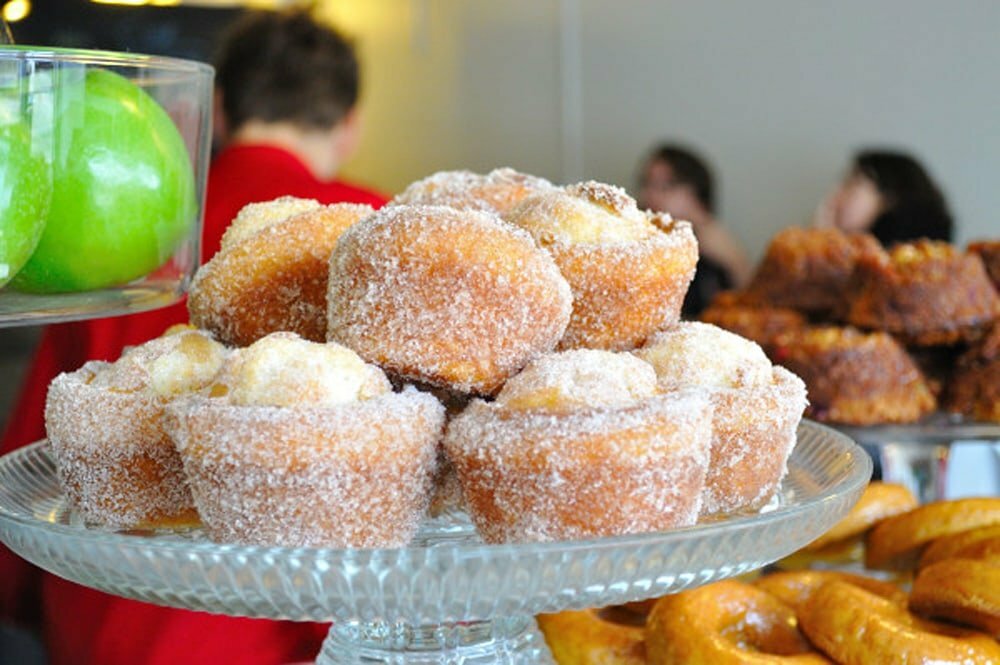 Chez Edgar – A Little Gem
Lovely Lemon Beignets and sassy sandwiches, Chez Edgar is a little gem in Gatineau, Quebec.
My efforts to enjoy the sweet sensations and savoury delights that move quickly out of the tiny side street store front that is Chez Edgar have been thwarted. First, I tried to get an Edgar fix on a Monday, Mondays and Tuesdays are their dark days. (Everyone deserves a day off. ) Then we tried on a sunny Sunday (along with dozens of others) for a bite of brunch, alas the we were too famished (and cranky) to wait. So instead, we arrived an hour early on a Wednesday morning and waited… with dogged foodie determination. (Opening hours Wednesday to Friday:10 – 6:30, Saturday: 9:30 – 5 and Sunday 10 – 5.)
The kitchen consumes most of the square footage, with eleven inside covers and seating for ten on the patio, it's easy to see why take-out is a must. Served in are a selection of grilled sandwiches, in-house soups, sweet treats and terrific coffees. Decidedly casual; menus are posted on chalkboards and baked goods are stacked with stylish precision on depression glass over a deli cooler that houses the day's frozen take-away and trays of sandwiches, ready to roll.
Chez Edgar is tight and homey, kind of quirky and immediately appealing. Much like the food.
The mind behind Edgar never stops working; writer, painter, cook, and blogger (She Eats Bears, Seed to Fork) Marysol Foucault confesses to having difficulty relaxing. She and partner (in life and business) Simon Guibord took a giant leap a year ago and let a dream come true; the result is Edgar.
We, the grateful public, can be glad because it's this restlessness that fosters sugary confections and savoury meals. My sweet tooth ached and having absolutely no will power, I indulged. The Lemon Beignet – so perfectly pretty I didn't want to eat it, nutmeg batter, filled with lemon curd and tossed in a light cinnamon sugar. Opening it was like cracking a lovely little egg, tangy and creamy, toasty and cakey, sugary and sweet.
We don't care that 10AM is too early for lunch, we're rebels that way. Her sandwich: roast beef, aged cheddar, roasted red pepper, sauteed onions, horseradish mayo and arugula, mounted on a full-flavored roll from Art Is In Bakery, pressed and toasted ($7.25). I love arugula on a sandwich; that bite of bitter, together in a medium of gooey cheese, with beef and sweet pepper & onion and a touch of heat from the horseradish, it's sharp, yet simple. I'm a big fan of simple food done well.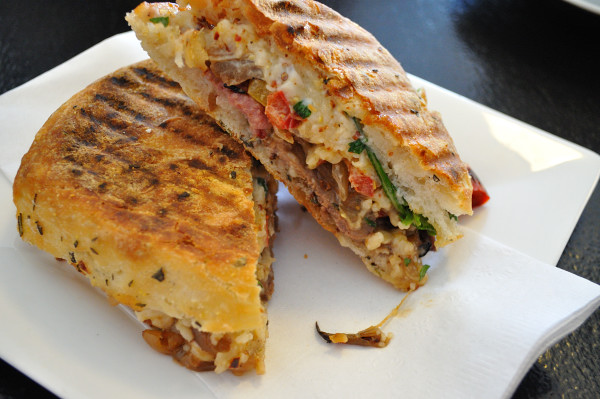 His sandwich: fresh figs, provolone, brie, prosciutto and arugula ($7.00). Chef B's eyebrows went up, his review (between bites) was "tasty little sandwich!" You have no idea the weight this holds (particularly after I made him wait an hour because I got my times wrong) it means we'll be back… and likely it'll be him insisting we get take-out too.
YIPEE!
Chez Edgar: The prices are reasonable, the food is terrific, the service is warm, it's only drawback is its size, you may have to line up to take your turn at the counter. A year later, one might suggest it could be time (dare I say)… to grow.
60 rue Begin, Gatineau, QC
819-205-1110
http://chezedgar.ca/